THE MAKING OF THE TENEMENT
---
Light & Dark's Behind the Scenes Pictures & Movie Stills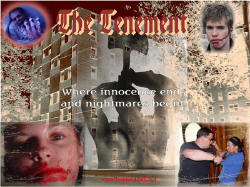 Welcome to the quaint little town of Fairview Falls. In every town there is always that one building that you are afraid to pass by, a place that seems to be a magnet for trouble and inspires evil. The Tenement (copyright © 2001) is such a place. Here in the tenement, innocence ends and nightmares begin!
Click on the Pictures to enlarge them. This web site is best viewed with your Desktop Resolution set to 1024 x 768.
The Tenement was written, directed and produced by Glen Baisley.

For More Information Contact:

Light & Dark Productions
PO Box 21
Lake Peekskill, NY 10537
Telephone: (845) 526-6118
Internet: LghtandDrk@aol.com