FAIRVIEW FALLS™ (AVAILABLE NOW!)
DEDICATED IN LOVING MEMORY OF JOE LAURIA
Starring Joseph Policastro, Kerri Taylor, Joe Lauria, Mike Lane and Michael Valenzano
FEATURING Debbie Rochon, Michael Gingold and Sal Sirchia
---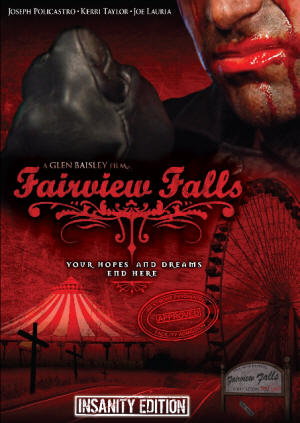 FAIRVIEW FALLS

Visit www.facebook.com/FairviewFalls for the latest updates about its release.


copyright © 2002
IMDB Listing
It looks to be another boring summer in the backwater town of Fairview Falls for the graduating class of 2005 - that is until one of it's graduates dies. Fairview Falls™ takes place 7 years after the events in Fear of the Dark and 5 years before Sins of the Father. Various social cliques come together out of boredom looking for the latest thrill. They hear about a series of "ritual" style animal mutilations that have been turning up on the outskirts of town. A few set out to see if they can uncover the mystery behind them. What they don't realize is that someone has been watching their every move and what transpires will forever change their lives. The movie can best be described as a twisted version of "the Breakfast Club".
---
CLOWN FEAR: (Coulrophobia and Fear of Clowns)
1: clown fear: a persistent, abnormal, and irrational fear of clowns that compels avoidance, despite the understanding by the phobic individual and reassurance by others that there is no danger. 2: clown fear: a strong fear of, dislike of, or aversion to clowns.
---
For More Information Contact:

Light & Dark Productions
PO Box 21
Lake Peekskill, NY 10537
Telephone: (845) 526-6118
Internet: LghtandDrk@aol.com