FAIRVIEW FALLS™ & NO TRESPASSING 2: NO EXIT Publicity
Exclusive "Fairview Falls" clip, FREE premiere (Fangoria.com)
Attend the Fairview Falls Premiere for FREE! (DreadCentral.com)
Blood Moon Rising Halloween 2008 Review of No Trespassing 2: No Exit
Blood Moon Rising Fall 2005 Review of No Trespassing 2: No Exit
Racks and Razors Interview with Mike Lane
Fangoria Magazine Video Chopping List
Screaming Stoner Video Interview with Kerri Taylor
---
Blood Moon Rising's Blood Fest: Horror Show and Rock Party
The Black Rose Killer was on hand
to celebrate with Blood Moon Rising Magazine's
Blood Fest 5.
Jude Pucillo (The Tenement) donned the suit.
The Black Rose Killer scares up an audience
for No Trespassing 2: No Exit and Fade to Black,
the Black Rose Killer origin story from The Tenement.
A few parents and children fled from the theatre
when the violence began.
David Aaron (songs in No Trespassing 2: No Exit,
Sins of the Father) and his band Shinobi Ninja performed.
Shinobi Ninja closed the show on a high note.
Excerpt from the Q&A session.
---
Issue #36
Graveyard Cinema
By Dark Soul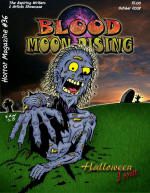 4 Gravestones
This is one of the short films showcasing at this years "Blood Fest: Horror Show & Rock Party" and though it is very short its packs a bloody punch. The films stars Mike Lane and cute as a button Nicole Berlingeri playing young lovers looking for a fun new forbidden place to do the dirty deed. She tells her boyfriend "Hey lets go in there". Never a good idea and off they go. The place is a closed down Halloween spook house complete with all the ghost, monsters and axe killers it can hold. Well you guessed it, things go a little bad for them and just before they get to do it too.
From out of nowhere the killer emerges and well you know the story from here. ..... But wait it's still not over and the killer himself falls prey to the evils that lurk within the walls of this spook house.

Light & Dark Productions who gave us horror fans such great indy hits like "Fear of The Dark" and "The Tenement" now comes this short film with bite. Director Glen Baisley is at his best here as he even slips his "Fear of The Dark" maniac, The Black Rose Kille,r into the mix for fun. Even the co-editor of Fangoria magazine makes it in as a zombie. The make-up was done by Brian Spears who like Baisley has been interviewed in BMRs past issues hits the mark with some great creature and blood effects.

Just the stage sets of skulls and other creepy goodies in this house of horrors makes the film flow as you watch the two would-be victims walked about unknowing their soon to be bloody fate. This film will make you think twice before the next time you go to a haunted house and never ever do it when its closed.

Back to Top
---
Blood Moon Rising's 5th Anniversary Film Festival & Halloween Bash

Cast and friends joined Blood Moon Rising's 5th Anniversary
celebration and attended the Blood Fest 2005 showing of
No Trespassing 2: No Exit. It took place on October 8, 2005
which marked the one year anniversary since No Trespassing 2
wrapped.
---
Issue #27
Behind the Screams: Independent Movie Reviews
By D.W. Jones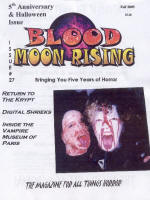 This is a short film brought to you by Light and Dark Productions, the same people
who brought you The Tenement. Now they give you a quickie in the style of the Twilight Zone.

The short begins with a young couple looking for something to do. They chose to go to the local
haunted house to look around and find some thrills. What happens is that they get a lot more than
what they bargained for.

For a short film, they do a decent job setting the mood and it tells a standard story. What happens
right after is a nice twist and gives a new meaning to justice. If you are interested in this or any
other movies they do, visit their website www.lightanddark.net.
---
Issue #26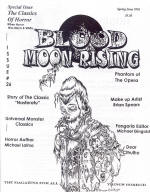 An Interview with FANGORIA Managing Editor, Michael Gingold and Special Make-up Effects Artist,
Brian Spears
By Glen Baisley
Having finished shooting my fourth feature length movie (FAIRVIEW FALLS) this past summer, it was time to take a break. But, it wasn't the case for two good friends and colleagues of mine who
helped me out all summer long. For them, their work was just beginning. Fangoria managing editor, Michael Gingold was called upon to rewrite (from the ground up) the screenplay for Media Blasters' latest horror movie, SHADOW: DEAD RIOT. And, after having won "2003 Best Make-up Effects" for FLESH FOR THE BEAST, Media Blasters asked Brian Spears and his partner, Pete Gerner (G & S Effects) back to helm the effects along side Canadian FX artist, Allan Cooke.
The movie wrapped in mid October. Recently, I had a chance to sit down and discuss the movie with Mike and Brian and in the course of doing so learned a little bit more about their inspirations, hopes and dreams.
Michael Gingold Interview:
GB: What was your first writing job and how did it lead to your involvement with FANGORIA Magazine?
MG: I'm dating myself here, but my first-ever writing about horror was a review of PHANTASM that I wrote for my junior high-school newspaper. I wrote movie reviews for my high-school paper as well, but I was still seeking an outlet to communicate with other people interested in horror—this was long before the Internet, and in my small high school there weren't too many die-hard horror fans. Then a friend who had placed a free subscriber ad in FANGORIA got sent a copy of a fanzine called CONFESSIONS OF A TRASH FIEND. At that point, I assumed that fanzines were all the size of regular magazines, if not as polished, and here was a Xeroxed newsletter that was simply one guy sharing his thoughts on the exploitation films of the past month. I was immediately inspired and started my own photocopied 'zine, SCAREAPHANALIA, which lasted nearly a decade.
I met the various FANGORIA editors at conventions and screenings over the years, and while at
college I went in to interview for an internship there [in 1988]. Tony Timpone knew about
SCAREPHANALIA and I showed him some samples of my work in a college paper as well. After I got back to my dorm, it was only a few hours before he called me back—to offer me not the internship, but a job writing an article for the magazine. It was probably the hardest article I've ever written for the mag, by the way—an interview with THE SEVENTH SIGN director Carl Schultz, who spent our whole talk insisting, "It's not a horror film." I barely managed to get a three-page article out of it, but I guess Tony liked it because I started writing for Fango regularly, and quickly moved up to associate editor and then managing editor.
GB: Having written LEECHES!, RING OF DARKNESS and most recently SHADOW, what's it like seeing your stories become celluloid?
MG: After having made a number of short films and shooting a Super-8 feature that never found its
way to completion, sitting down to watch LEECHES!, the first thing I've written that I didn't direct,
was a little nerve-wracking. I was happy to see that much of my script remained intact, and Dave
DeCoteau made it look pretty damn good despite severe budget and time restrictions. I was most
pleased to see that my two favorite scenes (the "eat the leech" bit and the dream sequence with a
comic punchline) came out pretty much exactly as I had envisioned them. I've learned well through
talking with and getting to know a number of screenwriters that once the script leaves your hands,
any number of factors can affect how it plays on screen. Most significantly, the script can be
severely changed, but even if they stay true to your words, the director can emphasize the wrong
things, or the wrong actors/actresses can be cast—I've seen it happen more than a few times, and
learned long ago that what might play on screen like "a bad script" isn't necessarily the fault of the
screenwriter. Of course, sometimes it IS, too—I'm not trying to absolve us scripters of all the blame!
In the case of SHADOW, I've only seen raw footage and a promo reel, and it looks pretty damn good. When I found out that the movie was going to be directed, photographed and fight-choreographed by Hong Kong filmmakers who have worked with Jet Li and Jackie Chan, I knew the script was going to be in very good hands. I can't wait to see how the finished movie turns out.
GB: What was the experience like on the set of SHADOW?
MG: It was interesting—I wasn't there so much as the writer involved, but to play a zombie cameo. One of the scenes I was involved with was handled by the second-unit team, and I don't even know that they were aware I was the writer. It was cool to work with makeup FX artists Brian Spears and Pete Gerner, who had done the honors for me on THE TENEMENT, and also Canadian artist Allen Cooke, who brought some zombie appliances generated from molds used on the DAWN OF THE DEAD remake, which I wore. I got to "eat" fake guts, charge down a hallway and wrestle with one of the actresses—what more could I ask for? It was also fun meeting the actors and actresses, who all seemed perfect for their roles. I got to hear some of my dialogue delivered on set, which is always a thrill.
But one of the things that most impressed me was the location. SHADOW is a zombie/martial arts
film set in a women's prison, and it was shot at a real disused penitentiary that's hosted other
movie shoots in the past. The place really is a horror film waiting to happen: shadowy hallways,
claustrophobic cells, peeling paint everywhere. Oh yeah, and at one point the still photographer
grabbed me, FX artist Gene Mazza and another of the extras (all in ghoul makeup), and took us
down one hall to shoot some promo photos. So there's a chance that at least one of us is going to
show up on the movie's sales flyers and/or DVD packaging!
GB: What are some of the creative challenges writing screenplays for others?
MG: Obviously the biggest is simply the fact that you're writing for someone else's vision and don't
have final creative say. The trick is to get a good sense early on of what the filmmakers want and
do your best work within those parameters, and contribute your own personal touches within those
guidelines. Some filmmakers, like Dave, are clear on what they want, and it also helped that I was
familiar with his type of movie when I first got the LEECHES! job. On the other hand, I once worked for a producer who didn't seem to know what he wanted and only gave me the most general of notes, so I simply had to give him what I thought he wanted and, once again, do the best I could with it.
Also, if you're writing for people in the independent/low-budget world, you have to be prepared to
scale down your imagination. You might come up with an idea that both you and the filmmaker(s)
love, but which simply can't be achieved with the available money. Similarly, when financing is
tight, you often have to write to a certain page length and not go over. That's where I've found my
magazine editing experience has come in handy; over my years at Fango, I've developed an ability to pare down an article by trimming lines here and there instead of lopping out whole paragraphs, and the same skill comes in handy when shortening scenes in a script as opposed to taking complete scenes out.For the Light & Dark movies that you have appeared in, particularly The Tenement, you have had creative freedom to write some of your own dialogue. You also had a lead role in The Tenement as the nefarious director Winston Korman. What was that experience like?
Well, it wasn't much fun getting whacked repeatedly with a "fake" but pretty solid shovel, and then
having to go back and do the scene again to capture the sound FX when the audio on the previous
takes proved unusable (ever hear of foley, Glen?). But seriously, the experience was a lot of fun,
especially the chance to come up with some of Winston Korman's rants. The cool thing about this,
and my previous scene in FEAR OF THE DARK, is that Glen didn't insist on knowing what I was going to say in advance; he just turned on the camera and let me roll. I didn't really improv right on set; I knew beforehand what I was going to say, and in fact the "puppies" line in TENEMENT was something I had thought of some time before, and had been looking for a chance to use ever since. Korman was the first time I'd had a significant role in a movie instead of just a cameo, and playing a complete bastard was freeing, in the sense that based on the script, I knew there was no way I could be too extreme with the character. I was just hoping I didn't let Glen down; I've never really considered myself an actor and I do these roles just for fun and to work with filmmakers I like, and this time I was playing a fairly crucial role. But Glen was happy with my work (right?), and most of the reviewers have seemed to enjoy Korman's over-the-top-ness.
In addition, it was fun and interesting going through the head-casting/makeup process for my death scene. I've appeared in a number of indie features, and the ones where I've either been a creature or been killed have been the best—they're the ones where you really feel you're part of a horror film. Some people get nervous about going through head-casting, or have problems with wearing prosthetics or getting fake blood splattered on them, but for me that's one of the best parts. Oh, and kissing Suzi Leigh [Suzi Lorraine] didn't suck.
GB: You are gearing up to write and direct your own movie. What are you going to try and do to
make it different from other movies that already exist in the genre?
MG: Well, that's a harder question to answer now than it would have been when I first scripted this
project. I first came up with the idea way back in 1988, tried unsuccessfully to get it set up with
producers back then, put it in a drawer until a producer read it and optioned it a few years ago, and
then decided to take a crack at it myself earlier in 2004. Without giving too much away, in the
intervening years a couple of major horror films have come out that have certain thematic similarities to my script, but I still believe the specifics of the storyline and the characters make it different enough that it's still worth pursuing. In a way, trying too hard to make a film unique can be a trap; you simply have to pursue what's best for the basic story. Also, the subject matter of this project calls for very specific direction in terms of the way point-of-view is handled, and that, I think, is different from what other recent horror films have done. Sorry to be so vague, but I don't want to reveal any specifics until I'm deeper into production…
GB: In recent years, what movie in particular do you feel has helped to reenergize the horror genre?
MG: In business terms, obviously SCREAM had quite an effect, but I think the success of THE SIXTH SENSE and THE BLAIR WITCH PROJECT a few years later (and at the exact same time) was just as important in launching the new horror wave. Each of these three approached the genre in a different way, and since then we've had horror films of all types being made on a regular basis, not just slashers or just ghost stories or some other subgenre. BLAIR WITCH also established Sundance as a launching pad for independent horror movies, and just this past year we had OPEN WATER, THE MACHINIST and SAW going on to critical and/or commercial success after playing there. And BLAIR WITCH gave indie filmmakers renewed encouragement that a grassroots genre production could still score big, though obviously that one's blockbuster success was a fluke.
GB: Where do you see the future of independent cinema versus Hollywood Blockbusters in the
coming years?
MG: It's an interesting question, since today there are two tiers of "independent" cinema: movies
that are far cheaper than major Hollywood features but are still made for the single millions and
feature name or semi-name stars (like SAW), and the real do-it-yourself, grassroots stuff. I'd like to think that the simultaneous success of the big-studio, PG-13 THE GRUDGE and the hard-R SAW
means that the two types will be able to co-exist in the future, though obviously it will continue to
be a struggle for the little guys to make a dent in the marketplace. Still, every year I keep reading
comments that there's no place for indie chillers on the current movie scene, and every year the
good stuff still manages to get out there in some form or another. They may not play 1,000
theaters, but now there are independent horror film festivals in practically every major city, and DVD companies willing to give special-edition treatment to movies like LUCKY (and to branch into
theatrical distribution, like Anchor Bay is doing). And with the Internet, you don't need thousands of advertising dollars to get the word out. I firmly believe that if a movie is good, it'll find some kind of audience—and I do my best to promote these features in Fango.
GB: Where do you see the current horror trends headed?
MG: Well, like I said, the diversity in the current horror scene is a positive trend, since it means no
one subgenre will be able to burn out the genre. And despite the hue and cry over extreme content
and censorship these days, the fact that explicit movies like SAW and the TEXAS CHAINSAW and
DAWN OF THE DEAD remakes have scored at the box office means that Hollywood, which respects
the bottom line above all else, won't be skittish about tackling extreme horror. It would also be nice to think that the disappointing returns on VAN HELSING will prevent more films like that from being made…
GB: What are your thoughts about all of the recent remakes like DAWN OF THE DEAD, THE TEXAS
CHAINSAW MASSACRE and the forthcoming FOG remake?
MG: I'm of two minds about this—I object to remakes on general principals, but I have to admit that I liked both the TEXAS CHAINSAW and DAWN remakes, as well as THE RING. On the one hand, I dearly wish that the studios would be more adventurous and tackle original ideas instead of rehashing old one; on the other, all of the above films took their horror seriously and made lots of money, which can only—I hope—encourage more of that approach. Plus, I can't help but think that the success of the DAWN remake helped encourage Universal to get behind Romero's LAND OF THE DEAD, a positive byproduct if there every was one.
GB: What are your thoughts on the use of CGI in horror movies today?
MG: Too many filmmakers are using it as a crutch, or buying into it as the new big thing. To quote any number of FX artists, it's best used as just one tool in the toolbox. It can be great for stuff like wire and rod removal on models, and if really done well—as in the JURASSIC PARK movies and THE RELIC—it can create really effective and scary creatures. But I've seen way too many movies with cheap CGI monsters that aren't as effective as cheap animatronic/mockup monsters would have been—at least you can tell that the latter are actually there, interacting with the cast. You can look at a rubber monster and still enjoy the scene, since it exists within the reality of the movie; but a bad CGI creature doesn't look like it's existing in the frame, and that pulls the viewer right out of the experience. Then there are the filmmakers who simply overdose on the opportunities CGI offers—Stephen Sommers, I'm talking to you.
GB: Do you think that Hollywood should accept responsibility for the violence portrayed in movies?
MG: The easy answer is of course not—it's up to the parents. The reality is that video and cable
TV make violent movies far more accessible to kids than they were two decades ago, which is really the central point of the issue today. My defense of the horror genre is that it is the only type of film that, by definition, encourages a negative reaction to the violence it portrays; on the other hand, I have seen a certain number of horror films that I've found offensive in the way they present violence as the be-all and end-all of the experience of watching them. But I'm more opposed to certain action films that encourage audiences to cheer the type of bloody mayhem that horror films would have viewers recoil from, or kids' movies like the ones made by John Hughes [BABY'S DAY OUT, HOME ALONE], whose only message is that hurting people is fun. Obviously I'm opposed to censorship, and I don't believe that watching violent movies will turn someone into a violent person if they're not already predisposed to violence. But if stronger enforcement of ratings in both the theatrical and video realms restricts access to these movies to young children, and thus gets the forces of "decency" off the genre's back, I'm all for it.
And by the way, I'm not one of those people who believes that the MPAA ratings, in and of
themselves, comprise censorship. They're simply labels advising about a movie's content. The ones indulging in censorship are the theater chains and newspapers/TV stations that won't exhibit or advertise NC-17 films, meaning that the studios won't take a chance on releasing more of them.
It'll take a major studio going with an NC-17 on a big movie that all the theater chains want, and
that the media will want to take the money to advertise, for those walls to start coming down.
TriStar had this chance in the early days of NC-17 with BASIC INSTINCT, but they wimped out; the
only reason SHOWGIRLS went out with an NC-17 was that the movie was such a stinker, it had
nothing to lose.
GB: You get quite a bit of submission requests for movie reviews and coverage that come across
your desk. Many include eye-catching press kits. What are some of the most inventive that you
have seen? What are the things you look for in covering a movie in FANGORIA?
MG: A good movie. Plain and simple. We get inundated with indie movies seeking coverage at
Fango, and while an extensive presskit certainly helps get a film noticed (and helps establish a
certain professionalism), it really comes down to whether it's a quality piece of work. I try to watch everything that comes across my desk (sometimes it takes a while, but I do try), and if a movie jumps out at me as being especially scary or inventive or just plain well-crafted (even on a tiny budget), I'll do my best to get some kind of coverage into the magazine—if not a full feature story, then a one-page Monster Invasion or even just a DVD or Dr. Cyclops review—something beyond just a mention in the Video Chopping List (where EVERYTHING I'm aware of that's commercially available in a given month gets a listing). Now, if a movie doesn't get that kind of coverage, it doesn't necessarily mean I didn't like it—sometimes there's just not room to run articles on everything notable in a given month. But if something comes along that impresses me, that'll encourage me to give it extra attention more than a flashy promo kit will. But I will say that it definitely helps to…
GB: Any tips for budding filmmakers and writers?
MG: …have good photos available for publicity purposes. More than once, I've wanted to run a
longer article on a movie than I've been able to because the picture material simply wasn't there.
In several cases, the only photos available for an indie production have been frame grabs that
wouldn't reproduce well in the magazine. If you can afford a digital video camera to make a movie,
you can afford a digital still camera to take photos (actually, most if not all video cams can take
stills too). Get lots of good pictures (both scene shots and making-of photos), and it's a big step
toward getting more coverage of your movie.
Beyond that, I would say don't try to shoot a story that's beyond your means. Look at the resources available to you and tailor your projects to them, instead of trying to make a movie about giant alien lizards invading Earth on $500. Making a movie like that can certainly be fun, but to take that next step out into the world marketplace, a film should have its low budget show as little as possible. And shoot it as professionally as you can—I'm not talking about using expensive equipment, but putting care into your shots and editing. A movie can look rough and grainy, but if the compositions and pacing work, that goes a long way toward eliminating concerns about technical quality. And for God's sake, if you don't know what it means to cross the director's line, find out about it before setting out to shoot your film.

Brian Spears Interview:
GB: When did you first discover that you had a desire to become a makeup artist and how did you
pursue it?
BS: Growing up I was really into art, always creating anything my imagination came up with.
Classic art didn't do it for me, painting or figure drawing kind of bored me. I was more into THE
MUPPETS, MAD MAGAZINE, and blowing up STAR WARS figures in my sandbox. I was also fascinated with movies; I watched any and everything I could, even stuff I wasn't allowed to watch. At first, I was scared of horror flicks, but I grew to love them. An ample supply of naked chicks sure helped too. I was always interested in the monsters even if they kept me up at night. Realizing this, I wanted to scare others like I had been. So, in my teens I dabbled in very crude gory make-ups, worked in haunted house attractions, and took every art class I could. The idea that I wanted to be a monster maker became cemented in my head from reading FANGORIA and GOREZONE during the mid 80's to the 90's FX boom. After high school, I attended the Art Institute of Pittsburgh to further my ambitions. I was very naive; I was a total gorehound, with a lot to learn. I had two really good teachers, Doug Henderson and Jerry Gergely. I learned so much watching them. After college I found work at haunted houses, z-grade flicks, and student shorts Each project helped build my portfolio and led to bigger jobs.
GB: What movie and/or makeup artist has been your biggest influence? How has it affected your
own techniques?
BS: Picking favorites is tough for me, since so many movies and FX artists have had an impact on
me. So many movies influenced me from the TOXIC AVENGER to THE THING, from Scorcese's taxi
driving Travis Bickle to Romero's lumbering zombies. Every time I watch a movie I'm inspired. I
could fill up 10 pages plus on make-up artists who inspire me. I'm a fan of all working artists. I
often reference or research a certain effect or character before starting new projects. I can look at
pictures from THE THING or EVIL DEAD 2 for days. The character make-up in MONSTER blows my
mind. I'm not inventing anything new in the FX field. I'm just adding my own little twist.
GB: If you could be working with any studio which one would it be and why?
BS: Where I'm at in my career it would be an honor to work for any company. There's so much I
still don't know. There's materials I've only read about and never used. I must admit I am happy
with my current situation, running G & S FX with Pete Gerner. We are not busy all year round and
we don't make tons of money but we are doing the things we dreamed of. Sure, we make mistakes, never have enough time or help, or have ample funds to work with but with every project we learn and get better. We also get to handle every aspect of an effect or make-up from concept to completion. The guys I admired started out in their garages/basements, which is what I'm doing. After paying dues its all up from here.
GB: Having worked on various budget movies, what are the creative differences that affect your
work?
BS: The films I'm working on fall into the low budget category, ranging from very decent workable
budgets to the no budget pocket lint variety. The difference creatively, on the larger budgets there's a lot more materials used; on the no budget flicks whatever you have you make work. When there is money, you also have stress. You must deliver on time, within that budget, and usually you have to give the moneymen what they want. On the cheaper budgets, your imagination and ingenuity come in handy; it also helps if save some things from other projects. Don't be afraid to say no to an effect if they can't afford it, but figure a way it could happen within their means. Whatever the budget, approach each effect/design the same and don't let money affect your creativity. It's your art on screen so make it the best you can.
GB: For THE TENEMENT, SINS OF THE FATHER and FAIRVIEW FALLS, you were given a basic idea for
make-ups and characters and allowed complete creative freedom within the confines of the budget.
You also had more direct involvement with the creative process aside from make-up in the later
movies. Do you feel that this has helped you as an artist in any way?
BS: This is sort of a loaded question, since your interviewer, Glen "THE BAISE" Baisley, is none
other than the creator of the lightanddark.net universe and a friend. Working with "THE BAISE" is
a lot of fun, as well as creatively satisfying. What at first was a working relationship has grown into a friendship. He's one of the few who I will always help out. He's got a big heart and all it wants to do is make films. I can't totally make this a kiss ass answer though. There's no mystery that "THE BAISE"'s budgets are super low but whatever the compromise he gets the job done. He's a much better producer. He's got a knack for getting everyone to help him realize his vision. He's always allowed me whatever I wanted. He gives a general idea and it's up to me and whatever I got laying around to realize it. Both of us wish we could do more but with out the funds we must do it the best we can. I'm happy with quite a bit of the make-ups in the films, and there are a few I can't even look at. Sure, at times those compromises are hard and even piss you off but one effect does not make a film. Overall, helping "THE BAISE" on other areas of his films has opened my eyes to much more. I rather enjoy our talks about the script, shooting certain scenes and editing. Maybe there's a nother career somewhere in there.
GB: Your professional accomplishments include having won an award for special makeup effects for
Media Blasters' FLESH FOR THE BEAST and having your work for Light & Dark Productions and other
movies featured in FANGORIA magazine. What are you the most proud of and why?
BS: I am a fierce critic of my work and believe I can always do better. I am proud of what I have
done and accomplished but I can't pick one thing that's better than the rest. Each project I learn
something and try something new and try to make each effect better than the last. The first time I
was in Fango blew my mind. I had a smile all day. The first time I could rent a movie I worked on
was a real trip. The proudest moment is that I'm realizing a dream that I had as a kid and I'm
getting to do it every time I walk on a set.
GB: What are your feelings about the usage of CGI in today's movies versus practical effects? For
example, CGI was used in THE TEXAS CHAINSAW MASSACRE remake for Leatherface's decayed nose and it was used on some of the DAWN OF THE DEAD remake's zombies? What about CGI characters like those in the new STAR WARS movies instead of using people in costumes?
BS: I love that rubber! I'm a practical, on-set, smelly foam loving freak. I can't stand the look of all CGI characters and effects. To me it still looks fake, even the actors acting with these CGI beasts look lost. I'm all for a combination of the two. Peter Jackson's LORD of THE RINGS showed when you pay attention to detail anything can be realized. Unfortunately, the once great and a one time idol of mine, Mr. Lucas has been using too much of his computer. Nothing was more amazing than the original trilogy but look at what the new episodes look like. They lack those physical characters and characteristics. They don't breathe. Where are the original creatures who inhabited the cantina? Now they look like they belong in some video game. I'm a guy who grew up with out a computer, I never was much into video games either. I'm a fan of the early FX boom where latex ruled the shop and morphing was that cool thing that turned Michael Jackson into a bunch of different people so I guess I'm a little biased.
GB: Recently you worked on Media Blasters' new zombie/women prison movie called SHADOW. What was that experience like?
BS: Working on SHADOW was a blast. It kicked my ass but it was a zombie flick with hot chicks
and kung-fu. G & S FX handled all the background zombie masks, zombie application, a zombie
puppet, various gore gags, and quite a bit of blood gags. We had a couple weeks of prep. We did
several castings, sculpted appliances, worked out several paint schemes for various masks and
worked on a puppet. Pete even came up with several of the gags used throughout the film. It was a group effort so I can't take all the credit. Gene Mazza helped us out in the shop with our fiberglass molds and zombie masks. Jill Trombolio helped out once we were on set with applications and background prep. Allan Cooke, an extremely talented Canadian FX artist, worked with Tony Todd and on the zombie baby as well as several other gags. Allan was really cool to work with and he showed us some cool tricks. We used the same process on our key zombies that was used in the DAWN OF THE DEAD remake. The hours were long; there was a few days I didn't sleep at all. The crew kicked ass, our stunt guys rocked. We put the stunt guys through hell. Our zombies were great too. Everyone gave 110 percent even with the long hours and the conditions of the prison location.
Near the end of shooting you had more creative freedom with some of the gags and special effects.
Were there new techniques and effects that you had been waiting for the opportunity to do and were able to realize for the first time with a budget at your disposal?
I wouldn't say we had more freedom, most of the effects just happened to be shot towards the end. Many of the scenes we had come up with were shot at the end, like a really cool tongue rip. Like on so many other films, some effects were simplified due to time. We did a lot of blood gags, so much that I'm still cleaning blood from under my fingernails. On set, the gags were known as blood "geysers". Let's just say the crew didn't like seeing us when we walked on set with our compressor. I was fortunate to do make up on Bill ( NIGHT OF THE LIVING DEAD ) Hinzeman and Captain (ZOMBI ) Hagerty. I had to recreate their make-ups resembling there famous zombie mugs for a cameo. As far as any new techniques and opportunities, we did create a really cool puppet. Pete and I both make cameos too. We're guards who get killed. I actually get a baton shoved through my throat. It was really cool to do the zombie make-ups. That made the whole project worth it.
GB: This was the first time that you and partner, Pete Gerner built a puppet for a movie. How did
that work out?
BS: The puppet was really cool. It is a full scale upper torso rotted zombie. The basic idea is he's
feeding on a victim and the digested matter flows out his severed mid section. This was one effect
that was simplified due to time. Pete designed the mechanics, Gene worked on the mold and
understructure, and Pete and I sculpted it. After fine-tuning the mechanics, it was brought to the
location. I painted it on our off hours. That was one of the days of no sleep. Overall, it came out
cool and I can't wait to see the finished filmed version.
GB: You did a headcast for Tony Todd. What was it like working with him?
BS: Allan was in charge of Tony's look. Pete and I helped with the lifecast. Tony was real cool, a
down to earth kind of guy. I assisted with his application removal one night and we talked movies.
He was really into his part, and very encouraging. Again, I must stress that Allan handled Tony's
application, and a fine job he did.
GB: Where do you see yourself ten years from now?
BS: In 10 years, I hope to still be scaring the shit out of horror fans everywhere. I hope to work on
some bigger projects; mostly I just want to keep doing what I'm doing. I got a great job, sure it can be stressful, but watching the finished movie more than makes up for any headache.
GB: Any tips for anyone looking to become a makeup artist?
BS: For those of you who want to be an FX artist all I can say is "do it". Look up everything you can about FX and watch as many movies as you can. Get dirty, start sculpting, painting, spilling latex all over your floor. Just have fun. Follow your dreams.
---
By Owen Keehnen (July 22, 2005)
Brooklyn born Mike Lane made a gutsy decision 5 years ago to chuck his Marketing Degree and go for the gold --- make that the blood red -- and hasn't bothered to look back since. In the years following he's made some formidable progress in the acting field – mostly in the horror genre. Mr. Lane is most closely associated with the world of Light & Dark Productions, where he also works periodically behind the scenes. His features for Light & Dark include the features 'The Tenement' in which he plays Jimmy Wayne Garrick, a man who believes he is turning into a werewolf (with Racks and Razors gore-gore gal Syn DeVil) and 'Fear of the Dark' (which features a deliciously visceral
disembowelment scene). He has also appeared in such features as 'Urban Cannibal Holocaust', '
Permanent Scars', 'Cosmetic Commando', and 'Linger'. In addition he has several projects in the
immediate offing.

It's a wonderful advantage of this site to showcase new talent and Mike Lane is someone you will
definitely be hearing more from in the none-too-distant future.

Owen: I was reading your bio how five years ago you changed gears and went from a marketing
future into acting. It can be a pretty tough career. Have you ever regretted your decision?

Mike: Never. Even though I would be making a steady salary behind a desk, I would be miserable
from regret and frustration for not pursuing my dream. Acting is what I should be doing and I'm glad I made that decision. And it's not like my degree is totally going to waste. I am marketing myself.

Owen: True. In 'Tenement' (which also features Racks and Razors fave Syn DeVil) you play Jimmy
Wayne Garrick who after being bitten by a wild animal becomes convinced he is turning into a
werewolf. What was the most challenging part about the role?

Mike: My naked butt shot. It was a chilly October night and I was completely naked except for a pair of fake ears and a plastic bag covering my private parts. We also shot the scene not too far from a busy street. Luckily I was performing in front of just the director Glen Baisley and Marion Nash, a nice old woman who was in the scene with me. Oh and in the too much information department, I shaved off all my body hair for the part since being hairless was a set up for a one line gag. So shaving got to be very time consuming. I found the role of Jimmy (which is probably my favorite role to date) more fun than challenging since I rarely had to hold back. He was an over the top character. I could just let everything go and be crazy which I enjoy doing. In acting I find "toning down" to be challenging sometimes. Syn DeVil was great to work with. The night of our scene was a night whereeverything that could go wrong did go wrong from starting to shoot at around 3am to the extras being drunk, to actors not showing up, etc. Syn handled her brief but memorable role like a true pro. Hopefully I'll be working with her again soon.

Owen: So do you feel what we fear is scarier than the real thing?

Mike: Sometimes. It depends on the situation. I do believe that our imagination can definitely be
worse than what actually happens. An old trick in horror is sometimes to not show everything in
every possible gory detail and leave it up to the audience's imagination since that is usually worse
that anything a special effects artist can build.

Owen: Tell me about the disembowelment scene in 'Fear of the Dark'. That's something you don't
see everyday.

Mike: Speaking of not leaving anything up to the imagination – that scene was made to be
purposefully long and overly drawn out. That was Glen's tongue and cheek comment on the
ridiculousness of gratuitous gore scenes in horror. Fear of the Dark was actually almost banned from a local film festival due that scene's "shockingly realistic" vibe which is ironic since there is no way a human being can have that many intestines.

Owen: Both those films were done by Light and Dark Productions and I know you're also a creative
consultant there. Can you tell me a little something about that production company?

Mike: While I made a suggestion here and there for Fear of the Dark and The Tenement, I really
started to step up behind the scenes during the time between The Tenement/Sins of the Father
(which were shot simultaneously) and Fairview Falls. Light and Dark has been around since 1999 and has released two full lengths (Fear of the Dark and The Tenement), one short (The Family Tree) that can all be purchased at www.lightanddark.net. We have another short (No Trespassing 2: No Exit) playing some festivals and screenings and two more full lengths in post (Sins of the Father and Fairview Falls). The movies all have a basically dark theme exploring the light, dark as well as the gray areas that dwell within everyone. We do our best to put out a good STORY first and then enhance it with the blood, guts and scream queens that lots of horror fans like. The Tenement is probably the most well known title since it landed a distribution deal with Brain Damage Films. I met Glen in the spring of 2000 when I auditioned and landed the role of Michael Jacobs in Fear of the Dark. We've been friends ever since.

Owen: What about Glen Baisley's (Light and Dark Productions) film vision coincides with your own?

Mike: Well first off Glen is the be all and end all of Light and Dark. He gets the last word and
approval on everything. He's the big boss. Light and Dark is his playground and he is nice enough to let me play in it. That being said I am one of Glen's worst critics and I think he appreciates the
constructive criticism because he knows I argue my views for the betterment of the movies. I have
the right to argue with him and be brutally honest about why my vision would be the best for Light
and Dark. Sometimes my arguments work, sometimes they don't but I always respect and go with his decision since it's his money being put into all the projects. Luckily, we do agree more often than not on the creative direction and Glen is always open to suggestion from anyone and everyone including actors, crew, fans etc. As long as the final decision is Glen's, he is a happy man. If I really feel strongly about a project that Glen doesn't agree with, I'll find a way to do it on my own. I'm sure Glen would be around to help if that ever comes to be.

Owen: In conjunction with Light and Dark I've heard you also attended your first horror convention.
What was that first-time experience "on the other side of the table" like?

Mike: I actually attended my first horror convention as a fan I believe back in the early 1990's. It
was a Fangoria Weekend of Horrors and I remember Clive Barker and Grandpa Al Lewis being there.
Going to that convention opened my mind up to many alternative and underground cultures and
styles. I did not attend another convention until Chiller Theatre in October 2000 to promote and
hand out flyers for Fear of the Dark. We did not have a table then. I think at the Fangoria and
Chiller conventions the following year, Glen bought a table and we've had tables at both those
conventions for the past five years. The first time being behind the table was great. I was helping to sell a movie that a bunch of other people and I busted our butts to make. And it was a damn good feeling when total strangers bought Fear of the Dark just based on the trailer playing on the monitor at the table and our passion to get our movie to as many people as possible.

Mike: I look forward to every convention because it's a chance for at least one more person to be
exposed to our work.

Owen: Is your work behind the camera something to make connections to get more work in front of
the camera or does production involvement on any level bring you the same amount of pleasure?

Mike: Right now I only work behind the camera for Light and Dark and that's with the understanding that my work behind the camera for them does not conflict with my acting schedule. I would not mind lending a behind the scenes hand in other company's project but only if we have the same understanding. Acting is my priority and if a company understands the sometimes last minute demands put upon an actor then I would be happy to help creatively in any way I can. I never approached the idea of working behind the camera to try and get work in front of the camera since I always prefer acting to anything else. So if I wanted to act in a project I would approach the project's powers that be as an actor first and foremost. I do find pleasure in a script I helped write or develop come to life in front of me or an idea that I had (whether being creative or business based) come to fruition but honestly not as much pleasure in a compliment on a performance from a fan or critic.

Owen: You also played Carter in the scare flick 'The Demon Shells'. Can you tell me a little
something about that project?

Mike: Unfortunately The Demon Shells will never be released. The director did not like the results of the movie after it was shot so he scrapped it. Luckily he liked my performance and I have worked with him on subsequent movies. Hopefully someday the movie will be revisited.

Owen: Boo, well then I want to hear about your work as a featured zombie in Insane-O-Rama's
'Last Rites'.

Mike: I shoot with them this Friday so as soon as I find out, you'll find out. I've hung out with the
Insane-O-Rama crew a few times at the horror conventions and they are good people.

Also, after reading the script for Last Rites I can tell you that it is 100 times better than Strange
Things Happen at Sundown. So if you liked Strange Things, you will absolutely LOVE Last Rites.

Owen: So which is the most frightening to you and why - werewolves, witches, zombies, vampires,
psychos, aliens, or creatures?

Mike: Psychos because they really exist. Just watch the news.

Owen: As someone dedicated to the enhancement of the horror genre what are your favorite fright
movies?

Mike: The George A. Romero zombie movies (including Land of the Dead) are hands down some of
my favorites. What are so great about them are not only the awesome looking effects and gore, but the underlying social commentary that Romero weaves into his stories. I also find The Exorcist, Evil Dead, A Nightmare on Elm Street and Kubrick's The Shining to be some of the scariest movies ever made. They gave me nightmares when I was a kid. For roller coaster like thrills that make you jump out of your seat, Aliens and Scream definitely come to mind.

Owen: What projects do you have lined up in the near future?

Mike: I just finished doing commentary for the Light and Dark short No Trespassing 2: No Exit with
Glen and Diana Baisley and I did some overdubs for an upcoming director's cut of Fear of the Dark

I start acting in a Star Wars fan film (I am a HUGE Star Wars fan) very soon. That should be fun. I
get to fly a starship and fire a blaster. How cool is that? And coincidentally the director of the fan
film was a fan of Fear of the Dark who I met and talked to at the different horror conventions over
the years. Before my audition he e-mailed me and said that he knew me. I immediately recognized
him once I saw his picture. Good thing we always got along at the conventions.

I have a few indie films lined up but I don't want to announce them until all the funding comes into
place and all the i's are dotted and t's are crossed contractually. Hopefully they will all be made but I have learned to hope for the best but expect the worst. I act regularly in industrials (training
videos) for RuMe Interactive and Learn It Solutions based on Long Island . Glen and I are also in the preliminary stages of writing Light and Dark's next feature length movie as well as working on the postproduction dealings for Sins of the Father and Fairview Falls. And I'm sure to let off some steam, Light and Dark will probably film some shorts, DVD extras and whatever else comes to mind. And finally, when I'm not acting, I spend my time going on auditions, looking for more acting work by sifting through the multitude of casting pages on the Internet, always promoting that I'm an actor to almost everyone I meet and trying to have a good social life as well. Luckily, I have been keeping busy.

Owen: What scares you in real life?

Mike: Falling asleep while driving. There have been many times where I've had to pull over and
either stretch or take a nap in my truck. For some reason it's almost impossible to try to stay awake if I'm tired while driving.Luckily I haven't completely fallen asleep and driven off a mountain or into oncoming traffic. Thanks for the interview (you got yourself a damn good website) and don't forget to check out my website at www.lightanddark.net/MikeLane.htm.

Owen: Will do, thanks Mike. And all the best with your career.
---
STEPPING OUT:

Behind the scenes

By Eugene Driscoll (February 23, 2005)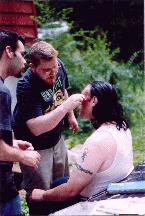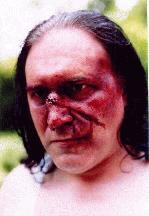 (Left to Right) Special effects make-up artists Gene "Dead Kid" Mazza, right, and Brian Spears apply make-up to
actor Don Deich while filming "Fairview Falls" in Westchester County, N.Y. The make-up artists wanted Don Deich's face to look like someone shoved the edge of an iron through it.

He promised me it wasn't a snuff film. Right now I'm having my doubts.

Brian Spears and I and a bunch of other people I don't know are standing in the cramped living room of a two-family house in Putnam Valley, N.Y.

It's humid, face-melting weather. The air stinks with an odd mixture of latex, wet carpet and body
odor.

There is clutter everywhere — books, magazine and tons of DVDs.

A burly dude in his 40s sits drunk on an Archie Bunker arm chair. He's wearing a wife-beater T-shirt.
He has jet black hair and a few mean-lookin' tats crawling up his arm.

If there was a white trash Olympics, this guy would bring home the gold.

Then, from a kitchen in the back of the house I can't see because I'm wedged between the front door and a stair case, I hear a faint female voice:

"Everything's fine, Daddy."

It comes through as a whimper.

"Everything's fine, Daddy," she says again.

I'm creeped out. I feel like there's a bug running up my arm. I turn to Spears. He's standing next to
me, looking bored, like a kid in church.

"You told me it's not a snuff film," I whisper.

"I wish," he said, then smiled.

Welcome to the second day of shooting for "Fairview Falls," a horror movie filmed over the summer in Westchester County, N.Y.

Here's the plot, abbreviated. A group of kids in a small town gets wind of ritual animal mutilations
happening on the edge of town. They set out to see what's up. People die. Secrets are revealed.

It's the fourth movie for writer-director-producer Glen Baisley, who's previous low-budget horror films include "The Tenement," "Sins of the Father" and "The Family Tree."

Forget what you see on the Independent Film Channel — this is true independent filmmaking.

Baisley shoots on digital video. He's one of a thousand guys around the country who picked up a
camera in the wake of "The Blair Witch Project" and declared themselves filmmakers.

Baisley finances his movies out of pocket. He shoots them wherever and whenever he can — he's
been known to steal a shot or two.

Spears, meanwhile, is a make-up artist. Not the kind of make-up artist who puts eyeliner on
actresses and lathers cover up on blemishes.

No, Spears makes things like rotting torsos, junkie track marks, gunshot wounds, zombies, vampires — anything ugly.

In other words, Spears gets paid to make people bleed.

It's a lifelong passion for the 31-year-old Blind Melon fan. I should know. I grew up two houses
away from the nut job.

When other kids in high school art classes were drawing sunflowers, Spears was making clay molds
of Henrietta, the fat lady trapped in the basement in "Evil Dead 2."

After high school Spears got a full ride at the Art Institute of Pittsburgh. There he rubbed shoulders
with Dennis Hopper at an art show, sold beer at Three Rivers Stadium, sold plasma for drinking
money and lived with a guy who drank cough medicine.

He's done a lot of work for low budget horror flicks since graduating. Perhaps you've seen "Midnight
Mass" or "The Adventures of Young Van Helsing?" He's even been featured a few times in "Fangoria" magazine (the New York Times of the horror movie world).

Two years ago Spears won an award at the New York City Horror Film Festival for his work on "Flesh
for the Beast," a movie that breaks records for excessive gore and boob shots.

Enough background. Back to the weirdness at hand.

The drunk guy sitting in the chair from the top of this tale is aspiring actor Don Deich. Later, I learn he's a magician. He does a trick where he can make a door key move in his hand without touching it.

At the time of the interview, Deich was moving to Salem, Mass. because he saw a shortage of
occult-related businesses there.

Baisley was filming a scene that day that implied an incestuous relationship between Deich's
character and his daughter. While he sits in the living room drunk, she's in the kitchen, planning his death.

"There's some incest going on," Spears said, matter of factly. "Basically what she's going to do is
f*ck him up and then take him out."

The death scene — which involved the daughter smashing Daddy's head in with an iron — was filmed later in the day.

In the meantime, Spears and his make-up crew — including Gene "Dead Kid" Mazza and Dana Elder, a twenty something, rail-thin chain smoker who worked previously on the popular indies "Wet Hot American Summer" and "The Station Agent" — spent most of the day standing around waiting to film Deich's gruesome death scene.

They smoked cigs, complained about being hungry, made fun of an actor who kept professing his
love for George Bush and tortured Baisley, the writer-director.

The "quiet on the set" rule means you can't talk as the crew shoots film. It's a concept lost on
Spears, who seemed to get a perverse joy from screwing up Baisley's shots.

Baisley, well over 6 feet tall and wearing a two-sided "Halloween" shirt, has a bit of a temper.

He and the actors filmed inside the house while Spears and the make-up crew set up shop —
make-up, brushes, latex used to make facial wounds — on a picnic table in the back yard.

The walls of the house were paper thin.

Anything Spears said was picked up on Baisley's camera — which pissed Baisley off to no end.

I lost track of the number of times Baisley popped out the back door of the house, shot Spears a
crazy look and told him to shut up.

Spears would laugh, say something horrible about Baisley's sexual appetite, then keep talking.

"I like messing with him," Spears said. "It's funny."

The day began at 8 a.m. By noon, Baisley was ready to kill someone.

"We're not going to finish the scene unless we have quiet!" he screamed at the make up people
before slamming the back door of the house shut.

When Baisley was finally ready to film Deich's death scene, he emerges with the actor and explains
to Spears what he wants. Spears has to make Deich's face look like someone shoved the edge of an iron through it.

"I need it to look like the iron came down right here and went across like this — boom!"

"He got hit with the flat side of the iron right here," Baisley tells Spears, gesturing toward the actor's ear. "He goes down, she does a next bit of dialogue, then BOOM! She hits him again and he's out."

Spears works quickly. Then he applies a flesh colored latex appliance to the actor's nose, making it
look broken.

"For the wound I'm using collodion, the same material used on Tom Berringer in 'Platoon,'" Spears
explains. "It shrinks the skin slightly. For the broken nose, I'm using mortician's wax. Wax was huge in the early days of film. We don't have much of a budget here."

He sealed the face wound make-up with something called prosaid, a make-up adhesive.

A few strokes of the brush for bruising and viola — Deich looks like the living dead.

The whole process took Spears no more than two minutes. Thirty minutes later Spears rigs an
actress' arm to make it look like she slashed her wrists.

While Baisley looked like he wanted to punch Spears several times, Baisley said they're buddies.

"Sure I yell and scream a bit, but everybody ends up laughing at me," Baisley said.

The day ended around 3 p.m. or so. Baisley and his actors were heading to a local high school
graduation. The plan was to plant two actors in the audience and then film a drug deal. Baisley was hoping no one would catch onto the fact he was filming a movie.

The plan didn't work, but the movie crew managed to stay out of jail.

To find out more about Spears, Baisley and their movies, visit www.lightanddark.net.
---
Dead Sexy: The lastest update on the real reasons we go to the movies, watch TV and rent
videos.
Edited by Dan Scapperotti (March/April 2005 Issue)
Featuring The Tenement's Suzi Leigh aka Suzi Lorraine, and
Fairview Falls' Kerri Taylor and Debbie Rochon.
---
Issue #25
The Blood, Sweat, Tears (and More Blood) of a Low Budget Horror Actor
Written by Mike Lane
I recently finished acting in a horror short by Light & Dark Productions called No Trespassing 2: No
Exit. I vividly remember sitting on a couch at the Inner Sanctum Haunted House at the Canopus
Country club in Putnam Valley, NY, getting ready for my death scene-an axe to my head.
During rehearsal, director Glen Baisley explains the cue for the killer (Gene Mazza) to burst through
the door and kill me. The cue will be a certain line that I say. I must have my head in a marked
spot on the couch so Gene knows where to strike with the axe. The "axe" is made with a balsa wood blade and a wooden handle. The fake weapon will actually be hitting the back of the couch that I am sitting on and not my head. I also must not move my head. If I do, I will mess up the framing of the shot. Gene, as any good killer would, is wearing a gas mask. Unfortunately, the gas mask has an obstructed view.
Glen yells, "Action!" and the scene begins. Gene bursts out of the door and wields his mighty axe.
Since his viewing is obstructed he misses his mark and hits me square on the back of my skull with
the unpredictably hard balsa wood. The blade goes flying off its handle towards Glen. The back of
my head begins to sting and throb. After apologies from Gene, the axe is repaired and Glen
eventually gets what he wants after a few takes. During those takes I was nervous about the axe
hitting me again but I couldn't show it, because my character wasn't feeling nervous. My death
scene, however, is not yet finished.
Gene, who is also the makeup effects artist, prepares for the next shot, which is the axe being
pulled out of my head while blood runs down from the impact wound. I am proceeded to be covered in dyed corn syrup (the perfect blood FX) from the top of my head all the way down to my chin. The scene is filmed successfully but I will be needed for another scene later … about two hours later.
Since I can't walk around the location drenched in fake blood for fear of staining everything I touch, I do my best to wash the stuff off my face, chest, shirt and pants. The fake blood is incredibly sticky and messy. I wash my stained shirt with water from Canopus' rest room sink and hang it up in front of a heater to dry. A few hours later I change back into my wardrobe (which has become stiff and crusty because of the sticky corn syrup and intense heat) and Gene pours a fresh bottle of blood all over me again. My final scene is shot and I get to clean up and relax. Soon after, I find out that I have to play a masked character since the original actor had to leave for work. As the masked character, I have to stand perfectly still and make pretend I'm a haunted house prop. That particular shot only took about fifteen minutes. Eleven hours after we started, the day is wrapped, another day for a low budget horror actor.
I started to seriously pursue acting after graduating college almost five years ago. I always wanted to be an actor and working behind a desk for a living was something that had grown very
unappealing to me as graduation approached. I had acted sporadically throughout elementary,
junior high and high school, putting on skits for other students, and also performed, produced and
directed movies for my high school film and TV classes as well.
In addition, I also appeared in movies and skits made with a VHS camcorder for about four years.
These movies and skits were mostly improvised. My friends and I made these movies for fun. We
just started recording and tried to see where our improv would take us. I now have hours of footage that I am honestly scared to watch (mostly since I had a mullet in junior high and high school).
I have been fortunate enough to stay busy acting-wise throughout the past five years working on
everything from drama, to comedy, to horror, to "how to" videos. Horror, however, is one of my
favorite genres in which to work. I grew up loving horror movies. One of my favorite movies of all
time is the original Dawn of the Dead. I've had lead, supporting and principal roles in over 60
projects that include movies, theater, television, commercials and industrials. Twelve of those
projects have been horror related.
I enjoy horror movies not only from a fan standpoint but from a business standpoint too. Most
horror fans are very loyal. If they like a certain movie they will let everybody know about it. Since
the fans are so loyal, horror movies are usually the easiest low budget genre in which to land a
distribution deal. As a matter of fact, Light & Dark's latest movie, The Tenement (in which I have a lead role), recently landed a distribution deal with Brain Damage Films.
I have also met some great people through horror. Horror fans, as evidenced by horror conventions, are almost like an extended family. Most of them are very nice people who are not quick to judge others by appearance even if they are full of tattoos, piercings and made up to look like a demon on crack. I've seen horror fans of all ages, races, and creeds happily socializing with each other.
I have been shot, stabbed, beaten with baseball bats, buried alive and eaten (all make believe of
course) since I started acting in horror. The application, shooting and clean up of a death scene
may take hours while the scene itself may last only a few seconds. An actor having latex, fake
blood and other types of horror make-up applied to him/herself cannot be impatient, claustrophobic, allergic (very important) and afraid to get messy. If the actor doesn't mind getting a little dirty, acting in a horror movie is usually a very fun experience.
However, being a low budget horror movie actor (as well as any type of low budget actor) is not
always great. The pay, if any, is usually minimal. I have to work "survival jobs" like bartending and office temping to make ends meet. My acting career does not allow me to work a regular job. My survival jobs must be flexible enough so I can take off at a moments' notice in the event of a
last-minute audition or acting gig.
Enduring huge cattle calls, rejection, broken promises, working hard on a movie that ends up being
erased, a movie that is never finished, never receiving a copy of a movie, a producer/director who
doesn't do anything with their movie once it is finished, nepotism, politics and liars are just a few
setbacks of working in the low budget world.
Remember when I wrote that I've had lead, supporting, or principal roles in about 60 projects? Well, out of those 60 projects, I have received 20. My "payment" for some of those projects is supposed to be copies of the projects themselves. If not for the learning experience, the time spent on these debacles is completely wasted. I only audition for paying gigs now, but I have also worked on movies that have promised to pay me but never have.
The crap-flavored icing on the very smelly cake is that acting is extremely competitive. There are
only a small percentage of actors who actually make a living only from acting.
A person who wants to be an actor must deal with these (and many more) setbacks, learn from them and move on.
After my 11 hour shoot, I take a quick nap and drive an hour and a half home to get ready for work
the next morning. This survival job requires me to literally make thousands of photo copies for the whole day. I am college graduate with a degree in marketing. If I had decided to get a regular marketing job after college, I would easily be making a lot more money than I am now. But I know wouldn't be happy. In fact, I would be miserable and full of regret, and that's really no way to live.
I can comfortably state that I would rather spend another 11 hours on the No Trespassing 2: No Exit set than work any permanent office job. So, when you see me on screen covered in fake blood, and playing dead with a shocked look on my face you will know that on the inside I am smiling because I'm doing what I want to do, which is living my dream.
www.lightanddark.net/MikeLane.htm
http://www.lightanddark.net/pr110.htm - No Trespassing 2: No Exit's webpage.
---
January 10, 2005 Issue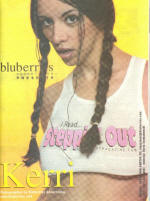 Fairview Falls star Kerri Taylor
appears in Steppin' Out Magazine.
---
Issue #240 January 2005
Satan's Schoolgirls (Grindhouse Junkies, 2004): Bad girls played by Jane (Flesh for the Beast)
Scarlett, Suzi (The Tenement) Lorraine, Kerri (Fairview Falls) Taylor and others are hot even before
they go to hell in Terry M. West's latest. Go to www.grindhousejunkies.com to order the DVD.
---
Michael Gingold:
Fairview Falls:
December 17, 2003: NY-based FAIRVIEW FALLS seeking cast/crew
October 22, 2004: Debbie Rochon talks her new movies
October 29, 2004: Monster TV premiere at New York festival

November 18, 2004: SATAN'S SCHOOLGIRLS now available on-line
December 17, 2004: MUSTANG SALLY rides into production
---
December 8, 2004

Screaming Stoner Video: When did you first begin acting and do you have a favorite film you've
been in?

Kerri Taylor: I answered an ad in backstage for a TV show which never worked out. The guy was
flaky but the photographer from the show Pat Mirucki was cool and introduced me to Bob Gonzo. I
did a few of his movies then I met other filmmakers at the chiller conventions and started doing
other stuff. My favorite films I have been in are probably Satan's Schoolgirls, the Ghosts of Angela
Webb , Kill the Scream Queen and the upcoming Fairview Falls with Light & Dark Productions.


Screaming Stoner Video: Do you personally watch a lot of independent movies?

Kerri Taylor: I watch some. I actually watched a few Seduction Cinema's films. Some are good,
some are REALLY BAD. I did like Screaming Dead and Bite Me.

Screaming Stoner Video: What's the best indie film you've seen this year?

Kerri Taylor: Duh, Satan's Schoolgirls. LOL and The Tenement was pretty good.

For the Full Interview click here.

---
Issue #364 September 2004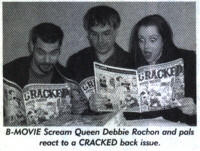 (Left to Right) Gene Mazza, Michael Gingold
and Debbie Rochon
---
For More Information Contact:

Light & Dark Productions
PO Box 21
Lake Peekskill, NY 10537
Telephone: (845) 526-6118
Internet: LghtandDrk@aol.com