THE ROOT OF ALL EVIL STARTS AT THE FAMILY TREE™
---
A look at an American dysfunctional family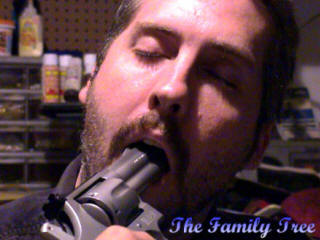 The Family Tree™ (copyright © 2001) marks the second time that Light & Dark Productions is entering the arena of film making. Light & Dark's first film, entitled Fear of the Dark (a psychological thriller), debuted as well at the Putnam County Film and Video Festival on October 6, 2001. The Family Tree received a Certificate of Merit award and Fear of the Dark received a Merit Award in the form of a plaque for "Storytelling in a Narrative Feature" at the festival.
We feel that the timing of the short is appropriate because not only is it a timeless piece but it very much suits today's society. We take a dysfunctional family and put it under a microscope. The message we hopes that people will interpret is that we as a society must take responsibility for our actions and the way we raise our children. We shouldn't be so quick to blame the media. The root of all evil starts at the family tree.
The Family Tree, which was shot entirely on Mini-DV, reunites many cast and crewmembers from "Fear of the Dark". It is a pleasure working with them. They are like a second family. Unlike "Fear of the Dark" which was shot across multiple counties including Dutchess, "The Family Tree" was predominantly shot in Fishkill at the home of Anthony Eikner of Death Head Productions. Eikner who provided makeup and special effects and consulted on Fear of the Dark now tries his hand at acting as the main character Anthony in The Family Tree.
The film short features original songs by the band Malice and instrumental music by Ed Shelinsky of Demon Call Productions.


copyright © 2000
IMDB Listing
---
For More Information Contact:

Light & Dark Productions
PO Box 21
Lake Peekskill, NY 10537
Telephone: (845) 526-6118
Internet: LghtandDrk@aol.com

.