We prefer you buy The Tenement from the Light & Dark Productions Online Store
since we see a larger percentage of the profit. By buying the movie you are helping
to support us and allowing us to fund new movies to entertain you and hopefully push
the envelope further. So much time goes into the movies and very often the profit
margin is low. We rely on your support as a customer and fan for our business to grow.
Ordering from us also guarantees speedy delivery. Some stores place an order once
they receive your order. Whomever you decide to buy from, we thank you for your
support!
The following is a partial listing. If you know of or have a store
that Rents or Sells The Tenement, please let us know so we can
include you.
WORLDWIDE DISTRIBUTION
Australia
Benelux (Belgium)
Canada - Brain Damage Films
Denmark
France
Germany - Medienvertrieb in Buchholz (MIB)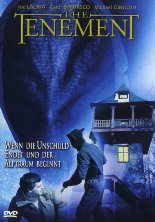 Japan
Russia
Spain
Sweden
Thailand
United States - Brain Damage Films
ONLINE STORES
Light & Dark Productions Online Store
(Order from Light & Dark and get an Exclusive Promotional Item)

STORE
Best Buy (Beastly Butchers)
Fye
Suncoast
Zellers (Canada)
MOVIE DOWNLOADS
ONLINE RENTAL/VIDEO ON DEMAND

RENTAL
To find a video store near you that may rent The Tenement try www.forMovies.com.
Hastings Entertainment (Mid-West Chain)
Store Locations
California:
Fastlane Video
12726 Hadley Street #102
Whittier, CA 90601
(562) 698-3313
Westside Video
8499 Old Redwood Highway
Windsor, CA 95492
(707) 838-9877
Indiana:
Video Adventures
319 Fifth St
Rising Sun, IN 47040

Video Adventures
1035 W. Main Street
Vevay, IN 47043
(812) 427-2549
Video Adventures
1014 S Adams St
Versailles, IN 47042
(812) 689-9928
Kentucky:
Top Ten Videos
518 N Carol Malone Blvd
Grayson, KY 41143
(606) 474-0337
New Jersey:
Stop N Go Video
2327 New Rd
Northfield, NJ 08225
(609) 484-8833
New York:
Downtown Video
540 Main St
Medina, NY 14103
(585) 798-5080
Entertainment Video
Route 50 Corner Jones Road
Wilton, NY 12866
(518) 587-5253
Joey's Movies
2141 Crompond Road (Rt. 202) in Toddville Plaza
Cortlandt Manor, NY 10567
(914) 739-9249
Video Box Office
Route 202 in the Heritage Hills Shopping Center
Somers, NY
(924) 277-8300
Video Bug
151 Route 52 (Near the Carmel Movie Theatre)
Carmel, NY
(845) 228-9100
North Carolina:
Cinema Express
2302 E Main St
Lincolnton, NC 28092
(704) 735-4600

J & J Videotape Exchange
127 East Innes St
Salusbury, NC 28144
(704) 638-0997
Ohio:
Sun Video
23 S 4th St
Martins Ferry, OH 43935
(740) 635-9660
Pennsylvania:
M & M Video
Route 136 Box 60Y
Greensburg, PA 15601
(724) 834-8877
South Carolina:
Just New Releases
727 Dilworth Lane
Suite 102
Rockhill, SC 29732
(803) 329-5700
Tennessee:
Speedway Videos
1107 Bluff City Highway
Bristol, TN 37620
(423) 764-4337
Video Magic #1
727 Gray Station Rd
Gray, TN 37615
(423) 477-7389

Video Magic #2
Hwy 37 Beltway Center
Blountville, TN 37617
(423) 323-0753

Video Magic #4
413 Boones Creek Rd
Jonesborough, TN 37659
(423) 753-0077

Video Magic #6
2608 E Center St Ste #2
Kingsport, TN 37664
(423) 247-2411
Virginia:
Showtime Video #3
724 B East Riverside
North Tazwell, VA 24630
(276) 988-2464
Video 2000
502 E Main St
Louisa, VA 23093
(540) 967-9672
Video 2000
Southgate Shopping Center
Farmville, VA 23901
(434) 392-6225
Video 2000
Highway 460 W
Appomattox, VA 24522
(434) 352-2724
Video Connection
843 W Stuart Dr Ste 2
Hillsville, VA 24343
(276) 728-0425

Video Connection
541 E Stuart Dr
Galax, VA 24333
(276) 236-7744
West Virginia:
Video Shoppe
1200 Harrison Ave
Elkins, WV 26241
(304) 636-0222

For More Information Contact:

Light and Dark Productions
PO Box 21
Lake Peekskill, NY 10537
Telephone: (845) 526-6118
Internet: LghtandDrk@aol.com