The Tenement Publicity
---
Be sure to check out the HALL OF FAME to see celebrity pictures that were taken as part of the publicity for the movie.
Racks & Razors Interviews Mike Lane
The Hacker's Source DVD Review
Visions of Terror Movie Review
MicroCinema Magazine Movie Review
Blood Moon Rising Movie Review
FilmThreat.com Interview with Michael Gingold
FilmThreat.com Interview with Glen Baisley and Movie Review
Screaming Stoner Video Review & Kristy Langford Interview Excerpt
Malamute presents The Dog Pile Interview and Movie Review
Slash! Productions The Grave Movie Review
Social Crime Radio Network Interview
MonstersAtPlay.com Movie Review
Fangoria Magazine Video Chopping List
Dr. Squid's Smorgasbord of Terror Movie Review
The Horror Review Movie Review
EvilKlown.com & The Spiderweb Crypt Movie Review
Bloody-Disgusting.com Movie Review
ReelCriticism.com Movie Review
The Hacker's Source Movie Review
Worcester Rocks (AM 1310 WORC) Movie Review
Wooden Spoons Obscure Horror Movie Reviews
Fangoria Magazine Notes From The Underground
KROT: Bastardly Internet Radio with Pedge Jameson
All material on this page is courtesy of the authors and is protected by copyright.
---
STEPPING OUT:

Oh, the horror

By Eugene Driscoll (October 4, 2005)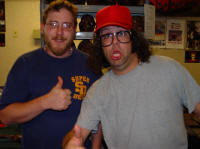 Eugene and his long-time friend Brian Spears,
a movie make-up guy, spent some of the weekend
hanging out with Judah Friedlander, the comic from
VH1's "Best Week Ever."
SECAUCUS, N.J. — I didn't mean to piss off John Landis, the guy who directed "Animal House," "The Blues Brothers," "Trading Places" and "An American Werewolf in London."

But it happened.

Landis appeared last week at the annual "Fangoria Weekend of Horrors," a horror movie convention.

Now I know what you're thinking.

Horror movie convention? Trekkies? Geeks in Halloween costumes?

Kinda, if Trekkies were drunken, slovenly, criminally perverted movie buffs — because those were the dudes I hung with last week.

Hold on, lemme get back to the Landis story.

Landis was there to promote "Masters of Horror," a horror-themed cable show that will premiere on Showtime Oct. 28. Landis is directing one of the 13 episodes.

The convention was at a hotel next to the Meadowlands in Jersey. Landis appeared on a small stage and answered whatever questions the 200 or so people in the audience threw at him.

Call me a geek, but that's the cool thing about these conventions. The talent interacts with the common schmoes — and the common schmoe always asks better questions than me, guy with the press pass.

Except this time.

Landis was talking about "American Werewolf in London," an early '80s horror flick that has become a bona fide classic. Landis is funny and tells a really good story — he seemed genuinely happy chatting up the horror fans for a few minutes.

But I wanted to hear about John Belushi, who worked with Landis on both "Animal House" and "Blues Brothers."

So ...

"JOHN BELUSHI — DEAD OR ALIVE?" I screamed from my chair, without really th
inking.

Landis, who hasn't aged in 30 years, tilted his head slightly and gave me a quizzical look.

"John Belushi will be here later," he said, getting a laugh from the folks.

"GIVE US A BELUSHI STORY," I yelled back, "SOMETHING ABOUT JOHN BELUSHI! SOMETHING FUNNY!"

At this point, everybody in the banquet hall became quiet. It was like somebody sucked the air out of the place.

Funny, light-hearted Landis launched into what sounded like a cross between a eulogy and a public service announcement.

"John Belushi was a great guy and a force of nature and a gifted artist and a drug addict — and it killed him," Landis said. "Unfortunately, this isn't the joke part. Don't use drugs kids, they can kill you. I've lost several people to it. They kill you. And I'm still fucking angry about it."

Time to move on, right?

I walked out of the big banquet room, walked down a hall and entered the "dealer's room" — another big room. This one was filled with folding tables covered in everything horror.

Horror DVDs, collectibles, T-shirts, toys, everything. See, the horror convention is also a way for guys like Glen Baisley, an independent horror movie director from New York, to get his name out.

Baisley wrote and directed "The Tenement" and a bunch of other low-budget horror flicks. He rented a table at "Fango," as the convention is called, with Brian Spears, a rising talent (and longtime buddy of mine) in the horror world.

Spears has done gore make-up for HBO's "Autopsy," along with T&A flicks "Flesh for the Beast" and "Shadow," starring none other than "Candyman" Tony Todd — and lots of topless actresses.

Baisley and Spears are an interesting couple.

At horror conventions, Baisley is a schmoozer and a salesman, there to get publicity for his movies and to sell a few DVDs when possible.

Spears, meanwhile, has a slightly different agenda.

Their day began at 6 a.m., when they left their homes in Westchester County, N.Y. to set up their tables at Fango.

At about 8:30 a.m., they were being interviewed by a documentary crew from Showtime, which was interviewing horror fans.

The guy with the microphone asked Baisley about his favorite horror movies. Baisley, a hulking, usually good-tempered dude of well over six feet with a voice that rivals Vader, started talking about "Halloween."

Spears, a shorter guy who always gets mistaken for the Richard Dreyfuss character in "Jaws," remained quiet for a moment. Then, as Baisley talked earnestly about the great director John Carpenter, Spears began tweaking Baisley's nipples over his shirt.

Baisley, apparently used to this sort of thing, smiled slightly and kept talking about horror movies.

Spears was also selling stuff at the convention. He had a huge collection of hand-made skulls and masks, many of which had been used in the movies he's made.

A half hour after the public had been let in, Spears sold a burnt corpse to a bar owner from New Hampshire. The guy paid about $250 for it and planned to hang "her" in his bar for Halloween.

Later, the guy showed up in the hotel bar wearing what I think was black face.
Speaking of the hotel bar, that's where the real entertainment for the Fango shows happen.

Later that night, and after talking to a guy for 20 minutes about "The Seven Ups," a 70s crime flick, I hung with Spears, Baisley, actor Mike Lane, Spears' make-up partner Pete Gerner and a gaggle of other indie horror filmmakers.

A summary of the after hours activities: Baisely fell out of an elevator, Gerner cuddled me, then urinated in a stairwell, Lane did a dead-on, yet disturbing imitation of Bill Paxton from "Aliens," and a bizarre "Fango girl" had some really f'd-up foot fungus.

Oh yeah, Spears and I were kicked out of a VIP after party not once, not twice, but three times. Turns out you had to pay 40 bucks in advance to get in.

Spears and I also befriended Judah Friedlander, the comic from VH-1's "Best Week Ever" who wears a trucker's hat that reads simply: "World Champion."

I had seen Judah once at The Comedy Cellar in New York City, where he killed — I mean heads and shoulders above the other comics (which included Dave Attell).

Judah isn't just a stand-up comic. The dude can act. He played the sorta autistic dude in "American Splendor."

Judah was at Fango to promote "Feast," the Project Greenlight movie that is coming out later this year.

"Is 'Feast' any good?" I asked Judah, who, by the way, does not drink or smoke.

Judah said it kicks ass. Actually, I can't remember precisely what he said, so I'm answering his question as if I was his press agent.

He and Spears talked for awhile, with a wildly drunken Spears quizzing the stand-up comic about Balthazar Getty, who stars in the John Gulager-directed "Feast."

Spears was convinced Getty was a spoiled brat.

"He's got all that gas money, that prick!" Spears said.

Judah, holding a glass of Seltzer and wearing thick-ass Elvis glasses with messy long black hair, was impassive.

"He was cool, man," Judah said.

"No, man, he's got all that money!" Spears insisted.

"I honestly did not know that until right now," Judah said.

The three of us chatted for a little bit. The conversation ended with Judah promising us he'd get us into a comedy club for free. I'm e-mailing him this article as a reminder — and I'm free next weekend.

The next morning, Judah said somebody had stolen his trademark trucker cap.
"It really sucks, man," he said.

I think it was Landis.
---
Express Lane to Fame: Talking With Horror Thespian Mike Lane
By Owen Keehnen (July 17, 2005)
Brooklyn born Mike Lane made a gutsy decision 5 years ago to chuck his Marketing Degree and go for the gold --- make that the blood red -- and hasn't bothered to look back since. In the years following he's made some formidable progress in the acting field – mostly in the horror genre. Mr. Lane is most closely associated with the world of Light & Dark Productions, where he also works periodically behind the scenes. His features for Light & Dark include the features 'The Tenement' in which he plays Jimmy Wayne Garrick, a man who believes he is turning into a werewolf (with Racks and Razors gore-gore gal Syn DeVil) and 'Fear of the Dark' (which features a deliciously visceral disembowelment scene). He has also appeared in such features as 'Urban Cannibal Holocaust', 'Permanent Scars', 'Cosmetic Commando', and 'Linger'. In addition he has several projects in the immediate offing.
It's a wonderful advantage of this site to showcase new talent and Mike Lane is someone you will definitely be hearing more from in the none-too-distant future.

Owen: I was reading your bio how five years ago you changed gears and went from a marketing future into acting. It can be a pretty tough career. Have you ever regretted your decision?

Mike: Never. Even though I would be making a steady salary behind a desk, I would be miserable from regret and frustration for not pursuing my dream. Acting is what I should be doing and I'm glad I made that decision. And it's not like my degree is totally going to waste. I am marketing myself.

Owen: True. In 'Tenement' (which also features Racks and Razors fave Syn DeVil) you play Jimmy Wayne Garrick who after being bitten by a wild animal becomes convinced he is turning into a werewolf. What was the most challenging part about the role?

Mike: My naked butt shot. It was a chilly October night and I was completely naked except for a pair of fake ears and a plastic bag covering my private parts. We also shot the scene not too far from a busy street. Luckily I was performing in front of just the director Glen Baisley and Marion Nash, a nice old woman who was in the scene with me. Oh and in the too much information department, I shaved off all my body hair for the part since being hairless was a set up for a one line gag. So shaving got to be very time consuming. I found the role of Jimmy (which is probably my favorite role to date) more fun than challenging since I rarely had to hold back. He was an over the top character. I could just let everything go and be crazy which I enjoy doing. In acting I find "toning down" to be challenging sometimes. Syn DeVil was great to work with. The night of our scene was a night where everything that could go wrong did go wrong from starting to shoot at around 3am to the extras being drunk, to actors not showing up, etc. Syn handled her brief but memorable role like a true pro. Hopefully I'll be working with her again soon.

Owen: So do you feel what we fear is scarier than the real thing?

Mike: Sometimes. It depends on the situation. I do believe that our imagination can definitely be worse than what actually happens. An old trick in horror is sometimes to not show everything in every possible gory detail and leave it up to the audience's imagination since that is usually worse that anything a special effects artist can build.

Owen: Tell me about the disembowelment scene in 'Fear of the Dark'. That's something you don't see everyday.

Mike: Speaking of not leaving anything up to the imagination – that scene was made to be purposefully long and overly drawn out. That was Glen's tongue and cheek comment on the ridiculousness of gratuitous gore scenes in horror. Fear of the Dark was actually almost banned from a local film festival due that scene's "shockingly realistic" vibe which is ironic since there is no way a human being can have that many intestines.

Owen: Both those films were done by Light and Dark Productions and I know you're also a creative consultant there. Can you tell me a little something about that production company?

Mike: While I made a suggestion here and there for Fear of the Dark and The Tenement, I really started to step up behind the scenes during the time between The Tenement/Sin of the Father (which were shot simultaneously) and Fairview Falls. Light and Dark has been around since 1999 and has released two full lengths (Fear of the Dark and The Tenement), one short (The Family Tree) that can all be purchased at www.lightanddark.net. We have another short (No Trespassing 2: No Exit) playing some festivals and screenings and two more full lengths in post (Sins of the Father and Fairview Falls). The movies all have a basically dark theme exploring the light, dark as well as the gray areas that dwell within everyone. We do our best to put out a good STORY first and then enhance it with the blood, guts and scream queens that lots of horror fans like. The Tenement is probably the most well known title since it landed a distribution deal with Brain Damage Films. I met Glen in the spring of 2000 when I auditioned and landed the role of Michael Jacobs in Fear of the Dark. We've been friends ever since.

Owen: What about Glen Baisley's (Light and Dark Productions) film vision coincides with your own?

Mike: Well first off Glen is the be all and end all of Light and Dark. He gets the last word and approval on everything. He's the big boss. Light and Dark is his playground and he is nice enough to let me play in it. That being said I am one of Glen's worst critics and I think he appreciates the constructive criticism because he knows I argue my views for the betterment of the movies. I have the right to argue with him and be brutally honest about why my vision would be the best for Light and Dark. Sometimes my arguments work, sometimes they don't but I always respect and go with his decision since it's his money being put into all the projects. Luckily, we do agree more often than not on the creative direction and Glen is always open to suggestion from anyone and everyone including actors, crew, fans etc. As long as the final decision is Glen's, he is a happy man. If I really feel strongly about a project that Glen doesn't agree with, I'll find a way to do it on my own. I'm sure Glen would be around to help if that ever comes to be.

Owen: In conjunction with Light and Dark I've heard you also attended your first horror convention. What was that first-time experience "on the other side of the table" like?

Mike: I actually attended my first horror convention as a fan I believe back in the early 1990's. It was a Fangoria Weekend of Horrors and I remember Clive Barker and Grandpa Al Lewis being there. Going to that convention opened my mind up to many alternative and underground cultures and styles. I did not attend another convention until Chiller Theatre in October 2000 to promote and hand out flyers for Fear of the Dark. We did not have a table then. I think at the Fangoria and Chiller conventions the following year, Glen bought a table and we've had tables at both those conventions for the past five years. The first time being behind the table was great. I was helping to sell a movie that a bunch of other people and I busted our butts to make. And it was a damn good feeling when total strangers bought Fear of the Dark just based on the trailer playing on the monitor at the table and our passion to get our movie to as many people as possible.

Mike: I look forward to every convention because it's a chance for at least one more person to be exposed to our work.

Owen: Is your work behind the camera something to make connections to get more work in front of the camera or does production involvement on any level bring you the same amount of pleasure?

Mike: Right now I only work behind the camera for Light and Dark and that's with the understanding that my work behind the camera for them does not conflict with my acting schedule. I would not mind lending a behind the scenes hand in other company's project but only if we have the same understanding. Acting is my priority and if a company understands the sometimes last minute demands put upon an actor then I would be happy to help creatively in any way I can. I never approached the idea of working behind the camera to try and get work in front of the camera since I always prefer acting to anything else. So if I wanted to act in a project I would approach the project's powers that be as an actor first and foremost. I do find pleasure in a script I helped write or develop come to life in front of me or an idea that I had (whether being creative or business based) come to fruition but honestly not as much pleasure in a compliment on a performance from a fan or critic.

Owen: You also played Carter in the scare flick 'The Demon Shells'. Can you tell me a little something about that project?

Mike: Unfortunately The Demon Shells will never be released. The director did not like the results of the movie after it was shot so he scrapped it. Luckily he liked my performance and I have worked with him on subsequent movies. Hopefully someday the movie will be revisited.

Owen: Boo, well then I want to hear about your work as a featured zombie in Insane-O-Rama's 'Last Rites'.

Mike: I shoot with them this Friday so as soon as I find out, you'll find out. I've hung out with the Insane-O-Rama crew a few times at the horror conventions and they are good people.

Also, after reading the script for Last Rites I can tell you that it is 100 times better than Strange Things Happen at Sundown. So if you liked Strange Things, you will absolutely LOVE Last Rites.

Owen: So which is the most frightening to you and why - werewolves, witches, zombies, vampires, psychos, aliens, or creatures?

Mike: Psychos because they really exist. Just watch the news.

Owen: As someone dedicated to the enhancement of the horror genre what are your favorite fright movies?

Mike: The George A. Romero zombie movies (including Land of the Dead) are hands down some of my favorites. What are so great about them are not only the awesome looking effects and gore, but the underlying social commentary that Romero weaves into his stories. I also find The Exorcist, Evil Dead, A Nightmare on Elm Street and Kubrick's The Shining to be some of the scariest movies ever made. They gave me nightmares when I was a kid. For roller coaster like thrills that make you jump out of your seat, Aliens and Scream definitely come to mind.

Owen: What projects do you have lined up in the near future?

Mike: I just finished doing commentary for the Light and Dark short No Trespassing 2: No Exit with Glen and Diana Baisley and I did some overdubs for an upcoming director's cut of Fear of the Dark

I start acting in a Star Wars fan film (I am a HUGE Star Wars fan) very soon. That should be fun. I get to fly a starship and fire a blaster. How cool is that? And coincidentally the director of the fan film was a fan of Fear of the Dark who I met and talked to at the different horror conventions over the years. Before my audition he e-mailed me and said that he knew me. I immediately recognized him once I saw his picture. Good thing we always got along at the conventions.

I have a few indie films lined up but I don't want to announce them until all the funding comes into place and all the i's are dotted and t's are crossed contractually. Hopefully they will all be made but I have learned to hope for the best but expect the worst. I act regularly in industrials (training videos) for RuMe Interactive and Learn It Solutions based on Long Island . Glen and I are also in the preliminary stages of writing Light and Dark's next feature length movie as well as working on the postproduction dealings for Sins of the Father and Fairview Falls. And I'm sure to let off some steam, Light and Dark will probably film some shorts, DVD extras and whatever else comes to mind. And finally, when I'm not acting, I spend my time going on auditions, looking for more acting work by sifting through the multitude of casting pages on the Internet, always promoting that I'm an actor to almost everyone I meet and trying to have a good social life as well. Luckily, I have been keeping busy.

Owen: What scares you in real life?

Mike: Falling asleep while driving. There have been many times where I've had to pull over and either stretch or take a nap in my truck. For some reason it's almost impossible to try to stay awake if I'm tired while driving. Luckily I haven't completely fallen asleep and driven off a mountain or into oncoming traffic. Thanks for the interview (you got yourself a damn good website) and don't forget to check out my website at www.lightanddark.net/MikeLane.htm.

Owen: Will do, thanks Mike. And all the best with your career.
---
Issue #25 Winter 2005
---
Michael Gingold:
The Tenement:
July 8, 2003: Blood Fest 2003 in New Jersey this October
February 16, 2004: FAIRVIEW FALLS seeks cast/crew for NY shoot
April 14, 2004: TENEMENT signing event in upstate NY
---
Excerpts from a Review by Shane M. Dallman (Issue #115 January 2005)
Elements of many video projects written, produced and directed over the years by Glen Baisley have been combined into an anthology thriller known as The Tenement (as well as two companion pieces, Fear of the Dark and Sins of the Father).
We meet Ethan (Joe Lauria), essentially a Norman Bates in training (complete with bedridden mother) whose big chance to audition for a director he idolizes (Fangoria associate editor Michael Gingold) turns into a humiliating ordeal – with the usual aftermath. Three additional stories revolving around the title building ensue. A mute dancer menaced by a stalker/rapist seeks salvation in her unusual relationship with her radio in what is perhaps the best of the bunch. Next, a counselee may or may not have been bitten by a werewolf in what is essentially a grisly take on the Nicholas Cage vehicle Vampire's Kiss – Seduction Cinema's Syn DeVil shows up here as a nightclub stripper. And finally, a serial killer who disguises himself as a cab driver might have picked up a fare that even he can't handle.
Baisley assures us (in the cast/crew commentary and in the massive amount of behind-the-scenes supplements, each of which he hosts personally) that the dangling elements (such as the Black Rose killings) will be all accounted for in the connecting features. The Tenement and its supplements should at least be of interest to students of independent horror filmmaking.
---
Review by Paul J. Brown (Issue #17)
The Tenement, not to be confused with Roberta Findlay's gory gang warfare epic, is an anthology picture harking back to the heyday of Amicus and Tigon. The titular building that forms the center of this independent production acts as a catalyst of carnage with four tales of terror as depicted by writer, editor, producer and director Glen Baisley. It transpires that this particular block is a breeding ground for evil and the creepy stories are retold in flashback by the Goth-type landlord as he proudly spills the beans about the 20 year history of horrors!
The first story involves the unbalanced horror film obsessed Ethan Fernier (and his nagging mother), who gets a chance to audition for his favourite horror film director, Winston Korman. Naturally, he blows it big time. But the nasty and obnoxious Korman gets a lot more than he bargained for when Ethan flips completely.
Story two sees a troubled, perpetually dancing, mute girl, getting away from it all at a country retreat only to get menaced and raped by her stalking neighbour. The tables are soon turned though when this unwelcome guest finds that the girls is not quite what she seems.
The third segment, is a piss-take on American Werewolf in London, with paranoid Jimmy getting bitten by a wolf on his way home from a therapy session. Needless to say, the times they are a changin', as Jimmy begins to sport some pointy teeth and grow thick hair, etc., when the moon is full.
And finally, The Tenement plays out with the closing story that focuses on an overweight serial killer, who poses as a cabby, picking up prostitutes and bumping them off. His sadistic tendencies are soon halted when he picks up a girl who appears to be nuttier than squirrel shit!
All these stories are brought to a conclusion that will probably come as no surprise to regular horror vets but it's an above average entry for a film of its budgetary constraints.
Best segment is the first one and although the acting will never win any awards, is livened by the performance of Fangoria's Michael Gingold as the hideous film director. He is introduced to us as he is getting a blow-job and ladles out verbal abuse by the bucketload – he even kills his cat! So it was gratifying to see his character get his face pulped in with a spade. Joe Lauria as the psychotic Ethan is also worthy of mention. The final story has some real nasty touches with the killer torturing his victim as she is facially wrapped in clingfilm. Weakest link was the werewolf tale – the humour didn't gel well with the rest of the film and, apart from a throat ripping, suffered from poor make-up. Having said that, a homosexual gag worked a treat and raised a smile with this reviewer. You can clearly see that everyone had a blast whilst making this film and Baisley should be given credit for injecting so much enthusiasm into his baby. From the copious extras that are adorned on the DVD you can see what a lot of hard work it is to get an independent film like this out there to the public.
In summing up, The Tenement at 118 minutes is way too long as it tends to drag in places and the ending is nothing short of ridiculous, but having said that it certainly has some inspired moments that show that Baisley is onto something. Before this film he made the Family Tree (2001) and Fear of the Dark (2001), the latter featuring the Black Rose Killer, which linked with a film-within-a-film sequence in the Tenement! And it's interesting to note that his newest film, Sins of the Father, again links with the other two with the Ethan Fernier character and Winston Korman once again given screen time!
---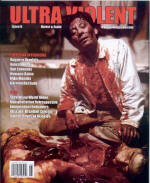 Excerpt from "Independent Roll Call" by Art Ettinger (Issue #6)
Few recent indie films start out as well as Fear of the Dark (www.lightanddark.net). The film opens with a group of young cussing girls, chasing a little boy and pelting him with snowballs. The boy hides behind a snowman, and they continue assailing him with snowballs. Parts of the snowman fall off, and it's revealed that a bloodied human body is hidden in it. The film is worth checking out for its attempt at being different. Light & Dark offers a prequel to Fear of the Dark, which is included in their anthology film The Tenement. You get a lot of wacky shit all in one film, from cultists to some good old-fashioned domestic violence. The best segment involves a confused individual's belief that he is turning into a werewolf. Both The Tenement and Fear of the Dark feature fun cameos from Fangoria's Michael Gingold.
---
Rue Morgue Review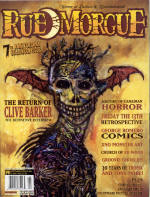 Review by Nathan Tyler (Issue #41 September/October 2004)
Glen Baisley's The Tenement is one of the most talked about new releases in the B-horror scene for two reasons; it stars Michael Gingold, Managing Editor of Fangoria and, hell, it's also pretty damn good!
The Tenement focuses its lens on an old apartment building that has a strange effect on its inhabitants - namely, madness and murder. Director Baisley does a tremendous job of squeezing good performances out of a cast of relatively unknowns and keeping the disturbing and, at times, humorous mood consistent throughout. This is a filmmaker to watch and a film to see.
---
Excerpts from a Review by Chip Lamey (June 28, 2004)
The Tenement is a horror anthology which, centers around a haunted tenement building. This is a very ambitious project for director/writer Glen Baisley... The gore scenes are quite effective and the acting isn't bad. Nearly stealing the show is Michael Gingold, real life editor of Fangoria. He plays hack genre director Winston Korman in the best story of the batch, Fade to Black. In this one, a young flower shop delivery boy, Ethan Fernier, who is a huge horror fanatic gets to bring flowers to his hero Winston Korman. The obnoxious director allows Ethan to audition. Needless to say, he stinks, Korman is mean, and the boy decides to kill him. Gingold is so over the top, I challenge anyone to watch it without laughing. His enthusiasm is wonderful... It was nice to see Carol DiMarsico (Sarah in The Sound Of Silence) again. She nearly stole the show in The Screaming Dead. Here, she's a mute girl being watched by a creepy neighbor. Eventually, he takes things a bit further, which isn't a good idea. If given a few breaks, Carol (aka C.J.) DiMarsico could establish herself as a strong genre actress... The disc is loaded with cool extras. For a low budget movie this is overflowing with neat featurettes, bloopers, alternate opening/ending, and commentary tracks. Whew! Nice going Glen Baisley and Brain Damage... It is consistently entertaining and it certainly bodes well for the future of Glen Baisley.
---
Excerpts from a Review by Ian Jane (June 28, 2004 )

The Film:

Surprisingly enough, Glen Baisley's The Tenement takes place in, get this, a tenement building. But this is no ordinary, tenement building, no sir. It's much more sinister than that. This building has a history of evil, and for the last few years, people who have lived there have been turning up dead. This film takes a look at four stories revolving around those who live or have lived there at one time or another, from four different periods of time.

Fade To Black - In 1980, a young man named Ethan Fernier who is fervently obsessed with the schlocky horror movies of Winston Korman (Michael Gingold of Fangoria), a low budget director. When he lucks out and gets the chance to deliver a bunch of black roses to Korman's office, his dreams come true and he is given the chance to audition for a role in Korman's latest film. Things turn bad when he screws up his chance pretty severely and he decides if he can't play the killer in the movie, he might as well play one in real life.

The Sound Of Silence – This is the story of Sarah, a mute who spends the majority of her time listening to the radio and dancing with an imaginary partner. What she doesn't realize is that Henry Wallace, her creepy neighbor, has been peering at her for quite some time now. Henry decides that watching is no longer good enough, so he breaks in and brutally rapes her. But Henry gets a weird feeling that there might be someone else in the apartment with them, even if he can't see who or what it is.

Full Moon Rising – This third chapter follows Jimmy Wayne Garrick, a reclusive type who only goes out when it's time for his therapy sessions. One night, Jimmy is bitten by a wild animal and soon gets the idea into his head that he's turning into a werewolf. When he begins to heal quickly and start eating way too much raw meat, he's no longer just thinking he's a werewolf but well on his way to actually becoming one.

The Taxi Driver – The final story follows a taxi driving serial killer with a taste for pretty young women. He also has a tendency to hack them up once he gets them into his cab. Late one night, his current victim looks to be ideal, but she might just have more up her sleeve than he figures on.

...A few of the more brutal scenes do benefit from some effective gore set pieces and the acting is a notch or two above the standard shot on video production...


Extras 4/5

Here's where the disc wins a whole lotta brownie points. They've crammed pretty much everything and anything you could possibly want to know about this feature onto the disc in the form of a whole lot of 'supplemental love.'

Glen Baisley is joined by cast members Diana Baisley, Mike Gingold, Mike Lane, Jude Pucillo, and John Sudol for a full length running commentary track. There's a whole lot of ground covered here, from pre to post production, and the sheer volume of participants ensures that someone always has something to say and there aren't any quiet spots in this track at all. In fact, I found the commentary to be more interesting than the film itself, and it's full of interesting anecdotes about the shoot and about the cast and crew.

Next up are two large still galleries with a combined running time of roughly five minutes. Plenty of FX test shots are found in here as well as cast photos and the usual behind the scenes material. A brief featurette that clocks in at about a minute in length entitled The World of Light And Dark takes a look at the philosophy behind Light And Dark Productions and gives a sneak peak at their upcoming production, Sins Of The Father.

The Anatomy Of Horror – Making A Mask is an effects segment with an approximate running length of about six minutes. This takes a look at the latex mask that was applied to Gingold's character after he got whacked up outside the head with a shovel. This was also a reasonably interesting piece, it's always interesting to see someone go from a normal looking person to whatever it is that the latex transforms them into. This also features footage of the crew at the Chiller Theater Convention as well as at a screening of the film.

Up next is the Winston Korman Movie Marathon, a sixteen-minute featurette that includes a handful of deleted scenes as well as a few short films, edited into one cohesive package, with an introduction by the films director. Some of the deleted scenes include an alternate opening and two alternate endings that weren't used in the final version of the film, as well as some outtakes and cut segments of dialogue and some very welcome dancing girls footage.

Finally, there are thirteen trailers included for other Brain Damage film productions, including such titles as GOTH and Vampire Sisters. There is also a chapter selection option easily accessible off of the static menus.


Overall:

The DVD is jam packed with extra features and hardcore indy fans might want to pick it up and give it a shot.
---
Excerpts from a Review by Amy Bugbee (June 28, 2004)
...This movie also contains two of the greatest horror movies scenes ever made. The first includes the previously mentioned crucifixion scene; which is better than all of that lame Passion of the Christ big budget bummer put together...
...The other scene is a spectacular moment in horror movie history; toward the end of the movie, a stripper (Syn DeVil) dancing in a club squeezes a crème-filled style doughnut covered with powdered sugar between her bare breasts and drops it in on the stage in front of a patron...
---
Excerpts from a Review by Steve Genier (June 24, 2004)
Tenement: 1 : any of various forms of corporeal property (as land) or incorporeal property that is held by one person from another
2 :
3 a : a house used as a dwelling : RESIDENCE b : APARTMENT, FLAT c : TENEMENT HOUSE
They forgot to include Glen Baisley's interpretation of just what exactly one particular dwelling does to take this definition to the max. THE TENEMENT is a fresh new look at just how evil a building can be. This affects past events that echo in their very halls and that can project into another person's life. Like James Brolin's character in The Amityville Horror, a prior presence who has caused so much evil can take effect on another's soul. You begin to morph - your looks, habits, thoughts and especially your actions. Ethan, a young horror fan, cracks to the point of sheer evil and goes on a murderous rampage. With his invalid overbearing mother and continuous failures, his mind mimics those very same horror films he watches on a daily basis. Enter horror industry magnate and director, Winston Korman, who is holding casting calls for an upcoming project. Though Ethan shows up just to deliver some black roses to him, he is mistaken as a potential killer for the movie.
Stumbling into the room, Winston Korman demands to see what he has. Does Ethan have the right stuff to be the film's killer? Eventually, he is laughed out of the room failing to convince anyone. As foreshadowing tells us, guess who is going to be the first victim of the Black Rose Killer? This is only the beginning in a series of short stories, capped off with an ending that intertwines everything together. Ethan's murderous ways have soaked into the very cement and steel beams that make up THE TENEMENT. Evil passed from one soul to the next, beginning with a mute girl who is being stalked by a serial rapist. A man who is afraid to socialize walks home at night and is bitten by a dog. Later he thinks he has become a werewolf. Lastly, a taxi cab driver who stalks and brutally murders young women only to meet his lovely match. Many of the stories show characters that seem to be interwoven between one another.
THE TENEMENT will entertain those who have a taste for that retro 80's slasher feel... Plenty of gore is spilled in THE TENEMENT, nothing too harsh that those weak in the stomachs can't handle... Some scenes are actually quite real, one in particular when an arm is being cut - it seems as if a knife is really penetrating the flesh, leaving behind bloodletting grooves. I would like to mention that the film's score was the highlight for me as a viewer. Provided by Ed Shelinsky and Sal Sirchia, very much like a score of the past. Similar to those classic black and white thrillers of the sci-fi era of the mid to late 50's and early 60's. Though the score does change for the present as with each story's dating, there is still that sense of historic theme throughout THE TENEMENT.
The Brain Damage DVD is packed solid with golden extras. The usual deleted scenes, photo gallery, and trailers are present as well as some bloopers and behind the scenes fun. An interesting look at LIGHT AND DARK at Chiller and a few other goodies will keep the viewers busy for awhile. The film itself is presented in full screen carrying a digital audio track... THE TENEMENT was made by a fan for the fan.
---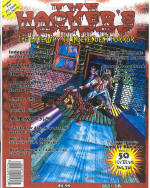 Review by Eve Blaack
The Hacker's Source Issue #16 (June 2004)
In the last issue, I wrote a review on the VHS screener of the Tenement. Since that time, Brain Damage has released it on DVD. This is one hell of a DVD. With no footage cut during the transfer, you are also treated to three hours of extras. You can see a lot of work went into this.
Cast Commentary with Glen Baisley (Director), Diana Baisley, Mike Gingold (Fangoria Editor), Mike Lane (actor), John Sudol (actor), and Jude Pucillo (actor) is a great listen, with a bunch of little behind the scenes stories and tons of laughs. Two photo galleries are included with over 100 photos of behind the scenes. I was really surprised at the amount and quality of the photos. A lot of indie productions either forget to shoot pictures or it's not in the budget or not enough hands with the cast to have someone in charge of photos.
I spent the entire three hours going through the extras without stopping just having a blast. For you pervs, there is a film clip of the strip club dancers uncut you will really enjoy. I am an FX geek and love to see how things are done, and you will get a sample of that on this with the Special FX Featurette.
The Winston Korman Movie Marathon features the short films, which were made to be the movie within a movie. The kill scenes were shown on the TV in the first segment of the film.
I have to admit; I liked seeing just the kill scenes better than the entire short. They lose their mystery and aura when pulled out of context. But after all, it's just a Korman movie! You will have to watch to catch that joke.
Other extras include: The world of Light and Dark, Deleted Scenes, Alternate Opening and Ending, Bloopers and Behind the Scenes, Light and Dark Publicity Tour, Scene Selections, and Trailers of The Tenement and other Brain Damage releases. Overall, it's a great DVD and well worth whatever price you find it for.
---
Review by Brian O'Shaugnessy (June 11, 2004)
There is something evil about The Tenement. It does something strange to the people who live there. Ethan Fernier is obsessed with the horror movies of B-movie director, Winston Korman. His destiny lies in the shadows of a black rose - the symbol of decayed innocence. Sarah, a simple mute, lives her life listening to the radio but obsessed neighbor, Henry Wallace has other plans for her. Jimmy Wayne Garrick is bitten by a wild animal and becomes obsessed with the idea that he is becoming a werewolf. The Taxi Driver is a serial killer who picks up innocent women. One of his victims gives him more than he bargained for.
The director Glen Baisley was kind enough to send me a copy of this movie The Tenement for review and I have to say I enjoyed it. The movie is in fact broken down into four shorter movies that make up the complete movie all of which take place in the old Tenement house over the course of 20 years. With each story moving us closer and closer the present day and the finale of the movie, with an excellent and somewhat unexpected ending!
I found the movie very well written and directed, it moved along at an excellent pace and features some very good special effects. There are also some good moments of black comedy which fit in well with the tone of the movie and do not pull away from the horror aspects. Also watch out for the performances from Joe Lauria, Michael Gingold and Doreen Valdati, lets hope we see more from these people in future movies as they turned in solid performances here. I was also pleased to see one of my favorite ladies from horror Syn DeVil make an appearance in the movie.
All in all a horror movie I would recommend to anyone interested in the genre and have to say well done to Glen for bringing us such an entertaining horror anthology!
---
Excerpts from a Review by MicroCinema Magazine (June 9, 2004)
Rating: 5/5 Stars
This film is given a rating of 5 "little guys" (A perfect score)! What more can I say but go out and buy this movie. It is the perfect mix of horror and comedy all wrapped up into one dandy little film. The film's story line spans over two decades and includes four short stories plus an in between story that helps to tie everything together. In fact it is such a good film it won the "Achievement Award - Feature Horror" at the 2003 Putnam County Film & Video Festival. Here is the breakdown:
Story One (Fade to Black): Ethan Fernier (Joe Lauria) is a troubled young man who's only goals in life are to please his mother Eloise Fernier (Doreen Valdati) and watch horror movies from his favorite director Winston Korman (Michael Gingold). One day he gets a chance to meet his idol and audition for a part in his next movie. He blows the opportunity and instead gets ridiculed by Korman and his crew. This turn of events plus the constant nagging from his mother sets Ethan off on a killing spree which marks the beginning of the rain of terror from the "Black Rose Killer." Story One has kind of a "Psycho" feel to it but ends up morphing into a great little story.
Story Two (The Sound of Silence): Henry Wallace (John Sudol) becomes strangely infatuated with Sarah (C.J. DiMarsico), a young mute girl, who loves to dance to her radio every night in her bedroom. One day Sarah's mother Ginnie Weston (Victoria Miner) convinces her father George Weston (Floyd Gumble) to let down his guard and go out for the night, leaving Sarah alone for the first time. Almost immediately after they leave Henry comes knocking and all hell breaks loose.
Story Three (Full Moon Rising): Story three reminded us of the classic werewolf flicks of yesteryear. Jimmy Wayne Garrick (Mike Lane) is a social outcast who decides to go to an AA type support group to try to become more socially acceptable. That night after the meeting he is bitten by a strange dog. The next day he realizes that his wound is healing rather quickly and that he is also feeling more energetic. He goes to a strip club and after receiving a "stellar" lap dance decides to take matters into his own hands. We don't want to blow the ending to this story but we can tell you that it was masterfully put together.
Story Four (The Taxi Driver): This is a clever story with a great twist at the end. The scene opens with two white-trash prostitutes chatting about the different men they have picked up in the past. One of the prostitutes calls for a taxi cab and the fun begins. How was she to know that her life was in the hands of a mad man behind the wheel. The taxi driver (Ed Shelinksy) does a great job of playing this silent but deadly killer. For his next fare he picks up Chastity (Danielle Russo) who proves to be more then just a regular fare.
This film is a solid piece of work with few disappointments. This is microcinema at its best! Watch for great things from Light & Dark Productions in the future!
---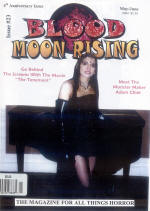 Behind the Screams: "The Tenement" (May/June Issue 2004 Issue 23)
By William H. Pratt

How to start a horror movie? Start with a half nude girl hanging from a wooden cross as two hot chicks make-out with each other below her after biting her and drawing blood from her legs. Then take one cool looking killer who strips of her top before shoving a large blade into her belly as she screams and dies in horror. All this and it's just the first five minutes of the movie. "The Tenement" from Light & Dark Productions is the brain child of writer/director, Glen Baisley who's the man behind the movie "Fear of the Dark" a few years ago. "The Tenement" is really in some ways a prequel to "Fear of the Dark" in many ways for in this film we see how and why Fear's Black Rose Killer came into being. Besides his origins, we meet a new killer named Rellik and he's enough to make Jason run and hide. Big brute of a thing he is with not a care in the world but to cause carnage. He would mind you a bit of the WWE's Kane with his leather mask and his great size.

The film is really broken down into short films within one movie that takes place in an old Tenement house spanning over 20 years. Besides the story unfolding about the Black Rose Killer (who will go onto the "Fear of the Dark" story line), another story tells of a man who believes he was bitten by a werewolf and now starts killing people because he thinks he's one himself, and a story about a mute young woman with a trick in store for the next door neighbor menacing her. There is also a story about a crazy killing cab driver who meets the woman of his dreams when he finds out the girl that he wants to kill is just like him.

This movie has it all: Blood, murder, mad men and tits as with one chapter where actress Syn DeVil does a lap dance on the wolfman just before he kills her. You may remember her from BMR Issue #16 when she was with another film company. Also, you will recall C.J. DiMarsico from that same issue. You may also take note that Fangoria editor Michael Gingold plays a part in the film as well. And right from her "Fear of the Dark" days is Rosemary Gore (BMR #19) retaking her role as Alice, the girl tormented by the Black Rose Killer.

This is the 2nd film from Glen Baisley with another project now in the works, "Sins of the Father", which is due sometime in 2004. His work on "The Tenement" show how much can be done without millions and the world of independent horror is alive and well. "The Tenement" made its world debut at the "Blood Moon Rising Horror Film Show and Halloween Party – Blood Fest 2003" and has now landed a deal to go into the big video change stores starting this spring. "The Tenement" is two hours of carnage and lots and lots of blood, making it a horror lover's wet dream. Be sure to rent it soon at a video store near you.
---
Excerpts from a Review by Steve Hutchison (June 2, 2004)
Plot:
An old man who has once inhabited Fairview Falls returns to the town to visit his old residence. He meets with the new owner outside of the building. They discuss the structure's history. They remember four events during which madness and misfortune struck the previous inhabitants.
1980
Ethan, a twenty-something horror film buff must constantly endure his suffering mother complain and cry from her bed. He obeys to her every desire yet he is not wholehearted.
As a clerk at a florist, he receives an order for a dozen black roses for a man named Korman. Ethan loves Korman's horror movies. Nervous of finally meeting one of his idols, he goes out and delivers the flowers and even obtains an audition. However, things don't go well and Ethan makes a fool of himself. Everyone in the studio laughs at him. This is the straw that broke the camel's back; it's Ethan's turn to judge.
1990
It is to the sound of the music emitted by her old radio that Sarah spends most of her time dancing with an imaginary partner. She is mute and differs from your typical teenager. Her neighbor Henry loves the way she dances. He sees her waltz through her bedroom window.
One day, when Sarah's parents leave her alone, Henry pays her a visit. He insists upon entering, touching her and kissing her. Her reticence doesn't slow down the intruder. When he is a bit too close, she bites his lip. Mad with anger, he beats Sarah up and rapes her. It is at this moment that something abnormal happens. Henry is plunged into a dark and empty world: a world that judges him for his egocentric behavior.
1999
Jimmy, suffering from paranoia, takes matters into his own hands and decides to take part in a mutual aid group. He manages to share his secrets in spite of the group's somewhat upsetting attitude. It is night when the heads back home and is attacked by what he believes to be a wolf.
Subsequently, he feels weak and drools. When his doctor questions him, he openly admits believing he is transforming into a werewolf. The specialist prescribes sleeping pills and psychiatric help.
Jimmy wakes up after a very long night and is famished. The first thing he can get his hands on is a bowl of raw meat, which he devours. Still, his hunger has not ended and animal flesh does not suffice.
2000
A girl catches a taxi ride but, once it's too late, she realizes that no taximeter is present. She is hit in the face by the driver. When she awakens, she is tied up and her face is covered with a plastic film. After mentally torturing her, the driver finishes her off by strangulation.
The murderer, seeking a new victim, finds another girl. He drives her to her destination, a home outside the city. Once the girl is inside the house, the driver sharpens his knife and heads out to join her. However, some girls are harder to kill than others.
Review:
The Tenement, created by Light and Dark productions and distributed by Brain Damage Films, is a collection of four murder stories similar to Creepshow. Typically, these short stories end in ironic, surprising or macabre ways. What is innovative in this film is that it is a prequel to Fear of the Dark. Furthermore, the scenario for both productions predicted these common links. A second addition is planned, Sins of the Father, which should conclude the trilogy.
I do not hold in the highest regard short films. They often have nothing to tell or condense the elements that require more exploration. Furthermore, they are too short to be considered as an activity on the same level as a full-length feature. The Tenement opts for the perfect solution: a way to offer diversity and uniformity for an appropriate length.
1980
The first half of this story is reminiscent of Psycho. I appreciated the two scenes where Ethan faces madness, dominated by his contradictory feelings. I was happily surprised by the distribution of the story. It takes its time to set in and to familiarize us with the characters and their situation.
1990
I can only shiver at the sight of a mute girl that does nothing but waltz absentmindedly. The most amusing is that she isn't sicker than her neighbor who simply wants to be friends. We see the bare minimum to comprehend the gravity of the situation and are quickly diverted to the consequences.
This acting team is the best among the four stories. I appreciated the scene where the neighbor ends up in a dark room, gripped by condemning hands.
1999
The concept behind this story is the most interesting. The main actor is amusing to watch. An American Werewolf in London is an obvious source of inspiration. Listening to a song resembling Blue Moon by Bobby Vinton, Jimmy looks in the mirror and truly believes he sees himself metamorphosing. It made me nostalgic.
Thankfully, dark humor does its job here. When Jimmy isn't busy grimacing in front of the mirror, he stubbornly tries to explain his predicament to doctors. What he doesn't know is that he is the only one that can see it. I loved Jimmy's down to earth reaction when he realizes he had just killed for the first time. Reality sometimes wins over fantasy in horror films and this sketch proves it.
2000
The locations in which the development takes place make it fun to watch: a taxi, a high-voltage electric room and a stable. It is the simple story of a serial killer that has the perfect trick to capture victims.
Memorables aspects:
- Korman has his cranium crushed in by repeated shovel blows.
- Jimmy biting his friend in the neck even though he only wanted a bit of affection.
---
Excerpts from a Review by The Hitman (May 20, 2004)
The Plot:
The Tenement, a prequel to writer/director Glen Baisley's earlier effort, the entertaining Fear of the Dark, represents Baisley's attempt to take the next step in his filmmaking. Using an old apartment building as the basis for a Tales from the Crypt-style series of shorts, he emphasizes the psychological aspect of horror.
The second story — by far the best — is the tale of a would-be rapist (John Sudol) stalking a mute girl (well-played by the lineless Carol DiMarsico). It features some very, very effective sequences, especially when he discovers there is more to her than meets the eye — or ear. And in the fourth episode, a duel of serial killers, Danielle Russo (offering some back story for her own Fear of the Dark character) gets to show less skin and more of her acting chops as she tangles with the hulking Ed Shelinsky.
Among the shorter stories interspersed with the main episodes, the most thorough is the opening sequence, starring cute Suzi Leigh (a Seduction Cinema veteran, using the name Kelli Summers) as the victim of a cult in a film-within-the-film.
Glen Baisley took a real chance with The Tenement, pushing the limits of his cast and budget in an effort to take the next step forward in his moviemaking career. And for that, he must be commended. Baisley continues to show a lot of promise as a filmmaker.
Extras:
Light & Dark has pulled out all the stops on The Tenement when it comes to special features.
An audio commentary features Baisley and his wife, Diana (who plays a hooker in the film, as well as a behind-the-scenes role), plus actors Mike Lane, John Sudol, Jude Pucillo and Mike Gingold. All have a terrific time offering anecdotes and inside dirt. The commentary deserves praise for its enthusiastic atmosphere.
A whopping eight behind-the-scenes and deleted footage-type featurettes bolster the extras.
Four are devoted to material excised from the film, including a package of deleted scenes, an alternate opening and ending, a blooper reel and some uncut footage from the strip club scene, featuring dancers Judy Burrett, Chloe and Syn DeVil (though, as in the main film, only DeVil removes her clothes).
The remaining three behind-the-scenes featurettes include Baisley briefly describing Light & Dark Productions' mission, a terrific look at the creation of an effects mask and makeup for one of the kills, and scenes from the company's publicity tour (with a surprise at the end).
But the real treat is the "Winston Korman Movie Marathon," with the other two films-within-a-film featured in the Black Rose Killer sequence. The shorts, "Jack & Jill" and "No Trespassing," star Burrett and Gene Mazza, plus Baisley himself. Seen in full, they are quite entertaining little stalk-and-slashers, and a real treat for fans.
Most of the featurettes include an introduction by Baisley, explaining the reasoning behind cuts or other information. All are well worth a look for fans of the film.
There are also two photo galleries, one apparently put together by Brain Damage without Baisley's input, and one done by Light & Dark, set to a musical performance by actor/musician Sal Sirchia (Nikos the Impaler). Both offer a nice mix of on-set and behind-the-scenes photos.
"The Tenement's" trailer is included as part of a package that includes several other Brain Damage releases. However, it is not particularly memorable.
Grade: A+. An excellent set of features that offers an inside look at the making of the film and — as with the extras on Fear of the Dark — amply demonstrates the Light & Dark crew's passion for and enjoyment of filmmaking.
Final Thoughts:
"Fear of the Dark" and "The Tenement" prove he can craft entertaining films. The Tenement is an outstanding DVD, benefiting from increased disc-production quality and a superior set of extra features.
(Reviewed in May 2004 on a Mitsubishi 1080 series 42" TV with a Sony DVP-CX875P DVD player and Bose Lifestyle 25 Series II speakers.)
---
by Mike Mars Jr. (April 26, 2004)
The Tenement: A Fully Low-Budget Goodness
A paranoid nerd who thinks he's becoming a werewolf, a beautiful serial killer who preys on serial killers and the nefarious Black Rose Killer are just some of the inhabitants of The Tenement, the new anthology by promising newcomer Glen Baisley. The Tenement has all the dark wit and twisted morality of classic EC comics with all the self awareness and continuity of Stephen King's interwoven short stories.

The best of the bunch is the story of a young mute girl named Sarah who is terrorized by an obsessive stalker but the tables are quickly turned as the predator realizes his prey may not be as alone as he thinks. As he does throughout the film, Mr. Baisley uses the "cat and mouse" struggle, like the one between Sarah and her attacker, to travel across a lot of film history. What starts in the territory of 70's exploitation fare (see "Last House on the Left" or "I Spit on Your Grave") quickly steers into dark realms first traveled by Fulci and Argento.

Let me take a second to talk to any one out there who's over 30, has loved this stuff since they could walk and hate the state of horror right now....

Ok Reagan/Bush era young couch potatoes: are you listening?

The Tenement is a good old fashioned, late night, make out with your girl, drink beer with your buddies, turn it into a drinking game, found it on the bottom of the shelf in the horror section of an old mom and pop video store, would see it at a drive in if they existed, pre Blockbuster, old-school, anything goes film making, titties bouncing, gory good time.

Roughly translated: The Tenement is a horror film by a horror fan, for horror fans.

Only time will tell if Mr. Baisley will make the jump to the big screen or if he will stay a small screen hero in the punk rock like environment of digital video do it your self revolution.

Either way there's no doubt that he has a very bright future, making very dark movies.
---
Excerpts from a Review by Adam Tyner (April 26, 2004)
The Tenement is the latest from micro budget auteur Glen Baisley and the first of his films to net a wide release on home video. His shot-on-video movies take place in the same world, the sleepy little hamlet of Fairview Falls. The Tenement revolves around...surprise!...a tenement where, for the past few decades, its residents have been butchered, mauled, eaten, and hacked apart. Each of the four main stories tackles a different flavor of horror, beginning with a slasher set in 1980, appropriately enough. "Fade to Black" opens with a couple necking in the woods, which in this sort of movie means they're certain to lead long, happy, productive lives. The ritualistic slaying that follows isn't actually happening, though -- it's just a scene from another in a long line of horror movies from producer Winston Korman (Fango editor Michael Gingold). Ethan Fernier is Korman's biggest fan, stumbling onto a chance to audition for his latest flick when delivering an order of black roses to the production offices. Um, he doesn't get the part. Really doesn't get the part. Unhinged by his demanding bedridden mother and the derisive laughter of his heroes, Ethan decides if he can't play a perpetually silent masked murderer, becoming one would be the next best thing.
"The Sound of Silence" is about Sarah, a mute who spends almost every waking moment dancing with an unseen partner. Her neighbor Henry, no longer content with just leering at her from afar, seizes an opportunity to get up close and way, way too personal. As Sarah is raped and tormented, Henry starts to suspect they aren't alone, culminating in some supernaturally surreal moments. Think The Outer Limits meets I Spit on Your Grave. The third story, "Full Moon Rising", is my favorite of the bunch. Jimmy is a shut-in who rarely leaves his apartment except to grudgingly go to group therapy. After his first session, he's attacked by some sort of animal. His wounds start healing pretty quickly, he develops a taste for raw ground chuck, and...wow, is that a hair on his chest? Jimmy's convinced he's becoming a werewolf, and he starts to dress the part with a body count to match. The final segment is a straight ahead serial killer tale about a cab driver who butchers his fares, but his most recent customer is a little too kindred a spirit.
I really got a kick out of The Tenement. I don't mean that in a condescending "oh, for a no-budget shot-on-video flick, it's okay, I guess" way, but that it hits all the notes it tries to make. There isn't a lot of on-screen gore, but when The Tenement tried to be brutal, I winced. Its stabs at humor, particularly "Full Moon Rising", frequently made me laugh, and there really isn't any unintentional comedy to be found. It's clever and works well within the boundaries of a non-existent budget. Because it doesn't try to be a special effects showcase drenched in splatter and desktop PC-grade CGI, those sorts of limitations rarely distract, and the moments with make-up are generally pretty effective…
One of the things The Tenement does particularly well is play with the audience's expectations. The first story is about an obsessed horror nut with a demanding mother that spends most of the segment conveniently just out of the frame. I waited and waited for the inevitable homage that was so obviously being telegraphed, but...I was wrong. I was also pretty certain it would end on the same note as Paul Verhoeven's contribution to HBO's anthology series, The Hitchhiker, which was also about the production of an indie slasher flick and the backlash from complaints about shoddy acting. Again, nope. I also thought at first that "Full Moon Rising" was going to be a standard werewolf tale with some kind of twist, but that completely shattered my expectations. Although all of the stories in The Tenement toss out some level of humor, "Full Moon Rising" sustains it the longest. The basic premise -- a whack job who decides he's a werewolf, dresses up in a fright mask bought from Party City with some...adjustments made to the rubber gloves, and kills everyone in sight -- is particularly clever. Any horror flick that pays homage to Warner animation is alright in my book, and my absolute favorite moment in the entire movie is when Jimmy looks longingly at his pal with an overlaid image of a steak. Michael Gingold also has some fun quipping about low-budgets and Fangoria in his memorable turn on-screen. The Tenement as a whole manages to strike a balance where it doesn't take itself too seriously, but it's not constantly winking at the audience either. It's more entertaining than a lot of genre movies with exponentially larger budgets, and Baisley and distributor Brain Damage Films have assembled an impressively comprehensive release on DVD.
Supplements: The Tenement is the kind of DVD that makes most other special editions curl up in the fetal position and weep. There are several hours of extras, beginning with a pair of photo galleries. The first cycles through a bunch of on-set stills, each onscreen for around five seconds a pop, running just under five minutes total. Lotsa gore close-ups and some assorted goofin' around. The second photo gallery has Sal Sirchia, the Mayor of Rock and Roll, playing a live acoustic version of "Can't Love Without You" from the movie, with some stills (a handful duplicated from the other gallery) cycling underneath for a few minutes. One thing that's kinda notable about these shots is how neat some of the gore really looks, which I didn't think translated as well to the movie itself.
The audio commentary piles writer/director/producer Glen Baisley in a room with cast members Diana Baisley, Michael Gingold, Mike Lane, Jude Pucillo, and John Sudol. I'm usually a fan of commentaries with a large group of people, and The Tenement is a clear example why. There's a non-stop flow of discussion that tackles pretty much every conceivable angle -- technical details, random on-set mishaps, obstacles that stood in the way of producing a movie with this slim a budget, inspirations behind some of the segments... There are too many highlights to scribble them all down, but a few of 'em include trying to shoot around stitches from recent breast augmentation surgery, swiping a fire from Malcolm X for a completely unrelated Super 8 project, Michael Gingold explaining about seemingly tearing the single rarest issue of Fangoria in half, painstakingly spray painting roses, trying to force-feed an actor raw meat, Oz carryovers, and the elderly Ethan putting in appearances in a Queensryche video and on-stage with Eminem. They also spend a lot of time pointing out mistakes, homages, and constantly lobbing out plugs for merchandise at lightanddark.net, even using a nekkid actress as a selling point. Really good commentary and definitely worth a listen.
"The World of Light and Dark" is around a minute long, very briefly discussing the mindset behind Light & Dark Productions and their upcoming Sins of the Father, which features a bunch of the same characters yet stands on its own. A special effects featurette, "The Anatomy of Horror: Making of A Mask", spends a little over six minutes delving into the sculpture and application of the latex mask Michael Gingold has on after being whacked in the head with a shovel. Also included is some footage from Light & Dark's publicity tour, including some William Castle-style ballyhoo at the movie's premiere and the cast 'n crew hanging out with a bunch of genre celebs at the Chiller show, bringing an unsuspecting kid to bawl at one point. It closes with the trailer and Jude Pucillo thanking viewers for poring through the extras.
There's also a bunch of additional footage. The "Winston Korman Movie Marathon" runs around sixteen minutes, opening with an introduction by Winston's brother (also played by Michael Gingold), followed by the Chiller animation (!!!). It's the two slasher shorts excerpted in "Fade to Black" -- Jack and Jill and No Trespassing -- presented in their entirety. The deleted scenes, the first chunk running around five minutes, are each introduced by Glen Baisley. They include an explanation of a mysterious character from the first story, licking a severed head, a nod to a character from Fear of the Dark, and a couple of bits of additional dialogue. An alternate opening was cut for pacing, using a montage of newspaper clippings to give a better sense of how much carnage there's been over the years. There's also a pair of alternate endings, one with a quickly-squicked-out prospective tenant and the other with a raspberry-stained raid by the cops. Upping the T&A quotient a bit are four minutes of "Uncut Dancing Girls", which is...pretty aptly-titled. The last stripper has the least convincing fake boobs ever. Finally, there are six and a half minutes of bloopers, mostly just the cast goofing around, singing lesser-known Michael Jackson songs, discussing vomit consistency...that sorta thing.
Rounding out the extras are a bunch of trailers for other Brain Damage Films releases -- The Tenement, Invitation, Vulture's Eye, Hellbound, Vampire Sisters, Strange Things Happen at Sundown, Goregoyles, GOTH, Hollywood Vampyr, Death Factory, Hell's Highway, and Terror Toons. The Tenement comes packaged in a keep case with no insert. The movie runs just under two hours and is divided into twelve chapters, and the disc includes a set of static 4x3 menus with animated scene selections.
Conclusion: Viewers with an appreciation for low-budget horror should absolutely give The Tenement a look. It's a solid genre flick and there are enough quality extras to keep most people occupied for hours on end. Recommended.
Movie: 3/5 Stars
Extras: 4/5 Stars
Replay: 3/5 Stars
---
Excerpts from a Review by Dave Zeidler (April 23, 2004)

DVD PACKAGE: ***

You've got to hand it to Glen Baisley: He's got plenty of ambition. What could have been another dull low-budget clunker, THE TENEMENT is made much more interesting by Baisley's approach to the material. The movie is an anthology with a twist—instead of each segment being a stand-alone piece, there is mythology behind them that has and will spawn more features continuing the material. Already released is Baisley's FEAR OF THE DARK, a sequel to TENEMENT's first story, and soon to follow is the third entry, SINS OF THE FATHER. It kinda makes you scratch your head and wonder why no one has thought to do this before.
There are some problems to address first. Shot on mini-DV, THE TENEMENT isn't the greatest-looking movie you'll see. The camera is shaky in spots and the lighting is at times questionable. Plus, the pacing is a bit rough, especially for a low-budget project. Clocking in at 118 minutes, it contains plenty of scenes that could have had seconds trimmed off to bring it down to around 100 minutes or so. Sometimes the camera lingers for too long on certain shots, and plenty of extraneous dialogue could have been eliminated. Also, as expected of a production like this, the acting is far from topnotch, although you can't fault the cast for lack of enthusiasm.
The stories are fairly simple and straightforward, and are all set during different time periods in the same tenement building. In 1980, Ethan, a horror-obsessed young man, is being driven crazy by his bedridden, controlling mother (who may or may not be alive, in a nod to PSYCHO). Finally, he snaps and becomes the Black Rose Killer, who is the cornerstone of the entire Baisley mythology. Fango's own Michael Gingold plays a part in this segment, getting plenty of funny lines as pompous director Winston Korman. (Best bit: Reading the rarest edition of Fango, he scoffs, "Who do you have to blow to get into this rag?" and tears it in half. Listen to the commentary for an explanation of how he got away with ripping up a treasure of an issue.) Joe Lauria also puts plenty of juice into the Ethan character. Watch for a good bit of gore in the graveyard finale.
The second story, set in 1990, features C.J. (billed here as Carol) DiMarsico as a young mute girl sexually assaulted by her scumbag neighbor, played by John Sudol. Little does he know that she is protected by spirits that don't take kindly to his unwelcome intrusion. This segment features plenty of atmosphere and a great, creepy closing shot. A scene in which Sudol is assaulted in the dark by a host of demonesque arms is surreal and spooky, and DiMarsico is very good as the disaffected young girl.
In 1999, a paranoid, introverted loser named Jimmy is attacked and bitten by a wild animal on his way home. He soon believes he is becoming a werewolf, but it isn't clear whether it's really happening or if he is just having delusions that are driving him to act like a wolf. Think George Romero's MARTIN, with that strange interplay between reality and paranoia. Unfortunately, Mike Lane, who plays Jimmy, overacts through most of the segment, giving a character a goofiness that is a bit detrimental to the story's overall effect, even though this piece was meant mostly to be comic.
Finally, in the present day, a cab driver picks up women and kills them, until one day he meets a girl who is just as obsessed with pain and murder as he is. This is probably the weakest of the segments, and TENEMENT might have been better served if this one was placed earlier in the rotation. But being that there is chronology to deal with, it has to be the last. There's a brief wraparound story involving a creepy super talking to an aging man outside the apartment building, which results in a final twist that will lead into Baisley's SINS OF THE FATHER.
The DVD is packed full of extras, which is a plus. A duo of "Winston Korman" movie clips are standard slasher scenes, with no character development or backstory, though there is a good decapitation at the end of one. There are deleted scenes and bloopers as well, and while the former were mostly cut for a reason, the bloopers are plenty entertaining. A special FX featurette is one of the best supplements, using time-lapse photography to show how to make a cast of someone's face (in this case, Gingold) and demonstrating how the gore makeup for his death scene was done. It's great for aspiring filmmakers with budgetary restraints to check out. Then there are two photo galleries; one is fairly dull and short, but the second, assembled by Baisley, is pretty entertaining. A live acoustic performance by Sal Sirchia warbling his TENEMENT song "Can't Love Without You" accompanies photos from the shoot, and it's funny to see gore, nudity and other debauchery accompanied by such a tender tune.
An alternate beginning (just a montage of newspaper clippings pertaining to missing persons, with no new footage) and endings are also presented, with the first conclusion being pretty spooky and the second quite funny, though Baisley is right when he says that it would have clashed with the movie's tone. There is also a short segment of the exotic dancers from the third story doing their full routines. I got a kick out of watching one girl squeeze a jelly doughnut between her breasts and hand it back a starry-eyed fat guy sitting in the front row. During the commentary, one person remarks that that dancer's chest features the best prosthetics in the entire movie.
That commentary, featuring Baisley and several actors, is great, because everyone is friends to begin with, so it's like sitting in on a regular round of conversation. They have plenty of personal jokes to tell, from the set and just from their lives as buddies and low-budget filmmakers. The track is very lively, with nary a pause for air. They also take time to get into the process of making THE TENEMENT, which is fairly informative. I appreciate low-budget projects for this because they are closer to my own resources. When I listen to a major studio film's commentary, and they talk about how they used a multimillion-dollar crane for a shot, or how it took 17 people three hours to rig some extravagant special effect, I think, "How does that help me?" Learning the makeshift, low-budget tricks is what I'm looking for, and you get plenty of that from the TENEMENT commentary, as well as the FX featurette. Rounding out the extras are trailers for Baisley's various productions and a TENEMENT publicity tour documentary, featuring plenty of moments from recent Fango and Chiller conventions.
THE TENEMENT has its issues, which is to be expected for a movie with such a low budget. Pacing, acting and choreography (for scenes with action and fighting) prove problematical, but I'd love to see what Baisley could do with more resources, because he definitely has a love for the genre and an ambition for filmmaking. The idea to continue the stories introduced in this anthology is a great one, and I'm now interested to see what Baisley will do next. If he keeps putting out such extensive DVDs as well, it's just a matter of time before Baisley's name—and his work—begins to catch on with fright fans.
---
MICHAEL GINGOLD AT HOME IN "THE TENEMENT"
by Mike Watt (April 22, 2004)
Most horror fans know Michael Gingold as the Managing Editor of Fangoria Magazine. But the respected full-time journalist and part-time filmmaker has made the occasional foray into the acting realm and "The Tenement", his most recent excursion into this arena, hit the streets early last week. In this pseudo-anthology, Gingold plays a virtually-irredeemable filmmaker named "Winston Korman", who, sadly, pisses off the wrong guy in the movie's opening tale.
"(Winston) saw b-movies as a way to get quick money and to get girls," says Gingold of his character. "You see him at the beginning as an actor in one of his movies—he'd cast himself in these parts so he could get hot girls to make out with him. And it's interesting, just judging from the reactions, that people don't always realize that it's the same character. He wasn't drawn from anything specific, just an example of how low-class this guy is. So, yeah, (Winston) is a completely irredeemable character. Even judging from his movies that you see in "The Tenement", you can see that his movies aren't any good either. I hope that fact, at least, isn't autobiographical for me. (laughs)"
"The Tenement" of the title is a nothing-special high-rise on the surface, but inside lurks a malevolent corruption that manages to worm its way into the minds and hearts of many of those living within. One of those tenants is a young man named Ethan Fernier, an already disturbed milquetoast horror fan who lives with his bed-ridden and abusive mother. Floral delivery-boy by day, Ethan finds himself meeting Korman by chance. See, Korman is his idol. And the meeting doesn't go so well. And "The Black Rose Killer" is born.
"When you have a character like Ethan, who's psychopathic already, it's going to take someone really bad to kind of send him over the edge. Winston Korman is sort of the nemesis of Ethan Furnier. He loves Winston Korman's movies, but Winston turns out to be this boorish, obnoxious, foul person. There was one (director) in particular (who inspired the character), whose name I won't mention, but who has this reputation of being very nasty and abusive on his sets and to his co-workers. So I kind of channeled him, and then the rest I just pulled from the script and from the stuff that (director Glen Baisley) wrote. And then I watched 'Full Metal Jacket' again the other day and realized I had unconsciously channeled a couple of lines of dialogue from R. Lee Ermey."
For Gingold, "The Tenement" is the second outing on a Glen Baisley production. His first role was in Baisley's 2001 self-distributed "Fear of the Dark", the story of which, incidentally, takes place after the events of "The Tenement", and peripherally follow the further exploits of killer Ethan. In "Fear of the Dark", Gingold played the unnamed coroner of Baisley's fictional town, Fairview Falls. "I don't know if he was just angling for some Fangoria coverage, or not," Gingold says with a laugh. "I kind of figured, in every single horror film when you see the coroner, he's always this happy-go-lucky guy eating a sandwich over the dead body. So I decided to make it a little different. This is a guy who's kind of annoyed to come out."
Baisley liked Gingold's take on the role and wanted him back on the prequel, but was unsure of how to go about doing so, without destroying the continuity of the shared history. Baisley's solution: Winston is the coroner's twin brother, now retrofitted with the name "Eli Korman". For those unfamiliar with "Fear of the Dark", Winston's line that his brother, the coroner "looks just like him, but with a friggin' beard", may seem like an extraneous bit of information. But fans of the shared-universe films may delight in the tie-in.
"That's one of the things that distinguishes (Baisley's) movies: they have this whole intertwined mythology. Sort of the way Stephen King does in his novels. (Eli Korman) also shows up in 'Sins of the Father', which Glen is working on now. And in a movie called 'Fairview Falls', which he's going to be shooting this summer. What makes his movies work and what makes 'The Tenement' work is it's not just an anthology where you see one building and things happen in different rooms. It's the sense that evil has permeated this town and has influenced people in certain ways. And one horrible event in the past will influence more horrible events in the future. That's especially what 'Fairview Falls' is about, the one he's shooting this summer."
For Gingold, who does work on the side as a screenwriter ("Leeches", "Ring of Darkness") and has a movie of his own in the works, acting is a diversion, not an aspiration. Roles in such films as "The Tenement" and Kevin Lindenmuth's "Alien Agenda" series, were done for fun and for favors. "It's always fun to get on the other side of the camera on these things. I really hope that no one would expect me to carry a movie or give a great performance. Acting isn't really my vocation. I've done these small eccentric roles and it's fun to see how these guys make their movies. You know? The different approaches people have and how they pull these movies off on very small budgets and just a lot of energy and enthusiasm."
This attitude has gone a long way towards his gaining respect in the horror community. It can be argued that every horror filmmaker working today has, at some point, at least picked up a copy of Fangoria, and many—if not most—have dreamed about appearing within the pages of the magazine. That isn't lost on Gingold, either—a fan and reader of the magazine long before college freelancing landed him on the staff. "I've never let the budget or the medium of a movie prejudice me towards a film," he says. "I've seen some movies that look like they were shot for a dollar and a quarter, but have a lot of ambition and more impact than something with really slick production values."
With the rise in popularity (and drop in price) of digital video equipment and technology, it's become easier than ever for aspiring filmmakers to shoot their own movie. This has, of course, led to a market flooded with backyard gorefests. It's tough to stay on top of them and harder still to ferret out the good from the bad. "I always say the good thing about video is that anyone can make a movie and the terrible thing about video is that anyone can make a movie. I was just reflecting on this recently. Back in the days when things were shot on Super-8, even making a feature on Super-8 took a lot of effort. You have to put a lot of planning and ambition into it. And while there are certainly people who are doing that now, there are also people who are just sort of knocking stuff out on a camcorder and expecting it to compete in the professional film world. Which is, again, not to say that I haven't seen some camcorder movies that are great. It's just that there are so many movies flooding the market now, it's getting harder to weed out the good stuff. Most of the people who are sending stuff to us—I think we get a bigger percentage of the good stuff. The people who send the movies to us are fans of the magazine and those are the ones who are really fans of the genre, and are less likely to be making just a knock-off film. Or something that will get them a little attention or money so they can move onto the next thing. I have seen quite a few good movies of that type that have come into the office. Every so often, when we have the space, we run "Notes from the Underground", and we give these people a chance to talk about the films and the productions and how they surmounted the problems of making a low budget film, and the tricks they used to sort of maximize their budget and their resources."
While the production end has gotten easier, the distribution part of filmmaking has conversely become more difficult in procuring. With the aforementioned flooded market, most reputable distributors are shying away from movies shot on digital video. Film is still the preferred medium—which seems hardly fair, but not exactly difficult to understand. Audiences, too, still seem to prefer film, even when they would be hard-pressed to tell the difference just by glancing at the television screen. Ask the random Blockbuster Video shopper, and chances are good that he will tell you that "professional" equals "film".
"I think there are still people who are prejudiced towards stuff shot on video in general. They think it's not as good as film, that it's an amateurish thing. When I take a look at something, I look at how it was shot as a film. There are some people who can shoot (on video) the way that real movies are shot, with the same professional(-looking) camera angles, and sense of pacing and storytelling. I saw a really good movie called 'Witchunter'. It was a very low-budget film, shot on video. But it's got a great look to it. It's very professionally made in terms of the pacing and the scenes and the shot selections and stuff. It's put together a lot more professionally than a lot of independent movies that were shot on film with bigger budgets."
Gingold continues, "Right around the time I started (at Fangoria) in 1990, Mark Pirro ("Curse of the Queerwolf") was kind of the king of this sort of thing. He'd been doing these Super-8 features. He inspired me, and I actually shot a Super-8 feature many years back that has become mired in post-production blues. I haven't had the money to pull together and get the post sound mix done, which is going to be a big expenditure. But I've been here at Fango since the whole shot-on-video thing has come of age, as it were. Some of the earlier ones, like J.R. Bookwalter's early stuff, like Ozone—he was one of the first ones to really make kind of professional-looking features on video that looked and played like real movies. Even though they were shot on video for very little money. Scooter McCrae's "Shatter Dead" is another one that was a really good movie. Then there was a lull for a while, but now it seems to have started up again with the camcorder revolution. So there's both really good stuff and really bad stuff coming out of it. So, again, I don't subscribe to the prejudice of 'Oh, it's shot on video so it must be lousy'. Take a look at the movie and see. Another one that I loved was Lucky. Again, shot with very limited means, a very limited budget, but had a damn good idea and a great execution. Another one called Savage Island that just came out. It has a really rough intentional shot-on-video look, but it's also very intense and scary. So, yeah, there's some really good stuff coming out on video. On balance, there's at least as much, if not more, than what's coming out of the Hollywood studios, as far as horror's concerned. God knows I've seen enough hundred-and-fifty million dollar budget movies that are horrible. I'm more eager and interested in giving coverage to something like "Savage Island" than I am to something like "Van Helsing".
"I think there's a good number of good video horror films that have come out over the last few years that will stand the test of time. It's just a matter of getting them seen. Back in the old days, these movies would play in drive-ins, and now they come out on video, and you don't quite have that kind of communal sense of seeing them. You take them home and you watch it with some friends, or whatever. But word gets around and the internet has been very helpful also to help get the word spread on these things. Again, not only can anyone make a movie, but anyone can also set up a website to get publicity for it. And the independent horror community is generally very supportive of each other. You do get the inevitable conflicts between people, but for the most part, people are happy to put links to other people's movies on their site. And I think that's healthy. And while there are a lot of movies being made, and thus a lot that aren't very good, the more the better, because there's also a better chance, then, that there will be more that will be good."
What gives Gingold more "cred" than most, perhaps, is that he's an NYU film school graduate, he has worked both in front of and behind the camera on movies that are available for rent and purchase. He's not a dilettante with an internet connection, digital cable and too much free time, like so many so-called "reviewers" today. He understands what makes a movie work and what doesn't.
"One piece of advice I always gave (to indie filmmakers) is to not try to make more of a movie than you can. One of the flaws that I've seen in some of them is that they try to make a movie with a lot of special effects, or big-scale movies, and they end up with movies beyond their means. If you want to have a big special-effects show, save it for a time when you've built yourself up and you really have the budget and time to approach it. The best of these films are the ones that don't rely on a lot of special effects, where the filmmakers sat down and said 'here's what I have, and here's what I can do with it.' As opposed to writing a $5 million dollar script for a movie they only have $10 thousand dollars to make. And the other thing is to not go by what you think the trends are or what you think will sell. That's pretty much the advice you give to any filmmaker. Do something that you believe in. It doesn't have to be personal, as such, to you, but a story that you feel is compelling and not something just driven by the market. Frankly, I've seen a lot of independent horror films—not just the low-budget stuff, but stuff made between $500,000 and $2 million—that's just as derivative of the marketplace as stuff made by the studios. It's interesting that people complain 'all the studio makes are teen slasher films anymore'. And I don't think that's true. I think the studios have made other kinds of horror films over the last few years, but there have been countless teen slasher movies cranked out by the independent market. I think it's best for the genre if you have different types of stories coming out. I think that's what was interesting about "The Tenement". You have four interconnected stories, so you have four sides of the genre being represented."
And while "The Tenement" has been, for the most part, well received since it's official release from Brain Damage, it has received its share of criticism, just like any other movie, independent or otherwise. It has also seen some grumblings due to Gingold's appearance.
"There's just this one guy who went on and on about my presence in it. 'This is going to make it critic-proof. No writer who ever wants to write for Fango would dare to put this down!' And then he made this big show about, 'well, I've got integrity, so I'm going to do it!' And, you know, get over yourself. If you didn't like me or the performance, that's fine. But don't make a statement about it like you're being so brave. And, for the record, you don't have to like my performances to write for Fango. Dr. Cyclops reviewed "Bloodletting" and didn't have too much to say about my cameo in that, and he's still writing for us."
With "The Tenement" on the shelves, and Baisley finishing up "Sins of the Father" (the further adventures of "The Black Rose Killer") and gearing up for "Fairview Falls", Gingold has set his sites on beginning production on his own feature film. After writing for Dave DeCoteau, and appearing in movies for other people, it's been decided that it's high time for Michael Gingold to do something for Michael Gingold.
"This is an idea that I came up with about ten or twelve years ago, and I never really pursued it too far," he says. "But a number of elements have come together that have suggested that this is the time to do it, in terms of availability of equipment and actors and that sort of thing. Hopefully by this summer or late fall I'll be shooting. It's probably too soon to talk about it; I'm still working on the script. I will say this: it's a horror film with erotic elements. And my approach to this is to not just do a film that's an excuse for a lot of T&A. There's definitely going to be some of that, but it starts with the characters and coming up with characters that are interesting. I'm halfway through the script and saying to myself, 'god, I'm forty pages into this thing, I've really got to find a place to put some nudity or gore in, or people are going to start losing interest.' Again, it just comes back being true to the characters and the story and not just an excuse to show naked women every five minutes. I think that's the side of the whole homemade, shot-on-video thing that I'm not into. How many movies about bare-breasted vampires can you make or see before you start getting tired of the whole thing? I'm hoping that I'll be bringing sort of a new approach, at least in terms of storytelling. We'll see."
---
GLEN BAISLEY: FEARING THE DARK OF THE TENEMENT IN FAIRVIEW FALLS
by Mike Watt (April 22, 2004)

The unfortunate town of Fairview Falls lies somewhere in upstate New York, and bad things happen there. As documented in "The Tenement", it was the birthplace of the infamous "Black Rose Killer", it's rife with pedophiles, junkies, mute girls with special powers and landlords with second sight. It's a place where a cab driver can be a killer, and so might be his fare. It's a town where becoming a werewolf might be better than the alternative.
Fortunately, Fairview Falls exists only in the mind and films of writer/director Glen Baisley. His latest film, the aforementioned "The Tenement", is actually a prequel to his self-distributed 2001 production, "Fear of the Dark". While no fore-knowledge of "Fear of the Dark" is needed to enjoy "The Tenement", there are lots of little details that tie the two films together. Not the least of which is the presence of the vicious "Black Rose Killer", whose origins are given in "The Tenement". What's more, Baisley has two more productions in the works, exploring the town and its inhabitants even further: "Sins of the Father" is currently being edited, and "Fairview Falls" is in the early birth pangs of pre-production.
Baisley explains, "Respectively in the time line, "The Tenement" spans from 1980 to 2000. "Fear of the Dark" takes place from 2000 to 2001. "Fairfiew Falls" is 2005, "Sins of the Father" is 2012. You create little problems in the pantheon when you do this—'wait, we did this in that year, and that conflicts with that.' What I find interesting is that they're sequels and yet they're not sequels. You can do different things with the characters that you can't do in true sequels. You can make a character disappear, focus on other things and then bring him back later on. It's all centered in the same world."
Tying the four movies together is the central character of "The Black Rose Killer"—a.k.a. Ethan Fernier—who overshadows all other the characters in the stories, to a degree, even when he isn't on screen. Ethan's creation—or transformation—into the "Black Rose Killer", sets off a chain reaction of evil and often supernatural events that taint and permeate Fairview Falls. In "Fear of the Dark", he's a masked entity whose crimes set the story in motion. In "The Tenement", he's given a face and a name. If watched in that order, "The Black Rose Killer" should come to life for the viewer (but it should not detract if "The Tenement" is watched first).
"All four stories are profiles, examinations of light and dark, what pushes a person over the edge and causes them to do these bad things. At one point I wanted to go into criminology, so I'm fascinated by those themes. The themes of all the stories have that good vs. evil aspect to them. And I'm a big fan of 'Buffy the Vampire Slayer' and 'Smallville', and we always laugh. You get an episode of 'Smallville' where Lana's trying to kill someone with an axe and the teachers don't try to do anything? So the twist is that in Fairview Falls, everyone knows about what's going on, they're completely in a state of denial. No one's ever been caught. In 'Fear of the Dark', we completely make fun of the police. We show why the Black Rose Killer's never been caught is because the police are complete idiots. It's like 'Police Academy' meets 'The Silence of the Lambs'. We have this horrific sequence which is body after body, and it's not that the Black Rose Killer is so elusive, it's that the police force is completely fucked! It's pointed out a little more in 'Fairview Falls', nobody knows their ass from their elbow. And now, the basic idea is that the older generation is in such a state of denial, and now we focus on the younger generation, and they're just a bunch of dysfunctional kids trying to make their way through life. They come from all these screwed up families where there have been relatives who have either been murdered, or were the murderers. We're bringing in a lot of fresh faces that we haven't seen before in the other movies."
"The Tenement" is only an anthology in theory. The movie centers around the inhabitants of the titular structure, but not precisely the building itself. Often, the narrative is far removed from the apartment house, as the story follows the characters to their often unpleasant conclusions. Rather than simply being four random events, the stories are interconnected—including little "asides" that have little to do with the meat of the primary quartet—spanning almost two decades of the town's history. Admittedly inspired by Stephen King, Baisley has mapped the timeline and tries very hard, as he's explained, to keep the details straight. Not only for the viewer, but for himself as well.
"'The Tenement' is kind of a culmination of things that have been floating around in the back of my mind as far back as eighth grade. And I'm 32-years-old, going to turn 33 in June.
"In 'Fear of the Dark', we follow one of the victims who survives, grows up haunted by this whole traumatic experience as a child. 'Sins of the Father' picks up x-number of years later, we get to see what happens with Ethan and his life, and it fills in the missing blanks for all the missing years the movie's kind of gapped over. It gets confusing," Baisley admits with a laugh, "even to me. All the movies are interwoven. The woman in the taxi driver story is in 'Fear of the Dark'. The little girl who tells Ethan that he's too skinny to be a killer, she grows up to be the main character in 'Fear of the Dark'. It's so interwoven that there's a short we did, we won an award for it, called 'The Family Tree', there's a character in there that's in the alcoholic werewolf story in 'The Tenement'. It's funny; it's almost like Kevin Smith movies, where he has actors playing different characters. But I'm trying to be careful about who I use. Just trying to cut down the confusion for any fan base we might have."
Another element that will tie the four movies together is the presence of actor, filmmaker and Fangoria Managing Editor, Michael Gingold, who plays twin brothers Eli and Winston Korman. In Fairview Falls, Eli is the coroner who takes charge of the killer's victims; his brother, Winston, is a schlock filmmaker who runs afoul of Ethan.
"Mike Gingold originally cameoed as the coroner in 'Fear of the Dark'. I love the character; it's a quirky little character. So when we brought him back in 'The Tenement'—I loved working with Mike, I wanted to use him again. But how do we do this? It takes place in the same universe. So we goofed about it. I don't know if it was myself or he, but it was like 'let's do it as a twin brother as a goof'. So he makes a little reference in 'The Tenement'. 'Go see my brother, the coroner. Looks just like me except for the friggin' beard!' So now we bring him back in 'Sins of the Father' and he had to grow the beard back. And we're bringing him back as the coroner again in 'Fairview Falls'. Having everything in the same universe, it's really easy to paint yourself into a corner. But it's fun."
To the casual and cynical reader, Gingold's presence in Baisley's movies may seem like a valuable political move—the fledgling filmmaker appealing to the ego of the powerful journalist. Baisley and Gingold, however, are good friends today because of their involvement together on 'Fear of the Dark'. 'There's this one guy on this internet site who said that Mike being in 'The Tenement' made it bulletproof, 'cause no one who wants to write for Fango would dare rip it apart. And that's just bullshit. I couldn't get any press for 'Fear of the Dark' for the longest time. Mike's telling me, 'No, you have no track record', this, that. I honestly don't care. He's a friend, and I liked him right off the bat and wanted to work with him. That's all there is to it.
"It was one of those flukey things, how we met. I was friends with a friend of his, and I got a call from him one day, he goes, 'Hey, we're having a movie night, and I've got a guy here who wants to meet you.' And it turns out it was Mike Gingold. This was back in 2000. So we hung out and I showed him a little bit of 'Fear of the Dark'. We showed the movie to test audiences and they kept saying, 'Look, we don't know anything about the Black Rose Killer. He's not fearsome enough.' Because you don't see him for the rest of the movie. It doesn't really focus on him, it was more about the aftereffects of his murders. So you never got to see how bad he was. And so it was decided that we were going to go back and shoot this body count sequence. So I said to Mike, Look, I want to nail you to a tree and be a victim.' He goes, 'What? How about something a little less involved?' So I gave him the basic idea of (the coroner character). He came up with the dialogue, which was fun stuff. And we had a good time with it. We became very friendly afterward. So when it came time to do 'The Tenement', I said that I wanted to bring him back as something else. And plus, there's nothing more fun than beating him with a shovel! The shovel's made of fiberglass, I'm like, 'No, it won't hurt'. And the actor wails on him with it, full force, like fifteen times. (laughs) He hates when I tell this story. He goes, 'You bastard, you're going to pay for this one day!' Then we had to do it again, there was a short in the mike so the audio didn't come out! He's holding out his coat like 'el toro'. I'm like, 'What are you doing? That's not going to sound right.' He says, 'What do you mean. What do you want me to do?' I said, 'Put the coat on.' 'You're gonna hit me with the fucking shovel again?' But, good sport that he is!"

"Bulletproof", "critic-proof" or not, "The Tenement", for its part, has received predominantly positive reviews. Some of the acting seems amateurish (and at the risk of offending, even Gingold is to blame at times!), and the movie suffers from familiar problems from lighting and sound. "Fear of the Dark" suffered from these same criticisms.
"'Fear of the Dark' is a first movie. There are some technical issues with it. And I'm not saying the 'Tenement' is perfect either. If you compare 'Tenement' to 'Fear of the Dark', I'd say that the story in 'Fear of the Dark' is even stronger, because it's following one person's spiral into insanity, it focuses on one individual, it's a dark, psychological thriller. You really have two hours to spend with this character rather than on average a half-an-hour. But yeah, the lighting wasn't as good in some of the scenes, the sound is off in some places. So it's a tough sell. As an audience you expect more from movies.
"I got started doing community television, stuff like that. And a friend of mine and I were watching something on TV, he said, 'Hey, why don't you write a movie'. Now I'd been a big Full Moon fan, and I knew Denice Duff from going to conventions and stuff. We got to be friends. I thought, 'Yeah, I'll try and write something for them'. Denice put a good word in for me, and I got a script to them, even though they didn't really accept outside stuff at the time. And It didn't go anywhere, but it was enough encouragement for me to try and rewrite something and see if maybe I could do something on a small scale budget. I raised the money, bought all the equipment, taught myself how to edit. I was used to the old U-Matic machines and the jog shuttle thing. I bought myself a whole computer system, taught myself the whole bit. Got together a semi-professional crew, family, friends, went through the Pennysaver to find actors, the whole nine yards. We set up a shooting schedule of two weeks and shot 'Fear of the Dark'. The subsequent alternate opening and ending, we did over weekends over the following year or eight months. And I was happy. Right out of the gate, we won an award. Actually, at a local film festival, they tried to ban it at first. They said it was 'too graphic and too shockingly realistic'."
All films have their shortcomings. They're easier to spot, of course, in independent films. Despite it's own flaws or faults, where "The Tenement" succeeds is in terms of strength of mythology, particularly where the inspired quirks are concerned.
Take, for example, the second story about a young girl, mute and seemingly disturbed. She spends her days listening to an antique radio and dancing with an imaginary playmate. But is her partner imaginary? If not, will that help her escape the sexual predator stalking her when her parents are away? Or take the aside that is almost a throw-away: a drug pusher outside the building encounters the truly creepy landlord, who has the power to show the dealer his very brief future. It's these little touches that will stay in your head long after "The Tenement" ends. Regardless of a film's budget and limitations, if it can make you think about it later, if images can pop unbidden into your head without warning, then that movie is a success.
"You try everything you can. Especially on this level, the b-independent level, you try everything you can to stand out. My niche is sort of the Stephen King angle, with the interconnected stories. But from a marketing standpoint, and I think that's where this might suffer. I try to approach each story from the standpoint of a fresh viewer. It can be a standalone story, but I still try to put in all these subtleties so if you have seen all the other movies, you pick up on all the easter eggs and nuances that are lost on the rest of the world. At least, I hope that's what people find interesting about it."

Back to Top
---
Excerpts from a Review by Chucky (April 19, 2004)
"[The first story] would have to be the best story out of them all. Actually, let me rephrase that, it would have to be the most entertaining, as my favorite sub-genre in horror is slasher films. This really was fun for me to watch. I seriously enjoyed it and even found some satisfaction by the end of it."
"I'm not a huge fan of werewolf movies myself but I thought the [third] story was a hoot. The "gay" scene between Jimmy and his friend did get me laughing hysterically."
"Overall, this is still one of the best independent films I have seen. Thanks to Glen Baisley for sending me the copy to review, he's got some good talent here. I look forward to seeing his future work."
"With this DVD you get a load of extra features, a lot of them do give some excellent information (my favorite being the "special effects" featurette)."
DVD Rating 3 out 4 Stars
---
By Baal-Peor (April 13, 2004)
The Tenement (2003) by director Glen Baisley was hands-down one of the best full-length horror features we've seen in quite awhile. Having enough substance and interchanging of storylines to substantiate the films 118 minute running time and keep the viewer glued in suspense, and sometimes total shock. The story centers around several decades of evil confined within a sketchy tenement building in the fantasy land of Fairview Falls and the effect this iniquity has on several people. Admittedly the best yarn in the series is the first. Set in the 80's and revolving around Ethan Fernier (played intensely by Joe Lauria) who lives with his exasperating mother and eventually morphs into The Black Rose Killer. The good folks at Light & Dark may have just spawned a new breed of slasher flick - the unmethodical trapped killer. During these segments the viewer is also treated to Fangoria Magazine's Michael Gingold in his role of the blow-job crazy filmmaker Winston Korman. Hilarious moments! The Tenement also features the powerful acting Danielle Russo, Ed Shelinsky, the lovely Rachel Figliuzzi, Mike Lane, Frank Catalanotto, Suzi Leigh, Syn DeVil and a whole slew of others actors, all of which are in top form. Masterfully assembled, well-shot, slickly-edited and solid multiple storylines make this a masterpiece of independent film. Chock full of enough nudity and gore (ala Decay NY FX) to satisfy the most seasoned horror fanatic! This prequel to Glen's Fear of the Dark (which we've not seen) is a must-see experience! Whatever you do get this movie!
(<![if !vml]>

<![endif]><![if !vml]>

<![endif]><![if !vml]>

<![endif]><![if !vml]>

<![endif]>½) <![if !vml]>

<![endif]><![if !vml]>
<![endif]>
Excerpt form Baal-Peor's Interview with Gates of Gore's Kristy Langford:
What is the best film you've seen in the last three months and why?

The best film I have seen in the last three months would have to be The
Tenement from Light and Dark Productions. There is just something about
this film that is downright creepy. It is by far one of the best indie
horror flicks that has come out recently.
For the entire interview with Kristy Langford click here.
---
April 12, 2004
Local News: Across Our Towns - Westchester/Cortlandt (Pg. 2B)
Glen Baisley of Lake Peekskill, the writer and director of the film "The Tenement," along with cast and crew members, will make an appearance at Joey's Movies, Toddville Plaza, 2141 Crompond Road, from noon to 4 p.m. Saturday. A large part of the film was shot in Mahopac, Peekskill, an d Putnam Valley, and much of the cast is local talent from Putnam, Westchester and Dutchess counties.
Life & Style: People – Putnam (Pg. 5E)
Baisley's horror film on DVD
Independent horror movie writer/director Glen Baisley, 32, a lifelong Lake Peekskill, resident and 1989 graduate of Lakeland High School, will have his first real taste of success when his latest movie "The Tenement," is released worldwide on DVD/VHS on April 13. "The Tenement" is his third feature length movie shot entirely on digital video, primarily in Mahopac, Peekskill, and Putnam Valley. The story spans two decades and tells the stories of four individuals who live in a seedy apartment building. A large part of the cast is composed of local talent from Dutchess, Putnam and Westchester Counties. "The Tenement" won the "Achievement Award for Feature Horror" at the 2003 Putnam County Film & Video Festival. This marks his third award for his series of movies. "The Tenement" was also a headliner at the Blood Fest 2003 festival held at the historic Darress Theater in Boonton, N.J. Mahopac resident Brian Spears of G & S Effects Co. was in charge of the special make-up effects for the movie. His company recently won the award for "Best Make-up Effects" for his work on "Flesh for the Beast" at the 2003 New York City Horror Film Festival.
---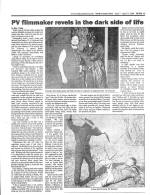 PV filmmaker revels in the dark side of life
By Rita J. King (April 7, 2004)
While many in Putnam Valley profess the need for affordable housing, they ought to be careful what they wish for in case one resident's evil dream comes to life.
Independent horror movie writer and director Glen Baisley, 32, of Light and Dark Productions, has always been attracted to the polar forces inherent in the human psyche, and the main character of his newest film The Tenement is named Rellik. Sharpshooters who studied at the Redrum school will recognize immediately that Rellik is "killer" backwards.
Luckily, no developers are considering suing Putnam Valley for the right to build a tenement because Baisley's vision paints a grim image of what life along the dark corridors might be like.
"There is something inherently evil within The Tenement," said Baisley, a 1989 Lakeland High School graduate. "It does something strange to the people who live there. Imagine a building that can change who you are and the way your mind thinks. Ethan lives in this building and is obsessed by horror films. His destiny lies in the shadows of a black rose - the symbol of decayed innocence. This begins the series of murderous events among the tenants of this mysterious building. Four lives are changed forever by the evil that dwells within."
Mute Sarah, played by Carol DiMarsico, wants only a simple life with her radio as a companion, but her neighbor has planned a different course for her life. In another apartment, Jimmy Wayne Garrick, played by Mike Lane, becomes convinced he has turned into a werewolf, and the serial killer Taxi Driver encounters a surprise from one of his victims. As the evil forces of the building converge on the tenants, can they loosen its grip before they all succumb to darkness? The serenity of comfort is removed from home when you sign a lease at The Tenement, Baisley said.
Lane said working on the film was a healthy dose of horror mixed with comedy. He recalled driving at 2 a.m. to arrive at a shoot for a "strip club scene." Two actresses were no-shows, some of the extras had been tipping the cups and everybody was operating on general lack of sleep. Later that day he had an audition in New York City and feared falling asleep at the wheel while driving, but luckily no such horror unfolded in real life.
"Experiences like that will make me appreciate success more if and when I achieve it. The finished scene came out great and showed no evidence of the hardships that everyone there had experienced," Lane said. "Working with Glen is great because he is so determined to make his movies successful. I know that he does his absolute best to promote his movies as well as the actors and crew involved. Many people have moved on to successful careers in the entertainment industry based on work that they have done for Glen."
Gene Mazza, a makeup artist who worked on The Tenement, has always been looking for a chance to "do his own Jason." Friday the 13th's killer has nothing on Rellik, who, in studded black leather and face mask, resembles the kind of guy you might expect to find lurking in the alleys of Manhattan's Meat Packing District.
"I like to approach from a very extreme angle," Mazza said. "But also to keep it as realistic as possible. This was my chance to create my very own leather-clad barbarian."
Brian Spears, 30, of Somers, handled the "gore" factor for the film. His grandmother, a Putnam Valley resident, saw an advertisement in the Pennysaver looking for actors for a locally shot independent film.
"Glen and I had crossed paths at horror conventions. Glen was was selling his first feature, Fear of the Dark, and I was selling hand-crafted rotting skulls, bloody body parts, and severed heads. But we never formally were introduced," Spears recalled. "We met towards the end of 2001 to discuss the gruesome gross-out deaths he had planned."
Baisley "pitched a good story," Spears said.
"I was quickly sold and excited to help out. Previously I had worked on a lot of low budget flicks but Glen seemed different. I took the job knowing there would not be much if any money involved, but what Glen lacked in funds or "studio" equipment he made up with his heart and a drive to make a movie. I've been fortunate to work on several films recently, with modest budgets, but none of the directors had the passion Glen had and I admire him for that."
Spears said he would pull out severed limbs, skulls and corpse props, "just for the atmosphere," and that he liked Baisley's willingness to allow him the freedom to express himself in this manner.
The entire project was shot for $10,000, a scarier prospect than having Rellik bopping around the set in studded leather. The exteriors are local, recognizable spots in Peekskill, Somers and Putnam Valley. The scenes were shot mainly guerrilla-style, though Baisley admits it isn't easy to sprinkle a landscape with corpses and gore without catching a few passersby off guard.
Baisley said some of the stories in The Tenement came from ideas he had as far back as eighth grade, when his taste for fake blood first developed. These days, people tend to snub horror films because real life has gotten so gruesome and some say visual violence, however fictitious, doesn't help.
But Baisley noted that watching a film isn't going to turn someone into a killer.
"People would mistakenly walk into the set," Baisley said. "Their reactions would be priceless. It's like a car wreck or something."
In 2001, Baisley won Best Storytelling in a Feature Narrative at the Putnam County Film Festival for Fear of the Dark, and this year he won Best Feature Horror Film at the same festival.
Brain Damage Films will be releasing The Tenement on video and DVD April 13. Baisley will be doing a movie signing at Joey's Movies in Cortlandt on April 17 from noon to 4 p.m.
"I write movies to scare and entertain but with some social consciousness," Baisley said. "I feel that too many people are in a state of denial about the horrors that go on around us everyday. How many people sleep with their doors unlocked with the 'it can't happen to me' mentality? Hopefully my movies will make people take proactive steps to help prevent such atrocities."
---
By Kristy Langford (April 7, 2004)
I had the great pleasure of receiving this flick, THE TENEMENT, in the mail a couple of months ago to review. After having some major problems, most of them computer related, I finally got the chance to finish up what I expect to be one of the coolest indie horror flicks that I have seen recently.
The story revolves around an old tenement building that holds two decades worth of deadly secrets. What we see here is all the bloody mayhem that is within the walls of this building in a collection of short stories that are just downright creepy and violent.
I have been watching a lot of indie horror flicks as of late and THE TENEMENT is just one of those films that once you watch it, you can't wait to see what happens next.
The acting is quite good in this low budget fare with Mike Gingold playing a sleazy B-Movie director and Suzi Leigh (AKA Kelli Summers), who you may all know as one of the Seduction Cinema girls, as one of the B-Movie actresses, who in one of the coolest scenes, gets nailed to a cross. I really do have to say that it is a great scene. Not only that, but I have to also say that Mike Lane is one of the funniest actors that I have seen recently. His character of Jimmy, who thinks he is turning into a werewolf, was both funny and brutal. I am looking forward to seeing even more of his flicks.
I also want to mention that this film has some very cool gore scenes. I have seen some films recently that were just so cheesy and unbelievable to watch. THE TENEMENT is way different in every aspect that a b-movie should be.
Glen Baisley just kicks major ass and I am looking forward to seeing lots more flicks from this awesome director.
MY RATING: 8/10
---
Excerpts from a Review by the Horrorist (March 31, 2004)
"[Four] short stories centering around an apartment building that just seems to bring out the worst in people. Stories include a cult killing, a horror fanatic being pushed toward emulating his heroes, a brutal serial killer on the prowl, and more."
"[The second story] was a pretty good little tale."
"The third tale is an odd little rape/revenge story that was very pleasing. Afterward we're given the good stuff in the form of a light-hearted werewolf romp and a romantic serial killing spree. The werewolf story is a real gem; it's about a neurotic guy that gets crazier as the scene goes on. Toward the end he's such an over-the-top nut that the dialog got several laughs from me, just on the delivery alone."
"We do get some nudity, and some blood. The most affecting violence in the flick didn't depend on gore, but just on what was happening. I prefer supernatural horror, but this flick is focused more on things that can and do happen, with some quirkiness thrown in to make it entertaining."
"Also the cheese guy kicks ass."
---
The Tenement Movie Review and Interview with Writer/Director Glen Baisley (March 30, 2004)
By Chris Watson
The TENEMENT arrived at my house on a rainy day. I pulled out the tape and stuck it into my dust covered VCR. The movie began with a wonderful suspenseful scene that included a great Suzi Leigh nude scene. Boobs and a kill in the first five minutes—wonderful. It goes from here to a couple of stories that all take place in an apartment building during different times. It's an anthology film that's good in a micro cinema sort of way. It's not going to blow you away in special effects or acting or directing or writing… what it will do for you is entertain you for the entire running time with blood, gore, odd killers, lesbians, nudity and all the other staples of a no budget flick. If you dig those types of flicks then you're going to dig this one. If you're favorite film is THE FAST AND THE FURIOUS and you can't wait for part three—well, don't watch this one… So a few questions with the filmmaker:
How did you conceive the idea for your film?
The Tenement was originally planned as a direct sequel to my first feature, Fear of the Dark, but when scheduling conflicts arose with one of the actresses I scrapped that idea. I was always a fan of Creep Show and Tales from the Darkside so I thought why not go in that direction. I had an idea for years about the lives of 4 people living in a seedy tenement building. I wrote the taxi driver story when I was in eighth grade. The werewolf story was based on a story I wrote in college. I'm 32 now so that's a pretty decent stretch of time. The first part of the movie had to tie into my other projects so I went with the origin of the Black Rose Killer. He's' my baby. That character has opened up doors for me. I used to work in a radio station that played mainly seventies and soft eighties music so Helen Reddy's Angie Baby was the inspiration for Sarah.
What did you do to try and make your film stand out from the pack of micro cinema horror films filling the shelves these days?
I firmly believe that when you are doing low budget you have to constantly promote yourself and keep the name of your project out there so it doesn't get swept under the rug with so many other indie films that you never hear of. I do the Chiller Theatre and Fangoria conventions religiously. The idea is to really get to know the fans. It drives me crazy as a fan when I go to these shows and then see how many celebrities cop an attitude when you talk to them. With many of them, it's all about the money. I think we have built a decent following just on the fact alone that we are so approachable.
Having been a long time fan of Stephen King, I decided early on that all of my movies would take place in or around a fictitious town — that town is Fairview Falls. People seem to really like the continuity from one movie to the other. I treat the movies each as stand alone movies so that it doesn't alienate the new viewer but I load them up with enough "Easter eggs" that existing viewers appreciate them more. It's tough at times doing this because it's very easy to paint yourself into a corner story wise.
There's blood and breasts in the opening ten minutes. Was this on purpose to stick with the "horror movie regulations"? Did you feel it necessary to stick to what horror movie fans have come to expect?
I had a very atmospheric credit opening and the crucifixion scene with Suzi topless came about 7 minutes later. After I signed on the dotted line, I was told I had to tighten the movie by losing the credit sequence and bringing the nudity into the ten minute mark. More blood was required for the first 2 minutes and so the flashback scene was added which flashes back to events from Fear of the Dark and Sins of the Father. I wasn't initially thrilled with this but in retrospect I think it made the movie more solid and coincidentally tied it more to my other projects.
What was your intention as a filmmaker with your film?
I really just wanted to tell a good story — the kind of creepy story that you might tell around a campfire. I'm a big fan of horror movies and in many ways The Tenement is a testament to that. It's loaded with references and tributes to some of the classics. I also try to get across a sub context with each story too. For example, you have Ethan, the obsessed horror fan that kills in the fashion of what he sees on TV. It's a statement that reflects how Hollywood does need to take some responsibility for what they put out there but at the same time it indicates how the environment is a factor as well. He lives with his mentally abusive, alcoholic mother who is one of the main contributing factors to him snapping. I did a short called the Family Tree which is about a dysfunctional family. The tagline sums it up best — "the root of all evil starts at the family tree."
What is your background as a filmmaker?
I worked in cable access directing, producing and hosting for many years. People always joked that I ran it like a network station. We won a bunch of community awards for our work. Later I focused heavily on my writing. I was a literature and creative writing major in college. I also took film study and television production classes. I worked in radio for a while and then finally one day just decided to take the plunge and make a movie.
What is some advice you would give to a young filmmaker just starting out?
Stay in school and get an education. Formal training always is a plus. Hands on experience is the best training. I learned most of what I know by doing it. Wear as many hats as possible — learning all aspects of film will only make you a better filmmaker. Don't ever let anyone tell you that can't succeed. If you want something bad enough and work for it, I truly believe you'll get there one day.
What would you like to be doing five years from now in film?
I have a number of projects in the works. The "big one" I want to do though can't be done without some serious funding. I'm hoping that within five years I get to work with a major studio.
What can folks expect when they buy a copy of your film (which of course everyone reading this will do)?
They can expect to have fun. They're really movies made by a horror fan for horror fans. I don't think that they are necessarily mainstream movies. The market is already flooded with too many of them. I'm hoping that they will like what they see and that it will prompt them to check out my other stuff. I have some great tales to tell as long as people keep watching.
Where will folks be able to find your film?
I know it will be popping up all over the place but the best place is from the official site — www.lightanddark.net. We always have them for sale at the conventions as well. When you buy them direct from us, I usually like to include a little something extra as a thank you to the fans for their support.
So there you go. Go buy this film before it's gone. If you don't you might be attacked by some leather clad lesbians.
Chris Watson is currently in pre-production on his next film, Minds of Terror, set to star Joe Estevez, Robert Z'Dar, and other cast members from his film debut, Mob Daze. A regular columnist for The Dog Pile, Chris will chronicle his struggles, triumphs, and setbacks as a lowly independent filmmaker.
---
http://www.geocities.com/zombiegutmuncher/BrainDamage/tenement.htm
March 22, 2004
This film is basically an anthology of tales all wrapped around the idea that a certain building, now owned by a mysterious and dark character, is possessed by evil itself or, at least, the idea of evil.
Each tale moves closer and closer towards present day, until the final secret of the film is revealed. That secret, although not really a terrifying twist, was indeed very cool and somewhat unexpected.
The film is well made with well written dialogue and an in-depth script which is well developed and envisioned on screen. The special effects are not over the top, but are effective and pulled off really well, adding to the overall feel to the film. There is also some use of black comedy which lightens the mood at the right times throughout the events.
Oh, yeah...STRIPPERS! Yeah, strippers. You will like them.
Without giving too much away, the main reason to watch this film is one tale in particular. The story of a mute little girl obsessed with dancing and music. This is a creepy and disturbing story which will leave you thinking and feeling a little...well...disturbed.
Once again, Brain Damage has brought you the best in indie horror. This is not one to miss, folks.
Rating 3/5
---
Social Crime Radio Network Interview
www.socialcrime.com
Pedge Jameson interviews Glen Baisley and Sal Sirchia (March 20, 2004)
Click here to hear an MP3 of the radio interview (27,332 kilobytes).
---
by Paul Bistoff (March 11, 2004)

I had no idea what to expect upon sitting down to watch this low budget indie flick. I'm happy to report that I was most pleasantly surprised. The Tenement is a compilation of four stories, tied together by the fact that they stem from the same apartment building in Fairview Falls. Throughout the years, this building seems to continuously breed evil amongst those who live there.

Although treading common ground, the stories presented here are not only entertaining; they actually transcend the tried and true horror formulas managing to be truly original as well. Effective in many ways this film will unnerve you, disgust you, and will even make you laugh. It's a wild and varied ride that offers some refreshingly unique looks at genre archetypes.

After a brief introduction, the first story opens in standard horror fashion, with two people making out in a parked car. Of course we already know they're in big trouble, and soon they're captured by members of a religious cult, The Ancient Order of the Rose, who dress in long black robes. The girl is to be sacrificed, as a symbolic spilling of the blood of the world's sinners. She's nailed to a cross, and slowly bled from several wounds.

When it's time for the fatal blow, the picture jumps away to introduce us to Ethan Fernier (Joe Lauria) whose been happily watching these events on his TV. A horror film buff, and flower arranger, Ethan especially digs the offerings of the aptly named director Winston Korman (Michael Gingold, of Fangoria fame). Unfortunately for Ethan his bed-ridden, mentally ill, alcoholic mother requires almost constant attention. Despising the films that Ethan loves she constantly interrupts them, screaming at him to fix her another drink or to empty her bedpan. Just wanting to be left alone Ethan begrudges his mother's pestering, and the anger inside him begins to build.

The next day one of Ethan's favorite actors, from several Korman productions, stops by his flower shop to order a dozen black roses. Upon delivering them, Ethan finds himself auditioning for the role of the killer in Korman's next film. Things don't go well, and a crowd gathers to laugh Ethan out of the room. His clean-cut look simply doesn't make a believable killer. As a result, Ethan's anger nears the boiling point, his only desire being to prove everyone wrong.

Next we jump to the apartment of the Weston's. Sarah (Carol DiMarsico), the child of the family, is a mute who does little more than listen to the radio and slowly dance as if with an invisible partner. Her parents have noticed that a neighbor, Henry Wallace (John Sudol), seems to have taken a disturbing interest in their girl. He's constantly watching, observing Sarah through the window of his apartment.

In their desire to get away, they decide to take a trip to their uncle's house. Unfortunately, the troubles of home follow and Mr. Wallace soon finds the opportunity to catch the defenseless Sarah alone. What follows is a truly brutal and surreal sequence of events, resulting in an inspired ending that feels like it was pulled straight out of a Twilight Zone episode.

Aware of the somber tone thus far, we step out for a welcomed breath of fresh air. The next story, decidedly campy though soaking in blood, takes us to a support group for people suffering from mental and behavioral disorders. There we meet Jimmy Wayne Garrick (Mike Lane), a social outcast who seldom dares to leave his apartment. After some trepidation, he manages to open up to the group, and leaves feeling a bit better about himself.

However his mood quickly changes during his walk home, as he's attacked by a howling dog. Jimmy wakes up with a badly wounded arm and staggers home to bandage the injury. Confused by what happened, and his best friend's joke that he got attacked by a wolf, Jimmy begins to ponder the possibilities.

In the days that follow Jimmy starts to feel different, more confident and highly energetic. His arm is healing fast, very fast, and he develops a craving for red meat. Perhaps he really is changing, and maybe he's actually better off for it. Jimmy's search for the truth results in a one of a kind tale, based on one of horror's favorite legends.

The fourth chapter is also the most typical. The segment focuses on a serial killer (Ed Shelinsky) that uses a fake taxi cab to pick up his victims. Solely interested in young girls, he makes a practice of picking up call girls in front of the local whore house. A brutal murderer, he kills his victims slowly, allowing them to suffer. Thankfully just when this segment begins to feel like a lesson in slasher 101, the tides turn, as the killer meets a girl just as twisted as himself.

For all of its merits this movie certainly isn't without fault, suffering from the general pitfalls of extreme low budget filmmaking. Predictably the acting greatly varies, as does the sound and image quality. Props and costumes are generally cheap looking and many of the desired effects were most certainly compromised. The pacing could use some tuning in places and the final chapter is a bit anti-climatic, easily being the least rewarding of the bunch.

Yet, it's the same low budget that lends the production an extra layer of authenticity. As we all know, when big dollars are spent, originality is the first thing to suffer. After all, the power and worth of low budget films lies in their willingness to walk off the beaten path. In return it's easy to fall in love with the b-level acting and the overall low budget look; in fact I'd have it no other way. Glen Baisley and Light & Dark Productions are definitely ones to watch.

Also deserving of comment is the performance of Joe Lauria. He should be commended for his absolutely believable portrayal of a normal and innately harmless man who slowly descends into insanity. Ethan's a film nerd, the type of guy you instantly feel comfortable with upon meeting. Yet deep inside he longs to be what he admires the most. You can just feel the pain oozing from Lauria, as Ethan gives in to his desires.

The review copy was a VHS screener, but the official DVD will be released on April 13, 2004 courtesy of Brain Damage Films. Anticipated extras include deleted scenes, alternate endings, and a feature length commentary with Glen Baisley, Michael Gingold, and several others.
---
Fangoria April Issue #231
---
Review by Dr. Squid (March 8, 2004)
I got a big kick out of The Tenement and the main reason is that it kept me guessing. And for a guy who has seen quite a few horror movies, that's a real compliment. While the execution is sometimes rough in terms of production values and acting, the clever stories in this horror anthology really make it sing. Case-in-point, we start off with a popular genre cliché: a couple making out in a parked car who, in short order, are attacked by hooded figures. Next thing you know the girl's tied-up and the figures are spouting quasi-satanic stuff. I was started to get annoyed: while the cult was talking about this girl having to pay for her sins (which I assume was making out in a car), a couple of leather-clad lesbians started making out. This was flying in the face of logic and as I was just ready to scream out loud at the screen that this didn't make any sense... I was hit in the face with a clever plot twist. I was impressed. As the building-related stories began, I was thrilled at the interesting left-turns that the stories took.
The building of the title is merely a device to link several stories together - each one is about someone who has lived in this building. The first tale is about a horror movie fanatic who falls into an audition for his favorite director, only to be shot down in flames. We peek inside this fanatic's mind and question what is real and what's not. We're next thrown into a tale of a mute girl and a man stalking her. Their cat and mouse game is engaging and played fairly straight. The next tale starts off with so much humor, it really jerked me out of the vibe of the movie, but before long, I was hip to the dark humor moving this tale of a neurotic man who may or may not be a werewolf. Then we meet a serial killer whose unique way of getting victims causes an encounter with a woman who doesn't react as most victims would. To tell too much more about any of these stories would be too much of a spoiler, but each has it's own share of plot twists and shocking moments.
Overall, you get a lot going on: there are movies within movies, stories with various story threads woven back and forth, bloody deaths, clever nods to all kinds of horror genre stuff and even a nice bit of skin. Some of the scenes are nicely done, others are harshly lit with too little set dressing and sometimes the handheld camerawork is a bit distracting. Frankly, it reminded me of some of the better stuff I've seen on the local college station, which isn't that bad: look beyond that for several roller coaster rides of horror.
Things to watch out for: Fangoria's Mike Gingold's over-the-top performance as the horror movie director. It was a bit much, but I did laugh several times which I think was the point. Also check out Syn DeVil as the stripper who meets up with a werewolf: Yowza! Kudos to director Glen Baisley and Light & Dark Productions for an entertaining horror anthology! Dr. Squid says check this one out.
---
Reviewed by: The Hitman (March 8, 2004)
Fear of the Dark
DVD released by Light & Dark Productions

Credits:
A Light & Dark Productions DVD
Written and directed by Glen Baisley
Approx. 117 minutes
Unrated
Full-screen, 2.0 sound
Starring:
Rosemary Gore as Alice
Vanessa Edwards as Karen
Mike Lane as Michael
Herb Smithline as Dr. Fisher

The Plot:
Watching a low-budget film is something like scouting minor-leaguers: Part of the fascination is more than the film itself; it is imagining what the filmmakers and actors could become, given time and money. Ultimately, for a reviewer, one of the most important questions about any movie is not what its makers might do in the future, but what they do here and now. In the case of Fear of the Dark, writer and director Glen Baisley has succeeded on both counts, fashioning an enjoyable horror mystery and offering an intriguing glimpse of what his Light & Dark Productions may become.
Fear of the Dark opens with the story of the Black Rose Killer, who terrorized a small town 20 years ago before vanishing after a murder attempt gone awry. As the film advances to the present day, his last would-be victim, Alice Walker (Rosemary Gore) has grown up to be a neurotic young woman who has never truly recovered from seeing her parents slain. And when she begins dreaming of the Black Rose Killer, and the bodies start piling up, she finds herself wondering if she has lost her mind, or if she has the power to catch the killer and save her town.
Thus, Fear becomes a story with two levels: The psychological study of Alice; and the deterioration of her life, as her loved ones refuse to believe the Black Rose Killer's return is anything but her imagination.
Despite its touch-of-madness overtones, Baisley keeps Fear's pacing efficient, and the movie benefits for it. Although there are times when Fear is unintentionally laugh-out-loud funny, every time it seems to veer dangerously toward Mystery Science Theater 3000 territory, Baisley finds a way to get things under control and the film regains its effectiveness. He also deserves high marks for his directing style, and his use of just the right amount of point-of-view shots, close-ups and odd angles is a benefit.
The acting, as with any low-budget film, is a risky proposition, and the uneven performances are one of the few black marks on Baisley's direction. Gore is talented, but has plenty of rough edges; her highs are excellent, her lows laughable. But she is offset nicely by the solid Vanessa Edwards, who plays Alice's housemate, Karen. Edwards' best may not be as good, but she gives a consistent performance that provides an anchor for the film. And to Edwards' credit, she is at her best at the climax of the film. Mike Lane, playing Alice's boyfriend Michael, is another actor who shows some promise, but far too often that gives way to over-the-top antics that grate and feel out of whack with the rest of the film. On the other hand, Herb Smithline does the best all-around job as Alice's psychologist, Dr. Fisher — convincing enough to make one wonder if he really has some training in the field. And Danielle Russo (playing Janice, the gratuitous eye candy) deserves a mention, simply because she is drop-dead gorgeous.
If the actors frustrate at times, viewers can save their applause for the special-effects crew, Anthony "Dr. Death" Eikner and Death Head Productions. From an early, bloody disembowelment to the bloody destruction of a pet gerbil, the gore guys get the most out of their budget, and deserve high marks.
The film has several nice touches, including some tongue-in-cheek humor and a classic scene in which a character, face-to-face with the Black Rose Killer, pulls the old elementary-school playground trick of faking a wide run right, then sharply cutting back left to dodge the bad guy.
If the film's low budget shows through regularly, hampering the picture and sound quality and providing the occasional "huh?" moment, it seldom turns disastrous — a tribute to Baisley's craftsmanship.
Most independent "C-movies" are labors of love, and Fear of the Dark is no exception: It is clear from the film (and the included behind-the-scenes featurette) that Baisley loves making movies, and his actors love appearing in them. That kind of enthusiasm should endear Light & Dark Productions to viewers, and make them look forward to what the company will produce in the future.
Grade: B. Some rough edges, but a solid psychological mystery makes for an entertaining and enjoyable film.

Picture Quality:
The full-frame image is hit with a double-whammy: The film itself suffers from its low-budget nature, and the DVD authoring only exacerbates its flaws. Bad lighting, always the bane of inexpensive films, renders the nighttime scenes almost incomprehensible, and the brighter scenes sometimes suffer from a washed-out look. The DVD only adds to the problems with sporadic compression artifacts and quite a bit of digital noise, particularly in the bright daylight scenes.
Grade: C-. It's a bad image, but that's not unexpected.

Audio Quality:
The 2.0 sound quality also suffers from the low budget, as the added music and effects sometimes overwhelm the dialogue, which seems to suffer from the absence of any kind of boom mike.
Grade: C+. Almost as bad as the image, but again, the flaws are understandable.

Extras:
A 10-minute behind-the-scenes featurette is included at the end of the film, and it offers a glimpse at the making of a low-budget film — and really makes you root for the good-natured Baisley and his cast and crew.
Grade: B-. Not a lot, but it's enough — and well done.

Final Thoughts:
Fear of the Dark certainly shows Glen Baisley's potential as a filmmaker, but it is more than that. It is an effective horror mystery that overcomes its flaws and deserves a look on the basis of what its creators have done, and not just what they might do someday.
Overall grade: B-. The DVD itself is pretty poor, but the film on it is definitely worth a look.
Preview of The Tenement
The Plot:
The Tenement, a prequel to Fear of the Dark, will be released through Brain Damage Films in April. Although the VHS screener provided to HorrorTalk suffered from some poor image and sound quality, Brain Damage's work on TimeWarp Films' Vampire Sisters DVD offers hope the quality of the next Light & Dark DVD will be a step up from the independently made Fear.
The Tenement does, in fact, represent an attempt by writer and director Glen Baisley to take the next step in his filmmaking. Using an old apartment house as the basis for a Tales from the Crypt-style series of shorts, he emphasizes the psychological aspect of horror. This contrasts sharply to the much more straightforward Fear of the Dark, but does it work?
Sometimes.
The Tenement is basically divided into four episodes. But the movie is a risk for one basic reason: The emphasis on the mental and emotional state of its characters forces the lead actors to stretch to the limits of their talent — and unfortunately, not all succeed. Obviously, no matter how well crafted a half-hour sequence is, when the star doesn't fare well, the whole thing suffers.
There certainly are highlights, however. The second story — by far the best — is the tale of a would-be rapist (John Sudol) stalking a mute girl (well-played by the lineless Carol DiMarsico). It features some very, very effective sequences, especially when he discovers there is more to her than meets the eye. And in the fourth episode, a duel of serial killers, Danielle Russo (offering some back story for her own Fear of the Dark character) gets to show less skin and more of her acting chops, and comes through very favorably, as does her opposite number, the hulking Ed Shelinsky.
But what might have been the film's two signature stories are hurt by the same inconsistent acting that plagued Fear of the Dark. Mike Lane returns from Fear to star in the third sequence as a paranoid dog-bite victim who may be turning into a werewolf. And while his hammy performance may fit The Tenement better than it did the earlier film, it still seems more of a minus than a plus. And while Joe Lauria, playing the young man destined to become the Black Rose Killer in the first episode, is better, he is a little too annoying a little too often throughout his showcase.
Among the shorter stories interspersed with the main episodes, the best is the opening sequence, starring cute Suzi Leigh as the victim of a cult in a film-within-the-film.
The one true letdown of the film, however, comes in the Black Rose Killer sequence, when several performers, including Baisley and Fangoria bigwig Michael Gingold — a dreadful actor — seem to have real trouble maintaining their composure. Light & Dark seems to strive for legitimate quality, and this lack of professionalism is a real letdown.
Glen Baisley took a real chance with The Tenement, pushing the limits of his cast and budget in an effort to take the next step forward in his moviemaking career. And for that, he must be commended. Yes, Fear of the Dark is a more enjoyable film, but that doesn't mean The Tenement is a step backward for Baisley and his Light & Dark Productions. What it means, perhaps, is that he has reached the limits of his current capabilities in terms of budget and cast. So what fans must hope for is that someone with stronger financial backing sees what Baisley has to offer, and gives him the chance to really move up into the B-movie world of films like Stakes and Flesh for the Beast.
Until that time, Baisley will have to take comfort in the fact that Fear of the Dark and The Tenement prove he can craft entertaining films. And if he spends the intervening years working on eliciting better, more consistent performances from his actors, when his chance to take the next step comes, he should be more than ready.
Grade: C+. Baisley continues to show a lot of promise as a filmmaker, but his psychological horror prequel suffers from too much schizophrenia.
(Fear of the Dark reviewed in February 2004 on a Mitsubishi 1080 series 42" TV with a Sony DVP-CX875P DVD
---
Excerpts from a Review by Horror Bob (March 2, 2004)
"The beginning was decent... The last one in particular I enjoyed with two killers falling in love. That was a great story."
"The low budget gore is pretty good for what it's worth and the film has a lot of it. There are also some elements of comedy that horror fans will enjoy, poking fun at or making references to other horror films is always a good thing. And there is enough nudity and good looking girls to keep any fourteen year old boy busy for two hours."
"Overall some of the stories are good... It is one of the better Brain Damage Films to be released..."
---
Excerpt from a Review by The Gravedigger (March 2, 2004)
"The Tenement moves very quickly and the stories are different enough from one another. Plus, it's always cathartic to see Mike Gingold killed in a movie, don't ask me why..."
---
Review by Paul Pritchard (March 1, 2004)

4 out 5 Stars:

Watch It! This is a film that should be seen and is worth making the effort to see. Get down to your local video store and pester the owners until they get it in. If they don't, try other video stores. Beg, borrow, steal… whatever it takes to see this film. You won't regret it.

"Do you believe a house… a building can be inherently evil?"

"This place draws evil."

Neatly avoiding the problem that many horror films suffer of too much padding and/or excessive gore, The Tenement is a collection of four short films based around the common theme that the tenement in question is itself inherently evil.

The film starts with a conversation between former resident Ethan Fernier (Pete Barker) and the owner of the block, from which the quote at the start of this review is taken. Ethan, it turns out, was a resident of the apartment block abut 20 years ago… when the murders started.

After a brief hiatus, involving a rather twisted take on the traditional Christian view of death and resurrection, we jump back 20 years to see Ethan's story unfold. The young Ethan (Joe Lauria), it turns out, is not the happiest of people. Still living with his overbearing and bedridden mother and haunted by his dead sister he finds his escape through obsessively watching horror films – especially the low budget slashers of one Winston Korman.

Digressing slightly – writer/director Glen Baisley really does wear his influences on his sleeve in this film. The Tenement is packed with references - some subtle, some less so - to directors from Corman to Hitchcock and to films as diverse as Psycho, The Exorcist and Cherry Falls. This is not to accuse the film of being derivative – it isn't – and there is a rather neat double bluff going on in young Ethan's story.

Back to the plot… By day, Ethan works in a flower store and - as luck would have it - all his dreams come true when he gets an order for a dozen black roses from none other than Winston Korman. Excited beyond belief, Ethan takes it upon himself to personally deliver the flowers so that he can meet the great man. Unfortunately for Ethan, Korman (Michael Gingold) is a rather unpleasant piece of work and manages to thoroughly humiliate the young flower seller in a superbly surreal scene in which young Ethan's fragile psyche is shattered as he flees from the studio… to become the Black Rose Killer.

Ethan's story is a great piece of filmmaking, very effectively capturing the way in which Ethan goes to pieces and his first – not entirely competent – foray into serial murder.

We then jump forward ten years to 1990. Sarah (Carol DiMarsico), a mute girl loves to dance to the music on the radio. Her neighbor, Henry (John Sudol) loves to watch – much to the concern of Sarah's over protective father (Floyd Gumble). Not too surprisingly Sarah eventually finds herself alone with Henry…

Of the four segments that make up the film, Sarah's story is probably the weakest. For much of the time it looks very much like a very straightforward and rather nasty slasher story but the story ends with a very effective twist that more than redeems it.

And then it's 1999 and time for the next tale which is a werewolf story… sort of. Jimmy Wayne Garrick (Mike Lane) suffers from paranoia and the story opens with his first attempt to get out a bit more by joining a support group. Things go reasonably well for him at the group, but on his way home he is attacked by an animal.

Waking up the next morning and not entirely sure of what happened, Jimmy starts to convince himself that he was the victim of a werewolf attack and is therefore becoming a werewolf himself…

Jimmy's story is a darkly comic tale of mental illness and dangerous delusions and his attempts to emulate wolf-like behavior – his conscious mannerisms and constant posing - are both sad and funny. And yet, the story also contains a suggestion, implicit rather than explicit, that maybe Jimmy's change is not entirely in his mind. Maybe there is something going on beyond Jimmy's delusions…

The final story doesn't name the main character; a bogus taxi driver and serial killer whose victims tend to be young women. Like Sarah's story, this starts off looking very much like a very bog-standard slasher tale. And like Sarah's story, this segment more than redeems itself at the end when the taxi driver finally meets the victim he didn't bargain for…

While watching The Tenement I found myself reminded of Ju-On – the central idea of the building being the source of the evil as well as the use of separate stories to illustrate this are both familiar from the Japanese film. Where The Tenement differs, however, is in the twisted nature of the stories. None of them end quite as expected and the film as a whole keeps you guessing right up to the end.

Although there are a few places where its ambitions exceed its budget, The Tenement is a film which tells a series of good stories with intelligent twists. It's also a film that is well worth getting hold of.
---
Review by Andrew Shearer (February 24, 2004)
PLOT - A series of stories that take place over the span of two decades, centering around a tenement building with a history of murderous mayhem.
VIOLENCE - Numerous bloody deaths by stabbing, beating, strangulation, dismemberment, and acts of cannibalism. You'll see guts, severed limbs, spurting neck wounds, you name it.
SEX/NUDITY - Some brief toplessness from a virgin sacrifice, and a strip club scene featuring enormous bouncy boobs.
WHY I WATCHED IT - I'd read about this one in a past issue of Fangoria magazine, and noticed a photo of actress Suzi Leigh tied to a big wooden cross. I recognized her as "Kelli Summers" from a couple of my favorite Seduction Cinema films, Satan's School For Lust and Lord of the G-Strings. At the very least, I knew it would be a very different role for her, and an interesting flick (based on the article I'd read).
THE DOPE - The problem with a lot of serious-minded independent horror films I've seen lately is that they seem to try and pad out the running time with needless, boring details that make the movie crawl at a snail's pace, making me reach for the fast-forward button till I see something happening. Anything. Sure, most of them have a solid story, but only about 45 minutes of movie at best, and the other 30 could go out the window.
Light And Dark's latest production The Tenement has the right idea. Like any collection of great short stories, the horror is divided up into sections. It never gets dull, something's always happening, the blood and scares come frequently, and the desired effect is always achieved. Not a moment is wasted, thankfully, and this construction makes for a solid movie-watching experience.
The film begins with a creepy old man asking the question, "Do you believe a building can be inherently EVIL" then the camera pans up to the title subject, the "tenement". Just as we start to wonder what the hell he's talking about, we're assaulted with a quick barrage of violent, brutal, graphically gory snippets of the atrocities that have occurred in said building over the years. And with that, the ride begins.
Watching The Tenement is like taking a trip through the cursed building itself. You get a peek at all its dark corners, stroll down its creepy hallways, and every door will open... revealing things more twisted than the ones before as you head deeper inside. The longer I watched the movie, the more I enjoyed it. It has a streak of black humor that never gets corny and eases the tension at just the right moments.
I recommend this film to anyone who enjoys a good twisted horror yarn, and who doesn't like their intelligence insulted or their time wasted. Thankfully, the filmmakers understand what it takes to really make a fright flick work. I was impressed.
MEMORABLE SCENES - Michael Gingold's performance as the asshole B-movie producer brought a smile to my face, and Suzi Leigh looked like she was in absolute true agony in the first segment! Great work indeed.
NOTES - Look for a DVD release of this film in April 2004 from the fine folks at Brain Damage Films. Go to LightAndDark.net for more information.
---
EvilKlown.com & The Spiderweb Crypt Review
Review by Josh Agnew (February 22, 2004)
www.evilklown.com
Rating 7.5/10
The Tenement is a collection of four stories. Each one centered on a person living there. The movie takes place in the town of Fairview Falls and spans twenty years. The Tenement building is a place where a lot of strange and evil things occur.
The first segment takes place in 1980 where we meet Ethan Fernier. He's a young man who lives and takes care of his bed-ridden mother. He works in a flower shop and likes to watch horror movies - Winston Korman movies especially. One day he gets to make a delivery of black roses to Korman. When he gets to meet Korman he makes a fool out of himself and everybody there starts laughing at him. He runs away and later that night after his mother keeps yelling at him for this and that, Ethan snaps. He puts on a costume and becomes the "Black Rose Killer".
Segment two takes place in 1990 and is centered on Sarah, a young girl who is mute. Her family takes a vacation out in the woods but they didn't come alone. Their neighbor, who really likes Sarah, has followed them out to the country. While her parents run to the local store, Henry decides to make his move on Sarah. He thinks she'll be easy prey, but he soon learns that she isn't all that easy to deal with.
Segment three takes place in 1999. Here we have Jimmy returning home from a group therapy meeting. On his way home he is attacked by a wolf. The next day he starts feeling weird and starts believing that he is turning into a werewolf. He then goes on a murderous spree, but is it a werewolf doing the killing or is Jimmy just plain crazy??
The finale segment takes place a year later in 2000. A guy dresses his car up to look like a taxi. He then drives around town and picks up young women. He then kidnaps them and murders them but one day he picks up the wrong woman. She leads him to a deserted place and the taxi driver finds out that she's not all that easy to kill.
Comments:
All I have to say is WOW! This movie was pretty damn good folks. It did, however, have a few minor flaws but what movie doesn't? This is the first movie of Glen Baisley's that I've seen, and after this viewing I'm definitely going to check out his other movies!
I really enjoyed the story and I thought it was well written. The direction by Glen is pretty good. I do have one complaint about the sound. I don't know if it was just my setup here at home or what, but in some scenes I could barely hear the dialogue. Hopefully that'll be fixed when the DVD comes out. There's enough blood to wet your whistle but this isn't a blood bath movie.
The acting was alright. There were no break out performances in my opinion but then again this is a "low-budget" production. Although I did like Danielle Russo's character in the Taxi Driver segment, or maybe it was just because I liked her!? Hmmm... Who knows! MuaHaHa. Anyway, on with the review. On a bad note, the actor playing "Jimmy" in the Werewolf segment really, really annoyed me. I don't really know what it was but he just got under my skin. I was beginning to think that he was hopped up on some major drugs! As for the Ethan Fernier character, I think you can really relate to him. Or at least I could. What would you have done with all those people laughing at you and having that bitch of a mother? Excuse my language, but man she really got under my skin! I would have snapped a looong time ago.
I really liked most of the music on this film. I especially liked the theme music done by Sal Sirchia. I thought it was pretty catchy. I also thought they did a good job with setting up some of the scenes with the music.
After seeing this film I can understand now why it won "Best Feature Horror" film in the Third Annual Putnam County Film and Video Festival. I also believe all the hype that I read about it on some of the other review sites. If you want to read more about "The Tenement," you can visit the Light & Dark Productions website at www.lightanddark.net. And get ready for the DVD, it comes out on April 13th and will be packed full of goodies for you to enjoy! This is a highly enjoyable and fun flick to watch. I would recommend it to anyone.
I want to thank Glen Baisley at Light & Dark Productions for letting me see this movie. I really appreciate it.
---
Excerpts from a Review by Driller Killer
The Tenement
directed by Glen Baisley
death toll I think 6
kill rate every 15 minutes
gallons of blood 30-40 gallons
nudity three sets of tits (one of which are huge) and some thongs
best kill the repeated shovel to the face
most annoying part there are a few but I gotta pick the rape scene
rating 2 bloody knives
...It has some cool parts and ideas... The director in the first storyline, who "puts the cock in Hitchcock" was hysterical. I wish he had a bigger part. I especially love when he holds up the Fangoria mag and says, "who do you have to blow to get in this rag," and then tears it up. Fucking brilliant. I give the guys at Light and Dark huge props for that...
...They did one thing right though with the cast… you got to at least have hot chicks. And believe me they do. The chick in the taxicab serial killer story is one of the hottest chicks I've ever seen. I was so hoping she would get naked. She was still so hot though. There's also a scene in the werewolf tale where the guy goes to a strip bar and gets a lap dance. That stripper was so hot. She also had the hugest boobs I think I've ever seen in a horror film. I'm really glad director Glen Baisley realized that a little nudity goes a long way. Thank you for that...
...I really liked the storyline with the serial killer and the chick. I wish that went a little longer. Well, I'm not sure if I liked the storyline or just wanted to see more of that hot chick. I also wish that the guy in the first storyline killed more too. He only gets the one guy. He kills him good too, beating him over and over in the face with a shovel. I wish he would've taken out his bitch of a mother, and the whole crew that was laughing at him...
...If you're a fan of Brain Damage films than definitely check this out.
---
Excerpts from a review by Head Cheeze (January 28,2004)
The creative spirit is something that cannot be extinguished by something as trivial as "budget". Your "talent" is your friends and family, "locations" are your homes and workplaces, and your "film" is videotape. While the vast majority of moviegoers would rather gouge out their own eyes with dull spoons than sit through a S.O.V. (shot on video) film, there's a growing market of fans who are tired of the oftentimes sanitized horror product coming out of the major studio system, and, thanks to the affordability of the DVD medium, many distributors are regularly churning out no-budget productions as quickly as they can be made (which, at least from some of the crap I've seen, is pretty fucking quick). Which brings us to Glen Baisley's The Tenement.
A four part anthology, The Tenement tells the tale of various tenants who lived in the same building over the course of two decades. The first story focuses on a young man named Ethan who's forced to care for his abusive invalid mother. Ethan is a horror movie fanatic who spends his evenings watching Winston Korman flicks at high volume to drown out the verbal abuse from his mother. When Ethan is assigned to deliver flowers to his idol's workplace, he is given an opportunity to audition for a role as a killer in Korman's next film, but Korman and his co-horts laugh at the idea of the wimpy looking Ethan portraying a killer. Ethan is traumatized, goes home, dons a mask, and heads out to give Korman another audition...OF DEATH!
The second tale features a mute young girl who has become an obsession of a neighbor in the apartment building. He constantly watches her dance from the balcony, and peers in her windows. Her parents take the girl away on a vacation to a secluded cabin, and the neighbor follows them, breaking in when the parents make a trip to the store. As the neighbor begins to torment, torture, and rape the girl, he discovers that his "helpless" victim is more than she seems.
The other two entries include a man who thinks he's been bitten by a werewolf, and a killer who stalks his victims using his cab as a means to find where they live.
...I found myself hooked by the segment involving the mute girl and her lecherous neighbor. It had some solid creepy moments, and featured the best acting of the lot...
On a positive note, Baisley does show an affinity for the genre, and, given time and some proper gear, he could turn in some fine work in the future...
The goal of the guerilla filmmaking enterprise is to prove that high quality films can be made outside of the Hollywood system. With The Tenement, Baisley [has] taken a step in the right direction.
---
Excerpts from a Review by Lyle Henretty (January 22, 2004)
"Baisley shows promise..."
The film is an anthology chronicling a couple of decades in the life of an urban tenement where bad things keep happening to the, uh, tenants. The first story revolves around a young man (Joe Lauria) who lives under the thumb of his overbearing, bed-ridden mother. A lover of horror films, the young man comes face to face with his icon, horror director Winston Korman (played by longtime Fangoria scribe Michael Gingold), a nasty man with a dead cat in a bag. This first bit is a prequel to Baisley's "Fear of the Dark," but I wouldn't worry if you haven't seen that one yet. The most interesting thing about the first entry is a fun "fake-out" beginning, a horror movie-within-a movie, that is much grimmer and a lot more fun than the bit itself.
The second section of the tenement is probably the best, a twisted little story about a dancing mute and her wanna-be molester. This bit actually has a nice, plodding atmosphere, and maintains interest throughout... It shows a certain EC Comics sensibility, and would have been at home in an episode of "Tales from the Crypt...
The third tale introduces a man who may or may not be a werewolf. It's the most amusing of the bunch...
The final installment tells the age-old story of boy finds girl, boy kills girl, boy finds new girl, boy and girl fight to the near-death. The opening of this piece is wildly tense, and shows just what can be done on a low budget with wit and talent...
The interesting elements of "The Tenement" prove Baisley & crew knew their horror movies, and have a wicked sense of horror and fun. Many of the special effects and camera tricks, along with the original "fake-out" beginning, show real promise...
The opening of the fourth vignette is dark and grisly...
A fast-motion flashback and a few choice camera angles are bright spots, and suggest that Baisley has real talent. Add that to his clear love of the genre and odd sense of humor, and I think Light & Dark Productions may have solid future in the industry.
---
"How excited are we about The Tenement? 7 Out Of 10"

Excerpts from a review by Jamie Kelwick (January 21, 2004):
The little town of Fairview Falls has been gripped by death for over twenty years. There is one building however that has become a magnet for evil, a place that people fear to pass and dread to live. For this place has far too many horrific stories to tell and has spawned killers that have gripped Fairview Falls in fear for far too long. This place is the tenement...

At its heart the interconnected stories are not that bad. While they may not be the most original of premises, as writer/director Glen Baisley does draw on a lot of horror movie influences, the basic stories are there for a good collection of horror tales. The story about Sarah, the mute girl protected by an unearthly figure, is especially good...

You have to applaud people who go out and make a movie, especially those on a micro-budget using camcorders and friends for actors. Being creative and bringing a dream to life is great and an excellent achievement for everyone involved."

---
An Evil Place
by (January 11, 2004)

In the mood for an unusual horror flick? Then check out The Tenement, winner of "Best Horror Feature" at the Third Annual Putnam County Film and Video Festival in New York. It's gory, campy and scary -- three important elements to fans of this genre. Focusing on the Evil existing in a tenement building, the film depicts its impact on the lives of four individuals residing there over the course of two decades. And it's not a pretty sight!

Consider Ethan (Joe Lauria), a horror-flick addict who must take care of his demanding alcoholic mother (Doreen Valdati). After a humiliating confrontation with his filmmaking idol Winston Korman (Michael Gingold), Ethan flips out -- and the notorious Black Rose Killer is born.

Next, there's Sarah (Carol DiMarsico), a mute who spends most of the time listening to the radio. When attacked by a neighbor (John Sudol), who's a rapist, she receives strange and horribly successful help from beyond.

And don't forget Jimmy (Mike Lane). He thinks he's turning into a werewolf. Could he be right?

Finally, there's a taxi driver (Ed Shelinsky) who picks up women, then kills them. Not to worry. He gets an extremely bloody comeuppance.

According to writer/director/producer Glen Baisley of Light & Dark Productions, The Tenement is part of a horror trilogy. "All of the movies take place in the fictitious town of Fairview Falls," he explains. "They are written to be stand alone movies not requiring the viewer to have seen the others but add to their viewing experience if they have."

Fear of the Dark (2001) is a sequel to The Tenement, and Sins of the Father (2004), not yet released, will conclude the trilogy. The Tenement will be released direct to video on April 13, 2004.

Kudos to Baisley's small independent production company for aiming to "breathe life into an otherwise stagnant industry flooded with shameless rip-offs." However, although The Tenement resembles no other horror flick I've seen, it contains more sexually explicit material than necessary and a few performances too over the top -- even for a movie of this type.

Still, the film introduced me to some interesting actors with genuine potential. Standing out among that group are Joe Lauria, who projects a Jim Carrey-like aura and Mike Lane, who almost convinced me he believed in his werewolf transformation.

The Tenement's proposed DVD bonus materials look intriguing, especially the "Winston Korman Movie Marathon," a "Bloopers, Gags & Behind the Scenes" feature, and the "Gag Ending with Credits" addition.

(Released by Brain Damage Films; not rated by MPAA.)

---
Excerpts from Ziggy's Video Realm (January 9, 2004):
<![if !vml]>

<![endif]>
This four-story horror anthology has its fan-based heart in the right place (in the pool of blood on the floor, on the altar, or in the fridge, perhaps), delivers on gore, and even flashes some boobs courtesy of ladies with day jobs at Seduction Cinema...
The Tenement is actually the second release in a trilogy, but don't worry; this one's a prequel, and no foreknowledge of the first flick, Fear of the Dark, is necessary. We start off with our establishing frame intro with the old man running into the building superintendent outside the title tenement and getting into a conversation wherein we establish that yes, the building is evil. All well and good, fine enough beginning. Then we fade into a scene with a guy making out with a girl in his car and getting stopped by a knock at the window just before he reaches second base. Anyone who has seen a horror flick before, of course, knows the intruder really isn't a cop, but that's no problem; this is turning out to be pretty fun. In short order, the intruder returns with a friend, kills the guy, and takes the girl (who here is called Suzi Leigh, but Seduction Cinema fans will know her as Kelli Summers) away. Nails are then driven through her hands and feet after she's stripped down to bra and panties, and she's set up crucifixion style in front of some black robed nasties. Cult stuff; all right! (Now why isn't that in the press kit? Hmm...) Then it gets funky; these aren't Satanists, but rather whacked out Christians, and next up we have chicks in leather lingerie with razor gear around their mouths slicing up the victim's legs a bit, then tossing their gear aside as they start making out while the priest collects the blood in a chalice for those assembled to drink from. Grabs the attention, doesn't it? And then comes Mr. Executioner, who thoughtfully cuts open the victim's bra for a breast shot before getting all set to stab her...
There was absolutely no need to kill house pets, guys. And certainly not twice. People, aliens, Hell-spawned undead, have at 'em; blow a hole in the vampire's chest and let's see the heart blow out from the inside. But house pets, no; particularly not like this, with the first having had a clearly live and breathing animal in the frame the second before, and with the second being endlessly joked about ... Shame on you, people.
It's obvious that The Tenement was made from the perspective of true horror fans who want to give back to the genre. I understand that, applaud that, and respect that.
---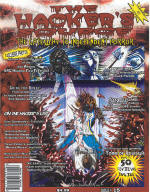 Review by Eve Blaack
The Hacker's Source Issue #15 (February 2004)
There have always been haunted houses and the evil entities that control them used in film. Baisley has taken that premise pushing it one step further with The Tenement.
The Tenement takes you on a journey through its inhabitants and those whose paths they cross. Not only does evil dwell, but it spreads out into the streets through those it takes hold of. It does so in a way that they have no inclination of what has touched them. We do not see our entity or ghosts that go bump in the night but instead see the events unfold and the repercussions.
Ethan Fernier (Joe Lauria) is a horror geek living with his abusive, alcoholic bed ridden mother (Doreen Valdati). Spending his free time in front of the television enthralled by his favorite horror director Winston Korman's (Michael Gingold) classic films, his sense of reality interacts with his fantasy world. Through a course of good luck (or so he thinks) he finds himself face to face with his idol only to be ridiculed and laughed at. Thus, the Black Rose Killer is born.
Of the 4 segments in this film, this one is my favorite. I am not sure if its Gingold's (Fangoria's Managing Editor) over the top humorous performance as the arrogant director or the murder segments shown on the television poor little Ethan is so addicted to.
If you ever have had the chance to meet Gingold you know this character is so opposite of his true personality and you can see he had so much fun playing this role. It's laugh out loud funny even if you have never met him.
The movie within a movie scenes are great to watch. I have to give a nod to my own staff writer Gene Mazza for the detailed mask he designed for a character known as Rellik. The detail in this is beautiful. Jason Vorhees must be 'dying' with envy.
Our second segment takes us into the mute world of Sarah (Carol DiMarsico). A year after a tragic "accident" she dances with a partner only she can see. Stalked by her neighbor (John Sudol) from the tenement, the results are to die for.
The third installment I found very comical. Jimmy (Mike Lane) is a recluse residing in the tenement and seeking help through group therapy. On his way home he is attacked by what he comes to believe is a werewolf. Lane gives a wonderfully funny performance as a man in love with the power and fantasy of being a hairy beast. Or is it really all in his sick little head?
Our final performance is a taxi driver serial killer (Ed Shelinsky) who stalks hookers. He picks up a fare (Danielle Russo) who becomes quite a challenge to him. I love the twist in the end of this one.
The effects and makeup deserve a mention here also by Decay NY FX and G & S Effects Co. Their collaboration with Baisley brings us just the right amount of blood and gore. Some directors take it over the top to make up for other faults they have in the film drenching us. Don't get me wrong, I love my gore, its just some films do not need 2000 gallons of blood and this is one of them. I don't want to give you the impression there is none of the red stuff. There is plenty to satisfy you. It balances with the story and it's well done. The audition scene in segment one you are treated to a skull designed by Brian Spears and later a replica of Gingold's head (used in the "smashing" finale). I recognized his work and checked to see if it was his. I own one of his original zombie heads. I bought it off him several years ago at a Fangoria convention. It's great to see his work showing up and I look forward to seeing more.
Baisley has given us what I call a fun rainy day popcorn film. These are the b-films I love to seek out at the video store and sit back munching down curled up on the sofa on a stormy night and just suck in the entertainment value.
Being low-budget we do not get the best of acting and a lot of these films suffer on the production side. That is not why we watch them. We watch them for originality, boldness, humor, fear or to just have a fun time.
The Tenement is a prequel to Light & Dark Productions Fear of the Dark released in 2001. In 2004 they plan to release Sins of the Father to conclude the trilogy. The Tenement won an award at the Putman County Film and Video Festival (NY) for "Best Feature Horror."
DVD Features: Directors Commentary*The World of Light & Dark*The Winston Korman Movie Marathon (with shorts "Jack & Jill" and "No Trespassing")*Anatomy of Horror: The Making of a Mask*5 Deleted Scenes*Alternate Opening*2 Alternate Endings*2 Uncut Exotic Dancer Scenes*Bloopers, Gags & Behind the Scenes*The Light & Dark Publicity Tour*Photo Gallery with Sal Sirchia singing "Can't Love Without You"*Movie Trailer*Gag Ending with Credits * Release date will be April 13, 2004 by Brain Damage Films http://www.lightanddark.net
---
Review by Mark Mars (January 7, 2004)
Republished on VolcanoBoy.com (April 26,2004)
A paranoid nerd who thinks he's becoming a werewolf, a beautiful serial killer who preys on serial killers and the nefarious Black Rose Killer are just some of the inhabitants of The Tenement, the new anthology by promising newcomer Glen Baisley. The Tenement has all the dark wit and twisted morality of classic EC comics with all the self awareness and continuity of Stephen King's interwoven short stories.

The best of the bunch is the story of a young mute girl named Sarah who is terrorized by an obsessive stalker but the tables are quickly turned as the predator realizes his prey may not be as alone as he thinks. As he does throughout the film, Mr. Baisley uses the "cat and mouse" struggle, like the one between Sarah and her attacker, to travel across a lot of film history. What starts in the territory of 70's exploitation fare (see "Last House on the Left" or "I Spit on Your Grave") quickly steers into dark realms first traveled by Fulci and Argento.

Let me take a second to talk to any one out there who's over 30, has loved this stuff since they could walk and hate the state of horror right now....

Ok Reagan/Bush era young couch potatoes: are you listening?

The Tenement is a good old fashioned, late night, make out with your girl, drink beer with your buddies, turn it into a drinking game, found it on the bottom of the shelf in the horror section of an old mom and pop video store, would see it at a drive in if they existed, pre Blockbuster, old-school, anything goes film making, titties bouncing, gory good time.

Roughly translated: The Tenement is a horror film by a horror fan, for horror fans.

Only time will tell if Mr. Baisley will make the jump to the big screen or if he will stay a small screen hero in the punk rock like environment of digital video do it your self revolution. Either way there's no doubt that he has a very bright future, making very dark movies.
---
Review by Rich Wolf (January 7, 2004):
We have 4 spooky stories and a building in the middle of it that may just be harboring some ancient evil.
1) Fade To Black - Ethan is a kid who loves his horror movies but a chance meeting with a member of his favorite production studio gives him the opportunity to audition for a movie role. But caught up in the excitement, he blows his chance and ends up as the laughing stock for the cast. But Ethan will get people back for these sins…no matter what it takes.
2) The Sound of Silence - Sarah is caught in her own little world and a peeping neighbor is looking to enter into it. This criminal's advances are not only unwanted but also a bit psychotic but Sarah has a few tricks up her sleeve.
3) Full Moon Rising - Jimmy got bit by a creature tonight and he's convinced himself it's a werewolf. But just because he thinks so, doesn't make it so…well that is until he starts to kill other humans for food…then he really starts to make some enemies.
4) The Taxi Driver - This taxi driver loves picking up female customers but isn't a big fan of dropping them off at their destinations. This time he's grabbed a woman who's not about to just give up…she's a bit of a "lone gunwoman" herself and this could be the last business venture this guy ever has.
Overall: This is definitely an enjoyable film. I thought there were some nice performances here with the characters of Ethan, Director Korman, and Jimmy in particular. In addition, there were even better ideas. The flashbacks and dream sequences definitely had some flash to them and were quite well done. I thought the "reality" in the "Full Moon Rising" story was very well done and also quite unique. No question there are some movie-making skills here and if anything I'd love to see what Light & Dark can do with a little more money. I think every young filmmaker should watch a movie such as this one for something to strive for in their own work. I gotta recommend this movie and then tell ya that if you miss this one, you may be really missing something special.
---
Fangoria November Issue #228
"Post Mortem" Notes from the Underground article
---
Written by Gene Mazza (July 23, 2002)
A couple months ago, a friend of mine called me up to tell me he had auditioned for an indie horror flick up in Lake Peekskill, NY. "Cool", I said. "I told them about you." My eyes lit up, "No fuckin' shit?" I asked. "Yeah, the director's gonna call you." VERY cool. FYI, I've been messing around with FX for years, something I got into when, no joke, I was in the fifth grade and wanted to be Jason for Halloween. Since the only consumer grade hockey masks available at the time sucked and looked nothing like Jason, I opted to drill extra holes in mine and paint it to the best of my ability. I went as far as shredding up some old clothes (this was 1988, I was 11 years old and Part VII, The New Blood had just come out and had such a profound effect on my young psyche), I got a plastic machete and painted it to give the illusion that it was all rusty and bloody. Since then, I've had the bug. Now, here was an opportunity I had been craving. Smack me upside the head.
A few nights later, as I sat in the smoke-hazed studio space I set up for myself in the garage, the phone rang. "Thrill me" I intoned. Prophetic words when viewed in hindsight. MAJOR fucking thrill.
"Gene?"
"Yup."
"This is Glen Baisley, of Light & Dark Productions. You were referred to me by someone I just cast in my upcoming film."
"Oh really?!"
"Yeah. Listen, I heard you do FX."
"I do."
"Good, I need an FX man."
And so it began.
You see, up until now, the limit of my experience with films had been props. Tombstones, skulls, limbs, etc., I was never even required to be on set. It was always, "This is what I need, what's it gonna cost me?" I'd give them the figures, do the work, drop it off (a couple of them picked the stuff up or sent their PA's to do it) and that was the extent of it. Over the course of this initial conversation we had, Glen informed me of stabbings, guttings, beatings, psychos, werewolves, beheadings and other things that got the little fan boy inside me all geeky. It was clear my presence would be required and that I would be doing actual FX work as opposed to just making shit in my garage that I'd hand off and never see in person again. No, I was actually going to be INVOLVED in the creative process. I crossed my fingers and hoped I didn't make too much of an ass out of myself during that conversation.
I sent him the link to my website and we arranged a meeting so I could show him some props and masks I had laying around. I hung up the phone, glowing with morbid glee at the prospect of engineering the brutal deaths of total strangers. At least I was being considered. It beats the hell out of flat out rejection. We met in a diner, hit it off, and to ice the cake, he dug my work. I was in. I drove home in a state of disbelief.
Fast forward to April, 2002. Glen called together myself, Brian Spears and Peter Gerner (two amazingly talented gents also providing the gore on the project) to take a life cast of Fangoria's managing editor, Mike Gingold, who would be portraying diabolical fictitious filmmaker, Winston Korman. My first thought - "Holy shit!" I mean, this is the number two guy at the only major publication that caters to our small contingent. Pleasant and good-humored, the casting went off without any of the hitches typically associated with the process. He was a good patient and the cast came out PERFECT. Props to Brian and Peter for sculpting a really brutal looking appliance on top of it, these guys have been truly awesome to work with. While we were casting on it, in my head, like a mantra, was the refrain, "This is really happening." Small indie flick or not, I was finally at the gateway of my wet dreams.
The events following as production ramped up will forever be etched in my mind like a scar from a white-hot chainsaw blade. I learned firsthand all the boring and stressful parts of filmmaking that "the guys on the side" deal with, like waiting around for hours for take after take after take, only to spring into action at breakneck speed to get an effect applied before the sun moves too far west, which could've ruined the continuity of where shadows fell. Or sitting around an incredibly hot, humid hayloft at one in the morning, constantly reapplying blood because the heat was making the Caro runny (and it was mixed with a thickening agent too), with the smell of fresh horseshit wafting up through the floor. And of course, how could one forget working in a condemned farmhouse that was home to birds that would periodically dive bomb and crap all over everything throughout the course of the day?
Suffer as we may have for our art, I have no complaints because some of the stuff that's happened was just too ludicrous to take seriously. No matter how taxing the situation, we were all able to find the humor in it. Even the time I volunteered to do a stunt bit as a slasher in a gas mask. I wound up getting whacked but good with a steel chair (all I'm saying is that better look awesome on film). Now, I felt, I had really lived both spectrums of the dream. This time, not only did I get to slop gore on people and rend heads from bodies, but I also got suited up in front of the camera to chase a scantily clad babe of an actress around with an axe. I was so pumped up when we did that, I asked the director if he'd be able to work something in that would allow me to walk through a glass door. Everyone else on hand was too uneasy with the idea and determined that I had finally lost my gourd. The clothes I had on were protective enough, I reasoned. But, no dice. Maybe one of these days. As I've said, I have no complaints.
The Tenement is an anthology a la Creepshow/Tales From The Darkside. Four stories, plus a wraparound narrative. The first segment (which stars Gingold and Seduction Cinema starlet Suzi Leigh) is the origin story of "The Black Rose Killer", a slasher introduced in Light & Dark's first feature (award winning feature to be precise), Fear of The Dark. This budding stalker, Ethan (played by my friend, Joe Lauria, who referred me), is in a situation reminiscent to that of the late, great Norman Bates, and after a humiliating series of events, this milquetoast horror fan snaps. Throughout the story, Ethan watches the films of B-Movie master and all around prick, Winston Korman. Creating the Korman films that Ethan so adores has certainly been the highlight of working on this. It was within that context that I got to play slasher myself and just recently, perform a gutting with a tripe (a cow's stomach in case you don't know, but I'm sure most of you do) in a hot, cramped basement that was overtaken by the stench of spoiling innards. Glen told me he just cut that scene together and 'disturbing' is the word that came to mind when he watched it and that he doesn't trust me around sharp objects anymore. Call me happy as the proverbial pig in shit, but to me, that's just an amazing compliment, one that I'm still taken aback over.
Next story, certainly my favorite concept of the whole film, centers on a rather neurotic fellow who starts becoming a werewolf. Or does he? It's in the vein (pun intended) of Romero's masterwork, Martin. This one's also got a really wicked sense of humor and a great actor named Mike Lane filling the lead. He's got a knack for spur of the moment improv, having spat out some really clever lines right there on the spot that I think will help this tale stand apart from the others. Have I mentioned how much I love the concept itself?
Third, we have a tale of a psycho cab driver picking up and even more psychotic female fare (which also features some fine G & S corpse bits that were used in Midnight Mass). This installment also yielded one of the funniest moments of the shoot that I can't reveal because it'd be a huge spoiler, but it involved someone "taking a shot in the mouth" and a rectal syringe. Use your imagination (insert sinister cackle here).
And lastly, is the story of an odd mute girl, being terrorized by the local voyeur, but there's someone - - or something - - watching after her. This is probably the most twisted story out of them all, very ethereal in tone and cruel at heart.
My first two major responsibilities on the project were to make a shovel that we could safely beat Mike Gingold with and create a mask for a character called Rellik, who appears in one of the Korman films. The shovel, while safer than a real one, wound up bruising Mike up a bit (I'm bad, or was the overzealous Ethan to blame?), but he was a good sport about it. Though he did vow revenge on Glen in some way, shape or form. I told him I'd help him devise a spectacular chainsaw death by way of bisection from crotch to throat. He grinned and Glen looked worried for a minute. This one's going to be held over his head for a while. Rellik was a different story. As I touched on earlier, I have a deep fascination with masked slashers (Jason, Myers, Leatherface, The Prowler, etc.). Now having the chance to create my own, I immediately set to the task of producing an armload of sketches. We selected one and from there I developed a prototype. I handed it off and Glen took it down to the Chiller convention. He told me the mask had received kudos from Tom Savini. Someone stab me so I know if I'm tripping or not.
The night Rellik went into action, I reached the Frankenstein moment. Watching this very large (and by large, I mean built) mountain of a guy in the outfit terrorize a half naked babe on a cross, I felt like I was watching my firstborn. Fortunately, this incredibly large, intimidating guy happened to be incredibly polite and good natured, because he had on a thick leather trench coat, black shirt, black jeans, boots, leather gloves, spiked gauntlets and the mask. He easily could've beaten all of us had the discomfort driven him to do so.
Being so involved in the creation of this mini-opus has given me the opportunity to do more than I'd ever dared to hope (up to and including the directing of a pivotal scene) and I've enjoyed every minute of it, even if I'm not smiling in the behind-the-scenes pictures I wound up in. I realize that this is still small scale and that I may wind up back in the garage when all is said and done with it, but it's given me a taste of what it'd be like to be doing this for real. And what can I say? I want more.
What's the relevance to all this? Nothing really, just one fan boy to a few hundred more relating a positive experience, one that I'd like to have again, and certainly would LOVE to have in an even more professional capacity. If that happens, I might die of shock, because I never thought I'd get out of the garage, even if only for a brief while. I'm enjoying it while I can and learning never to say "never" again. And by all means, if you're ever afforded a chance to pitch in on a production, no matter how small, I say grab that bull by the balls. So what if it's only an epic to you? Being in the company of like minds, watching and doing the things that are done in turn to provide us with the horror we cherish, is an experience that I feel can be appreciated by blood-buffs the world around.
---
KROT: Bastardly Internet Radio with Pedge Jameson
www.socialcrime.com
Season 4 - January 2002
Pedge interviews Sal Sirchia about his involvement with Fear of the Dark and The Tenement.
Click here to hear an MP3 of the radio interview (2,706 kilobytes).

For More Information Contact:

Light & Dark Productions
PO Box 21
Lake Peekskill, NY 10537
Telephone: (845) 526-6118
Internet: LghtandDrk@aol.com