Anatomy of Horror 6: The Making of a Death Metal Music Video
Go behind the scenes of the Ominous music video "13 Years of Pain".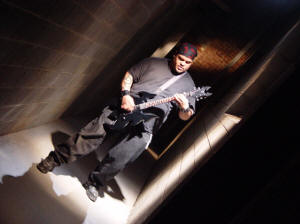 Special effects makeup artist Brian Spears covers Val's hair in latex.
He then covers her face with alginate. Cotton is applied to help the
plaster bandages stick.
20 minutes later Val removes the hardened "negative" mold from her face.
Latex will later be poured into it to produce a replica of her face.
Jennifer does Ominous band members Victor Gonzalez (Lead Vocals and Lead Guitar), Jayson
Meerholz (Drums) and Drew Kerwin's (Bass) makeup.
While Brian pours latex into an arm mold, Jennifer applies a tattoo to Val's
face. Brian then takes over and applies the latex skin to Val that will be
peeled off later in the music video. Once applied, he paints it to match her
skin tones.
Director Michael Saladino goes over final details with the crew. The set is
lit as Victor, the director of photography, sets up the high definition camera
and checks his shots on the dolly. Meanwhile, Vic and the band rehearse.
They will play along to a live track which will be synced in later in post production.
The crew gather round for a photo opportunity at lunch break. The entire
music video was storyboarded and laid out on a big card for reference.
It's back to work. The bulk of the video is shot in front of an old boiler in
an old industrial complex.
Brian steps in to pat Vic down and then the story part of the video is shot.
Now it's time to bring in Nicole. We are half way through the video.
A pane of tinted glass was used to create the illusion of the camera seeing
through the mirror. It had to be carefully lit so as not to reflect on camera.
Now Brian is really needed. The rest of the shoot is pretty much effects
driven. While shooting went on in the boiler room, Brian was putting the
finishing touches on the latex cut out of Val's face. Finally, Brian applies an
outer edge around Nicole's face that matches the Val face cutout. He blends
the edges to her skin tones.
The sequence was shot up to the point where Val pretended to start peeling
away her face. Now we see the effect in action. Nicole, made up to look like
Val, continues with the face peel. With the help of a little goo, the effect is
convincing.
Both girls are cleaned up for the final shots and then it's a wrap.
Click here to go to On the Point Films and view the Ominous music video.

For More Information Contact:

Light & Dark Productions
PO Box 21
Lake Peekskill, NY 10537
Telephone: (845) 526-6118
Internet: LghtandDrk@aol.com