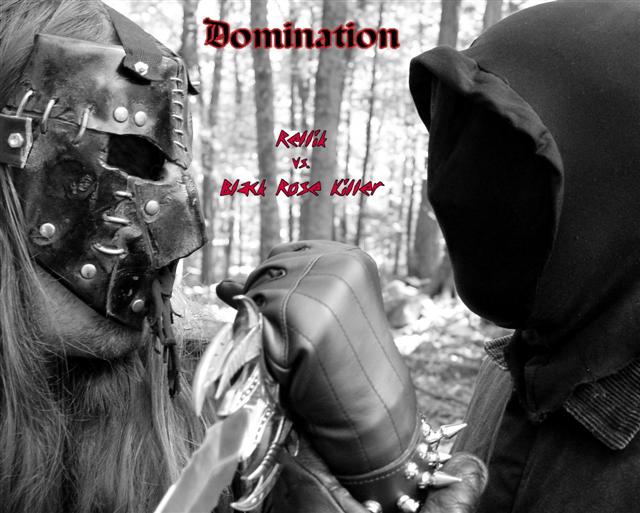 Banned from MySpace and YouTube!
In 2001, Fear of the Dark introduced Light & Dark's signature villain,
the Black Rose Killer.
In 2004, the origin of the Black Rose Killer was revealed in The Tenement.
Ethan Fernier's inspiration for the Black Rose Killer came from Winston Korman's
movies. A favorite of his was Dead to Rites which featured Rellik. Part of this
fictitious movie was shown in The Tenement.
Since The Tenement's debut it has been a dream of mine to pit the two villains
against each other. Joe Lauria (Ethan aka the Black Rose Killer) shared
the same passion to see the two of them onscreen together.

In July 2009, Blood Moon Rising approached me about showing one of our short
films at Blood Fest 6. This discussion later led to the idea of shooting a special
short film introduction for the festival.
Joe Lauria was going to be involved in this project. On August 17, 2009, Joe sadly
passed away. Friends and colleagues urged me to continue on. I think Joe would
have wanted it that way.
The short film was shot on September 13th and was one of the saddest days of
my life because Joe was not there to share the experience with us. When the shoot
wrapped, the full weight of our loss finally took its toll. We would never see him
again. We would never hear his laughter again. Joe had a way of making people
feel good. He was a generous and caring person who showed little concern for
himself because he was so invested in the lives of those he loved.
This is my tribute to one of my dearest friends. He adored the horror genre as
much as me and has had a profound influence on me creatively. He breathed life
into my characters and gave me a gift that I'll cherish always. It's the gift of having
had the honor of knowing and working with him.

For More Information Contact:

Light & Dark Productions
PO Box 21
Lake Peekskill, NY 10537
Telephone: (845) 526-6118
Internet: LghtandDrk@aol.com